Beginner's Guide On How To Start Your Own Bitcoin Exchange – Part 1

You want to start your own bitcoin exchange, but don't know where to start? Well, you have come to the right place. This article intends to clarify which things you need to consider before you want to launch your own bitcoin/cryptocurrency exchange, how the internal architecture of an exchange software should be structured and most importantly, where to get your exchange software.
meanwhile, follow my handle @gudtalent
How to Start a Bitcoin Exchange
Starting a Bitcoin exchange involves six basic steps:
Decide where you want to do business
Learn about relevant regulations in that area
Partner with a bank or payment processor
Establish a transaction history and liquidity on the exchange
Implement best security practices
Offer customer support
Now, let's explore each of those in greater depth.
1. Establish the operational scope of your exchange
Whether you want to operate globally or confine yourself to a specific region or country, you will usually be required to get necessary licensing and approvals for you company to open a bitcoin exchange according to your operational scope. Laws vary from place to place, hence, consult with a legal expert regarding the licensing and compliance with local laws and regulations.
2.## Review the country's regulations and compliance requirements
Almost all governments require entities which are involved in the currency exchange business to adhere to the Know Your Customer (KYC) norms. KYC is the process whereby a business verifies the identity of its customers through government issued ID cards or passports. The main purpose here it to discourage money laundering. Make sure you adhere to your country's KYC norms and integrate a suitable customer verification procedure into your exchange. Otherwise, you might be wondering someday why the police is suddenly standing in front of your door.
3. Partner with a Bank or Payment Processor
You will need to partner with a bank or payment provider to process payments via fiat currency. Choosing a trustworthy bank with a host of online facilities is a good choice. This is more relevant in developing and under-developed economies where most banks do not have a facility to initiate an instant bank transaction online. Transactions may take up to two days for settlement. Partnering with a bank which has fast clearance and settlements of funds will provide convenience to your customer. Adding and withdrawing of fiat funds can be automated via payment gateway or even can be done by manual remittance.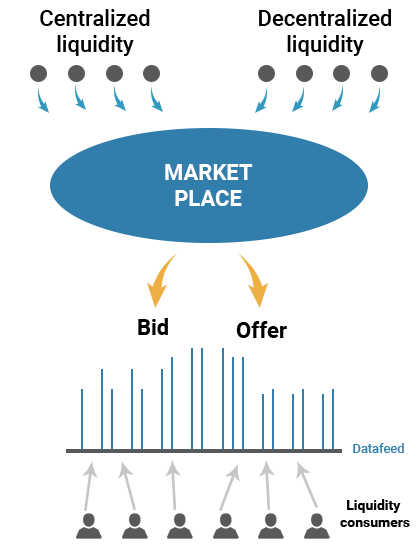 4. Create Liquidity on Your Exchange
Any exchange needs liquidity to operate successfully. Customers are hesitant to place orders or even deposit funds unless they see a full order book and trading activity. New exchanges naturally encounter liquidity issues. There are three established ways of kick-starting your liquidity:
You can simulate trading activity within your exchange by buying and selling between two artificial accounts within your own exchange.
You can implement an API interface which connects your bitcoin exchange to another existing exchange.
You can join a whole network of cryptocurrency exchanges such as Trust-Deposit which will tie together the liquidity of all exchanges within its network. The bigger the network, the better the liquidity.
5. Ensure High-Grade Security for Transactions and Customer Data
Any exchange needs top-notch security to ensure that both the exchange operator's and his traders' funds remain secure. This should also apply to your customers' private data which include their KYC details and bank account information. There have been incidents of security breach at various exchanges like the infamous Mt. Gox breach where the security breach went un-noticed for years resulting to almost 1% of total bitcoins in circulation at that time being stolen. According to a Reuters report, a third of all bitcoin exchanges operational during the period of 2009 till 2015 were hacked. The main take-away: Security must be the top priority within your exchange.
in the next post, i will continue with this guides on this pot, kindly follow @gudtalent and upvote
See you in the next blog post.