Changes in Market Capitalization the Past Month
It has been amazing what has happened over the past month plus in the cryptoworld and its implications. Looking at a snapshot of two days over the past month gives us just a piece of that information.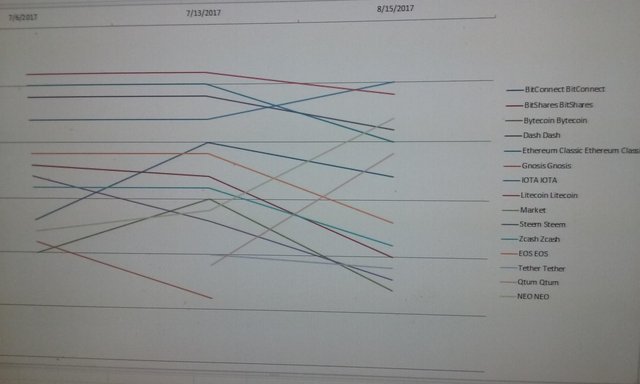 What isn't shown on the graph above to make it a little easier to read is that Augur, Dogecoin, Gnosis, Golem, Siacoin, and Veritaseum are some of the coins that have fallen from grace.
New blood in the top 25 includes but isn't limited to Bitcoin Cash, USD Tether, OmiseGo, TenX, and Lisk just barely making it in.
ETC has lost a lot of the market cap it previously held falling from rank 5 to rank 10. Steem and BitShares have taken a huge hits as well from 13 and 12 respectively to 22 and 20.
Qtum and Neo aka antshares have made some of the biggest moves up both jumping 10 spots each.
With the troubles ETH has had and with the introduction of NEO I dont think it comes as a suprise that Bitcoin has gained a lot of ground in market share and ETC has lost a lot.
I'm most interested in OMG and PAY to see where they end up in the next month. What are the coins you're watching this month? Let me know in the comments below.