CEO of JPMorgan Chase recently fired shots at bitcoin, as most people that follow the crypto news are aware. Calling the whole crypto space, a "fraud", using the old trope of the famous tulip bulb, restricting its usefulness to drug dealers and murderers – however he did not clarify what use a murderer would get out of bitcoin?  
To finish this old wives tail of, he of course talked about the greatness in blockchain technology while while discounting its results, bitcoin, as a fluke.  A profile like Jamie Dimon only makes statements like this to further his own agenda – whatever that might be.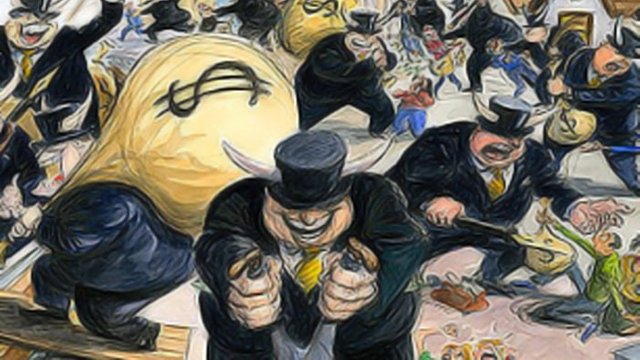 The real scam 
After JPMorgan and other Wall Street giants crashed the stock market in most of the western world back in 2008, taking countless pensions of hard-working people with them. JPMorgan famously received 12 Billion in governmental bailout money instead of prison sentences. But the US government did not stop the rain of money with the outrages bailouts like most people believes. 
According to calculations done by Bloomberg, JPMorgan reportable receives 14 Billion Dollars per year in governmental subsidies. Supposing that this have been going on since 2008, that means that JPMorgan have received a total of 138 Billion dollars in taxpayer money, including the initial bailout.    
No wonder that Jamie Dimon stresses the importance of governmental oversight – so much for the glory of the free market.   
Sources
https://www.bloomberg.com/news/articles/2017-09-12/jpmorgan-s-ceo-says-he-d-fire-traders-who-bet-on-fraud-bitcoin 
https://dealbook.nytimes.com/2008/03/18/jpmorgans-12-billion-bailout/ 
http://www.huffingtonpost.com/2012/06/19/jpmorgan-chase-government-subsidy_n_1608859.html 
https://www.bloomberg.com/view/articles/2012-06-18/dear-mr-dimon-is-your-bank-getting-corporate-welfare-  
Donations
BTC : 12pY4P322UVB6vcADm8TwevH4vxnFZvN7X
LTC : LgwojPN7s5G9wTogCsYmjTATBt46eQLk9m
DASH : XfAQhjdPoe2L6oQVTVrbcxWkSiywK5jZYV
ETH : 0x2FDF2b6F7a39131b3e185ea50fF1993c36b963e8