Bitcoin - You aren't ready for the way Bitcoin will treat you
This took way too many hours.
The entire Elliot cycle for Bitcoin.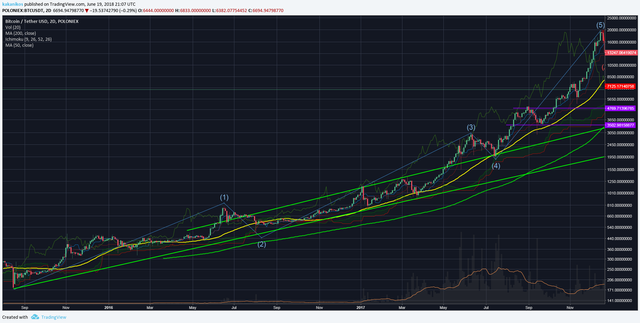 The entire growth phase for Bitcoin
In traditional markets there is usually an extension in one of the 3 impulse waves. Very, very unusually a stock has two impulse waves extending. Each of the 3 impulse waves are divided into 5 waves where also usually there is an extension in one of the 3 impulse waves.
Everyone reading about bitcoin has read about fibonacci ratios, or the golden number (1.618). impulse waves "always" grow following this ratio (how can a sequence of numbers predict our behaviour [shivers]).
Interesting facts:
wave 1 : 360%;
Wave 3 grew 4.618 (461.8%)times in relation to the first impulse wave;
Wave 5 gre 7.618 (761.8%) times in relation to the second impulse wave. (Wish I knew how to count the waves mathematically at this point)
Standart wave growth for wall street:
wave 1: 3%;
wave 3: 1.382 or 1.618 times in relation to the first impulse wave;
wave 5 extends: 2.618 or 3 times in relation to the first impulse wave.
No wonder Wall Street is in pain, they have never came close to such performing asset xD
Another interesting fact... Have you read the latest news? the ones that made the market reject a fifth wave and cancell a breakout for bitcoin? They insist Tether was used to serve as support to impulse Bitcoin much higher then it should, which I easilly belive, just not to even close to the extent they insist.
Let us look at it in this chart: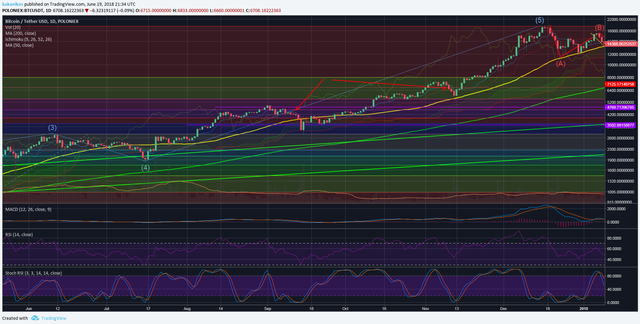 The red arrows are pointing where volume shows massive increase, like nothing we saw on this massive downtrend.
Big money sold their BTCs around there? It would coincide with two ratios that occur alot in overperforming tech stocks where two of the three impulse waves extend. 1.618 - where most was sold makind btc a standart elliot cycle, and 3 - where the 5th wave usually extends in an overperforming stock. after that second selling BTC simply exploded another 4x. Just as if the big traders completed all their sell orders and the book was clear passage.... just sayin...
they will have to rebuy whatever % they sold at breakeven.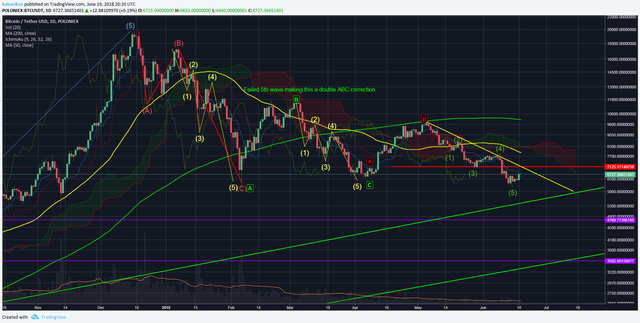 The ammount of corrections triggers me xD
A rememberal, lost most of my client on that double top at 10k since we sold way earlier and I was insisting that it was extending and we would drop. Hope they are happy atm xD
Now to what we all want to know. is it over here? are we flying?
My dream scenario would be that we dropped at $7.100 USD or right now, creating another ABC and 5 waves down into the green lines, which are the strongest BTC supports and would fill the Elliot Wave Theory requirements to the comma.
What will probably happen:
the projection for the 5th wave of this C wave is correct, as it should be as they are all mirrors of each other to the exact match, creating 4 perfect elliot waves, breaking out of this small downtrend then the 5th elliot wave will be cancelled for the 3rd time in a row and we fall to $4.900 - $3.700USD.
Then we breakout.
Trade plan:
Set a stop loss at $6.300 (where elliot cycle is invalidated at the moment, it will be set higher later) to start rebuying in the buy zone.
watch key fib extensions for reversal.
Follow my trading at: Cryptomus

Leave a reply and don't forget to smile!