After a year of writing about all the crypto "Red" days… it's good to finally see some green.
Whatever the price is doing, underneath the surface crypto only continues to grow.
Hopefully nasty headlines haven't shaken you out.
As you can see it's green across the board, save Tether, which doesn't count anyways.
Binance is the big winner, up over 50% in the last few weeks.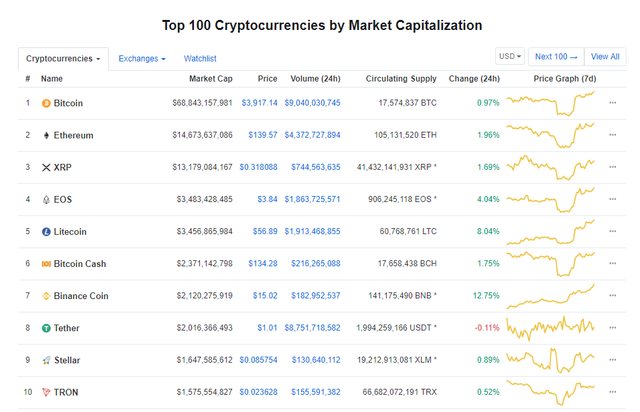 Buoying the market is no shortage of good news, which is finally starting to move crypto markets again.
For example, last month Kraken, the US-based crypto exchange bought Crypto Facilities for $100 million. Crypto Facilities offers futures trading for BTC, ETH, XRP, LTC, and BCH. Since the acquisition trading volume is up over 500%. According to Kraken nearly $1 billion in futures were traded in the last month. Wow!
The International Data Corporation (IDC) recently updated its "Worldwide Semiannual Blockchain Spending Guide," and concluded it expected blockchain spending to rise 88% in 2019 to $2.9 billion.
The government of Argentina has agreed to co-invest in blockchain projects that are backed by Binance Labs. The country's Ministry of Production and Labour signed an agreement with Binance, committing to match investments of up to $50,000 in each project. According to the release, the Argentine government will fund up to 10 blockchain projects each year over a four-year term.
Finally, Coinbase poached Luke Youngblood from Amazon Web Services where he was a principal solutions architect. This happens a lot… talent continues to flow from traditional companies to crypto companies.
Long BTC!
---
For more on cryptos follow me @g-dubs and on SteemFollower
Use my referral link to buy Bitcoin, Ethereum, and Litecoin at Coinbase
or Abra
and trade cryptos on Binance and Bibox...
And delegate SP with MinnowBooster
Crypto + Daily Fantasy Sports =No Limit Fantasy Sports

Shop and earn BTC with Lolli
Earn BTC on Earn.com