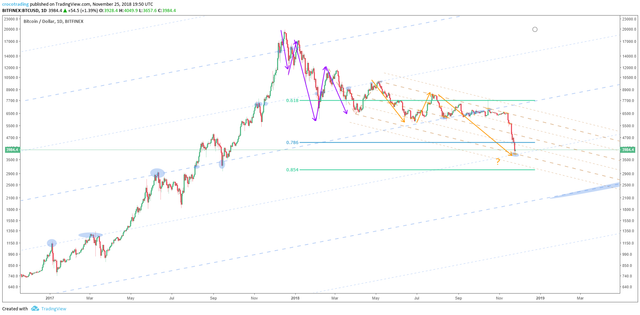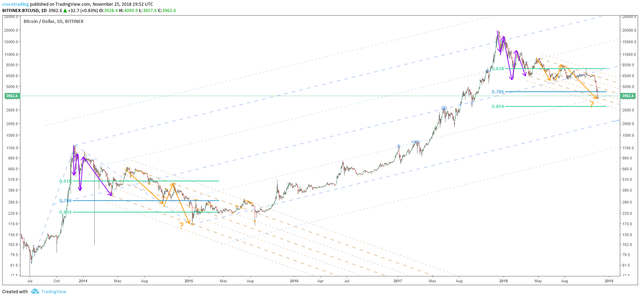 Link of my tradingview post : https://www.tradingview.com/chart/BTCUSD/Q2JFizlL-The-importance-of-logarithmic-charts-for-long-term-analyses/
When it comes to trend analysis, one of my favorite tools is Andrews' Pitchfork which tends to give really good insight on the state of the trend.
I have to admit I had lots of trouble dealing with long term analysis of cryptocurrencies using pitchforks until I tried to display the charts in logarithmic scales.
When you think about it, it totally makes sense to use logarithmic scales for cryptocurrencies that are exposed to exponential moves on the upside or on the downside especially when you study long term charts.
As you can see, results I obtain with pitchforks applied to logarithmic charts look pretty consistent no matter what the price move is (upward, downward, correction, trend)
Website : http://crocotrading.com/
Steemit : https://steemit.com/@focuscrypto
Tradingview : https://www.tradingview.com/u/crocotrading/
Facebook : https://www.facebook.com/crocotrading/
Twitter : https://twitter.com/crocotrading
Legal disclaimer : Opinions, markets informations, analyses and any statements made on crocotrading.com website constitute on no account investment advices. The information provided on this website and any accompanying material is for informational purposes only. It should not be considered financial or investment advice of any kind. One should consult with a financial or investment professional to determine what may be best for your individual needs.