I am very happy mining Bitcoins with Hashflare https://hashflare.io/r/83B32662-mine-2018 . As you know the prices of Bitcoin as down at the moment. They are like $8000, it's horrendous. But I am not worried because there are real valuable projects behind most of the crypto coins and they are providing value to companies and people around the world so that cannot just be erased. With the recent news there have been a lot of emotional reactions that have taken the price of Bitcoin down, way down but I am not personally worried because it is an opportunity to enter and buy alt coins or more Bitcoin.
BTC➡️ETH , BTC➡️LTC
In my case, since I have earnings from mining in Bitcoin, I take those Bitcoins and divide them into Ethereum and Litecoin in this case today. I wanted to show you about my strategy.
DTube Video: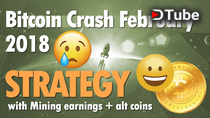 ---
Leave a comment to let me know your thoughts and opinions.
Hit the like button and let's all be calm about all the recent crypto craziness.
💎Join Hashflare💎
https://hashflare.io/r/83B32662-mine-2018
---
▶️ DTube
▶️ IPFS