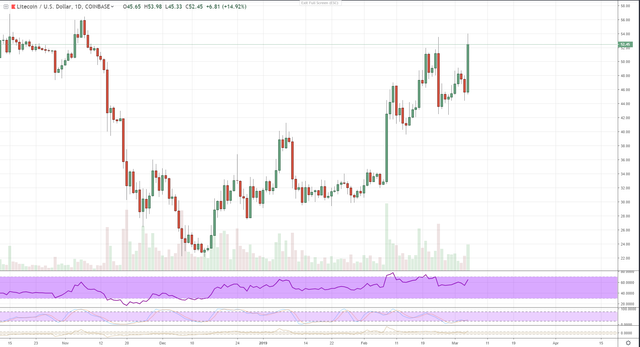 Supports are looking like they're held, and now we are seeing bulls come in and push prices on markets upward.
Litecoin is the huge winner so far, up double digits on the day while other cryptos struggle to catch up. The great news about this too is that Litecoin just made a new higher high on the daily. This hopefully will rub off on other charts.
It looks like the 4-hr RSI was a great indicator as most cryptos dipped their toes into this oversold level briefly (except LTC, which is now overbought). In 2017 during the bull run, we saw the 4-hr RSI levels be very significant when they hit oversold levels. If this is true again, it could be another great sign for a bull move to the upside.
Looks like a great day for the bulls!! Happy Tuesday!