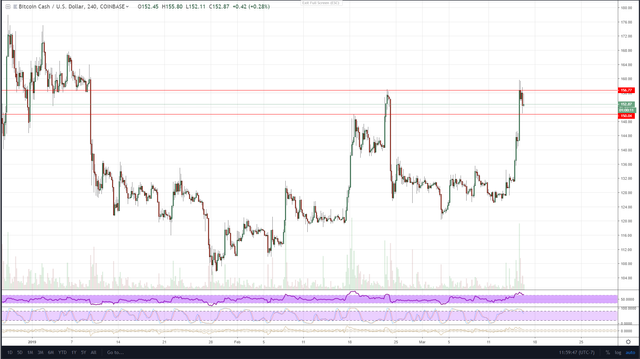 Bitcoin Cash is seeing another great day. The rest of the markets are also liking this bull action as well, but BCH is definitely the big winner for the second day in a row.
The resistance seems to be pretty apparent at the $156-157 level. We're needing bulls to rally above this level and hold closes above it to confirm a broken resistance.
Support right now still is at $150, which should at least hold up for consolidation.
RSI on the 4-hr chart above is still slightly overbought, but this isn't too relevant of an indicator for price action. I think we'll likely see consolidation to allow the RSI to cool down a bit and normalize before bulls continue another move.
Congrats to the bulls and hope you all have a great weekend!!