New social network Kuende adopts Blockchain to create real-life experiences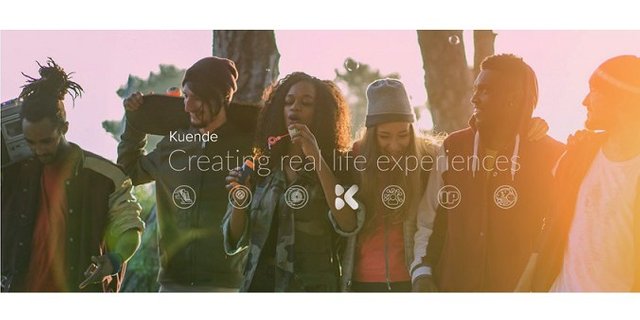 Kuende, a social network that attracts young people from all over the world by offering an interactive and hybrid social experience, online and offline, announces the launch of its token event, with the intention of updating its gamification layer in a system of vote and reward powered by blockchain.
Pavel Antohe, CEO and founder of Kuende stated:
"There is something wrong with the current landscape of social networks and users are looking for a better alternative. A social network that changes the focus of highly filtered publications that highlight a glamorous and false reality to real and genuine projections of our real lives ".
Launched in 2015 and backed by a total private investment of $ 2.6 million, with more than 54,000 active organic users and more than 20,000 installations of the app so far (without marketing investment), Kuende is a hybrid social network, in Online and offline, available on the Web, Android and iOS, which tries to combine the appeal of a social networking platform with fun and attractive off-line activities.
Pavel added:
"We are providing users with control over their data. They can share content with friends and families by choosing between different levels of privacy, while making it easy to find new friends with common interests and participate in nearby activities. Our main mission is to transform social networks into a positive force, promoting a more connected, committed and inclusive society, reaching Gen-Z and the Millennials. We believe that these generations are not only the most active users of social media but also those most affected by the lack of real-life interactions with their peers. "
According to several scientific studies, one of the biggest social problems of today's youth is social inadequacy. The founder of Kuende says that his team wants to make the escapism of social networks and sadness, seclusion and other social disorders matters of the past.
By connecting people with similar interests and a playful socialization of the real world, users can create healthy connections in real life. The business model of Kuende is designed to focus on the locations of the community and companies that can facilitate the challenges to support these social interactions, with minimal direct publicity, keeping the service free and positive for users.
DETAILS OF THE ICO DE KUENDE
Kuende is organizing an ICO in which participants can exchange ETH for Kuende Tokens (KUE). The total supply of Tokens Kuende will be 3,560 million, of which 50% will be sold during the private sale (April 7, 2018 - May 31, 2018) and public sale (date pending announcement). During the token event, each token will be valued at 1 KUE = 0.01 USD. Kuende established the Soft Cap of $ 2 million and a Hard Cap of $ 17.8 million and will reserve 15% of the tokens for a Community Pool to encourage future users of Kuende, maintaining the ecosystem.
To see the complete road map, distribution and allocation of Kuende tokens, see the technical document on our website: ico.kuende.com
STRUCTURE OF PRIVATE SALE:
The ETH / KUE exchange rate will be decided / blocked after the private sale has been completed. This rate will become the benchmark for public sale.
There is a minimum amount of contribution
Each participant must go through the KYC procedure
Participants can get bonuses of up to 30%. Bonuses will be granted for a period of 3 months after the chips are unlocked and available for use within the platform (Q3, 2018).
For more information about the private sale, contact the CEO directly at [email protected]. You can also communicate with the Kuende team in several ways:
Chat on Telegram: http://t.me/kuende
Visit the ICO website: ico.kuende.com
Read the technical document: https://ico.kuende.com/documentation/Kuende%20Whitepaper.pdf
Take a look at the product: https://kuende.com/
Subscribe on Facebook: https://www.facebook.com/Kuende.world
Follow on LinkedIn: https://www.linkedin.com/company/18295683/
Subscribe on YouTube: