The falling knives, the heartbreaking crashes, the devastating feeling of watching a missed trade soar all the way to the moon. The markets aren't fair, which means you need a tool that gives you an edge.
That's why We created an EngineeringRobo for you! , It will "not " trade on behalf of you on exchanges via API . It is not an AI robot,It is an ALGO Trading Robo Advisor. You can use it on any trading markets (BIST, S&P 500 , Commodities ,Forex, Crypto ) !
EngineeringRobo is a Robo Advisor that uses a computer program that follows a defined set of instructions to create successful entry and exit ideas to users via 3rd party charting website, tradingview.
EngineeringRobo's unique algorithm find profitable coins / stocks and commodities based on their Ichimoku, VPVR, ATR, Fibonacci Levels, McGinley Dynamic, Moving Averages, RSI, MACD, Stochastic, Bollinger Bands , Volumes and Price Changes.
It also displays seven different signals for entry and exit on a coin to maximize its profitability on the chart. The signals can appear at any time during an open candle, but once closed the signal is final and won't change in the future.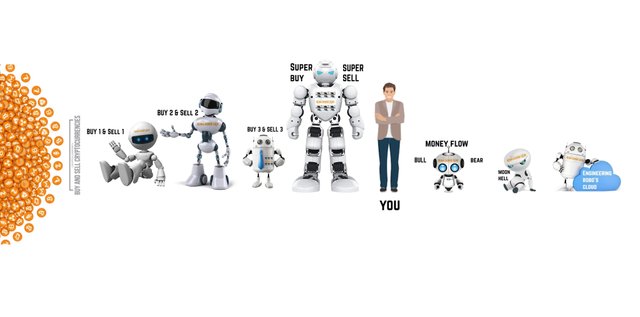 According to a new market research report "Algorithmic Trading Market by Trading Type (FOREX, Stock Markets, ETF, Bonds, Cryptocurrencies) " the global Algorithmic Trading Market size is expected to grow from USD 11.1 billion in 2019 to USD 18.8 billion by 2024, at a Compound Annual Growth Rate (CAGR) of 11.1% during the forecast period.
Watch the movie!
To learn more about EngineeringRobo!