We can't deny that cryptocurrency now reigns in the market and even penetrates the world's economy. It somehow levels the business field in terms of trading and investing since in just a small amount of crypto, we can earn more than enough and this is the best start of saving some $$$ for a bigger investment.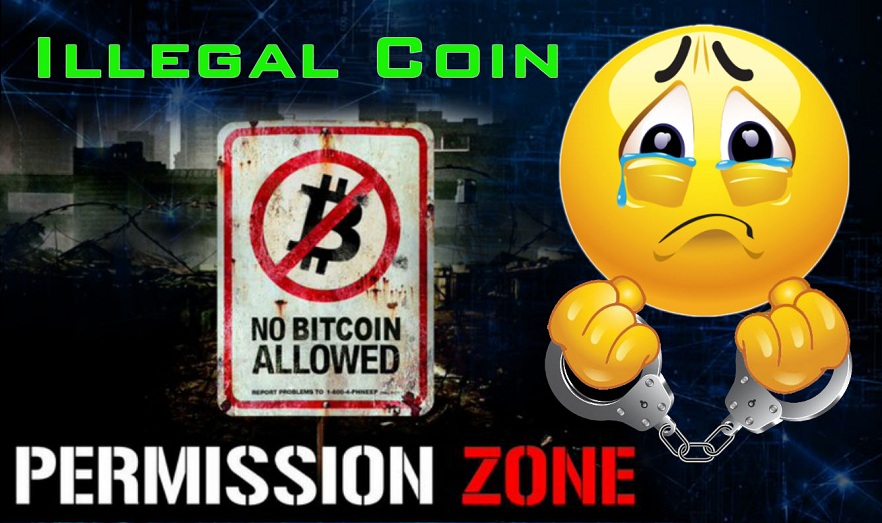 Every country looks cryptocurrency differently. Some accept bitcoin as a mode of payment and have monetary value in it while on the other side of the globe, treats crypto as illegal currency and they banned it in their land. And the rest were just neutral - no government declaration on whether cryptos are legal or not, they are just observing the bull run of crypto. I have listed several countries that officially banned cryptocurrencies and make it illegal on their land. Only time will tell if there is a country to be added to this list or be removed.
Bolivia:
In June 2014, El Banco Central de Bolivia, a Bolivian Central Bank, officially banned the use of virtual currencies that were not issued or controlled by their government or any authorized entity. Anyone who is caught using these currencies will end-up in jail and their bitcoin and related assets will be seized. Just this year, authorities arrested people who are trading in cryptocurrencies - Bolivian Authorities Arrest 60 'Cryptocurrency Promoters'
Bangladesh:
In section 4, 5 & 8 of 1947 law and Money Laundering Control Act of 2012 that regulates in trading to foreign currencies without the authorization of Bangladesh Central Bank, leads the prohibition of using Bitcoin and other cryptocurrency in their country and anyone caught or proven guilty of trading these banned currencies could lead to imprisonment up to 12 years. The government banned using this virtual currency due to its lack of central payment system which could financially harm their citizens.
Ecuador:
The National assembly of Ecuador garnered 91 votes in favor of amending their existing financial and monetary laws which simultaneously approves the proposed state-regulated electronic currency to be all over the country. The nations central bank, Banco Central del Ecuador, backed its newly approved electronic money. In line with this, they banned bitcoin and other cryptocurrencies to used for its citizens. Authorities imposed severe penalties on all violators of the new regulation which banned bitcoin and other cryptocurrencies. If caught or proven guilty of using banned currency, their bitcoin and other similar assets will be seized and closure for the business establishment who are supporting the circulation of bitcoin and other banned currency.
Kyrgyzstan:
In July 2014, the Kyrgyz Republic National Bank issued a statement on the use of virtual currency such as Bitcoin and the like as a form of payment is illegal and violates their National Law. Anyone caught of trading cryptocurrencies will face legal action and could lead to imprisonment. They stressed-out that it is too risky to engage in this currency due to no laws that will protect the consumers who trade with these assets.
Nepal:
In August 2017, Rastra Bank of Nepal officially declared Bitcoin and other cryptocurrencies illegal and whoever caught trading these virtual currencies will face severe punishment under their law. These currencies will be the gateway to illegal activities such as money laundering and can be used by the criminal minds since its transactions are completely anonymous and no government or central bank can regulate it. Just recently, seven individuals were arrested of trading bitcoin - Nepalese Police Arrest Bitcoin Traders Despite Lack of Cryptocurrency Regulation
Vietnam:
In Oct 2017, State Bank of Vietnam declared the use of Bitcoin and other cryptocurrencies illegal and it is not the lawful means of payment. All their citizens were prohibited to use or trade with this virtual money and starting 1st of January 2018, anyone caught trading these banned currencies will face severe penalties of between $6,600 and $8,800 plus the confiscation of their bitcoin assets. The recent report may tell it all - Vietnam's Central Bank Announces Ban on Bitcoin Payments
Bitcoin and other cryptocurrencies were officially banned on their land and even they arrest and imprisoned those individuals who were caught in trading these prohibited currencies. They are determined to stop the proliferation of crypto in their country to a point of passing laws to make bitcoin and other cryptocurrency trading illegal and is subjected to severe punishment. But in spite of these, their government admits that bitcoin trading still exists on their land and is spreading so fast. It's a herculean task to caught someone using bitcoin due to its anonymity characteristic. All they can do is to shut down the exchanges which I think probably is one of the weakest points of the crypto world because they are the center of receiving and buying coins - just like what China did before, that they shut down exchanges - but blockchain still exist and this is what behind the cryptocurrencies which makes it almost impossible to stop. You can check also my previous post which discussed on What it takes for BTC to Shut Down.
Only time will tell if Bitcoin be totally shut down or it will be accepted worldwide as a new monetary system. But for me personally, I believe the latter most likely will prosper.
---

---