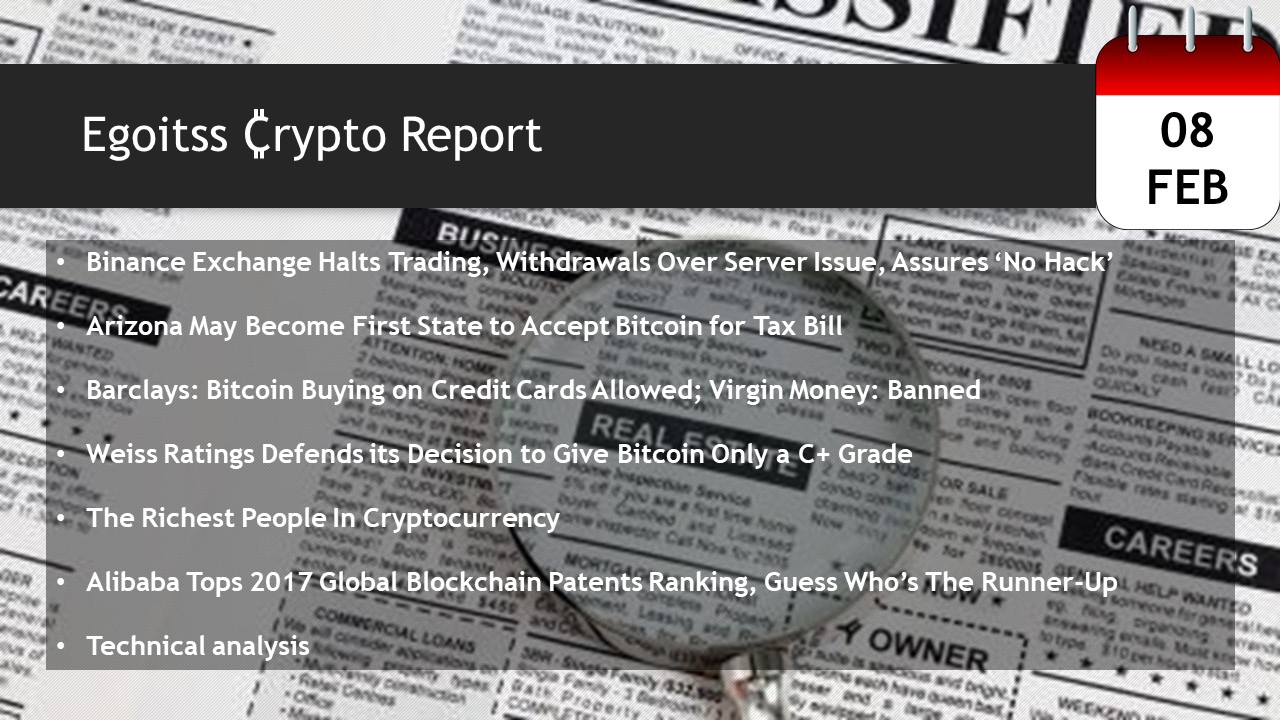 1. Binance Exchange Halts Trading, Withdrawals Over Server Issue, Assures 'No Hack'
Binance, the cryptocurrency exchange currently ranked second to OKEx on CoinMarketCap in trading volume, has temporarily suspended withdrawals and trading.
Changpeng Zhao, CEO of Binance, tweeted on Feb. 7 at 6:38pm EST that the exchange was experiencing a server error that could be resolved in a few hours and that "no data is lost."
2. Arizona May Become First State to Accept Bitcoin for Tax Bill
New bills on the floor of Arizona's house of representatives are expected to both legitimize cryptocurrency and allow residents to pay their taxes with it.
3. Barclays: Bitcoin Buying on Credit Cards Allowed; Virgin Money: Banned
Traditional 'big four' UK banking group Barclays has confirmed that customers will continue to be able to purchase cryptocurrencies using credit cards while Virgin Money hits the brakes.
Contrary to a policy change by rival banking institution Lloyds Banking, a spokesperson for British banking giant Barclays has told the BBC that customers will be able to use both Barclays debit cards and Barclaycard credit cards to purchase cryptocurrencies.
4. Weiss Ratings Defends its Decision to Give Bitcoin Only a C+ Grade
Wall Street is known for being a cut throat place where shrewd business people play as tough as possible in order to make gains or their destroy opponents. However, the crypto ecosystem can be at times far more nasty than any other market. One company that had the audacity to rate everyone's favorite cryptocurrency somewhat poorly learned this recently, but it still stands by the rankings.
5. The Richest People In Cryptocurrency
In the world of cryptocurrency, fortunes can be made overnight, and the winners of this digital lottery differ from those in previous manias. The shadowy beginnings, at once anarchistic, utopian and libertarian, have drawn an odd lot of pioneers—from antiestablishment cypherpunks and electricity-guzzling "miners" to prescient Silicon Valley financiers and a larger-than-usual assortment of the just plain lucky "hodlers," the typo-inspired crypto jargon for "buy-and-hold" investors.
#6. Alibaba Tops 2017 Global Blockchain Patents Ranking, Guess Who's The Runner-Up
Alibaba wins the patent champion with 43 pieces of patents, Bank of America Corporation ranks second, and next comes the PBoC (People's Bank of China) Digital Currency Research Institute.
7. Technical analysis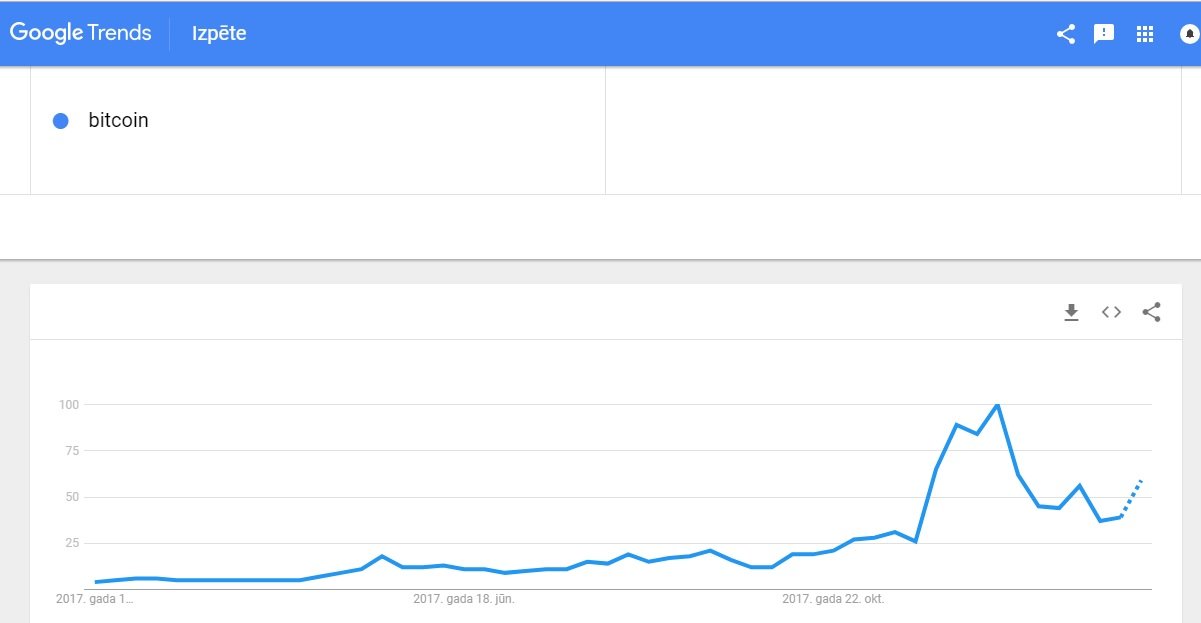 Google search trends for BTC is growing.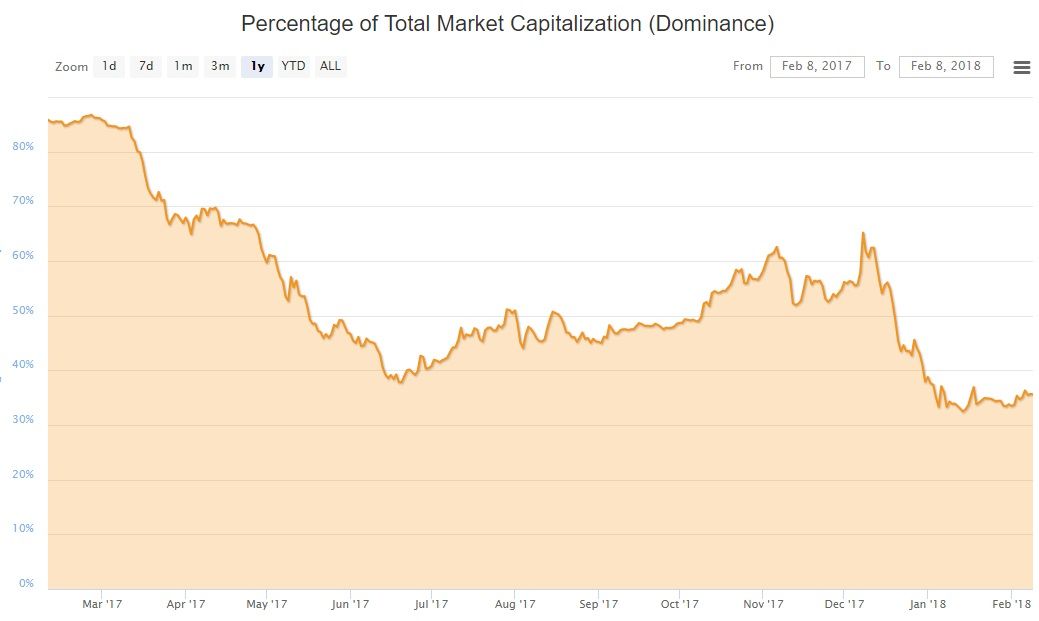 Bitcoin dominance still 35% and not showing any uptrend.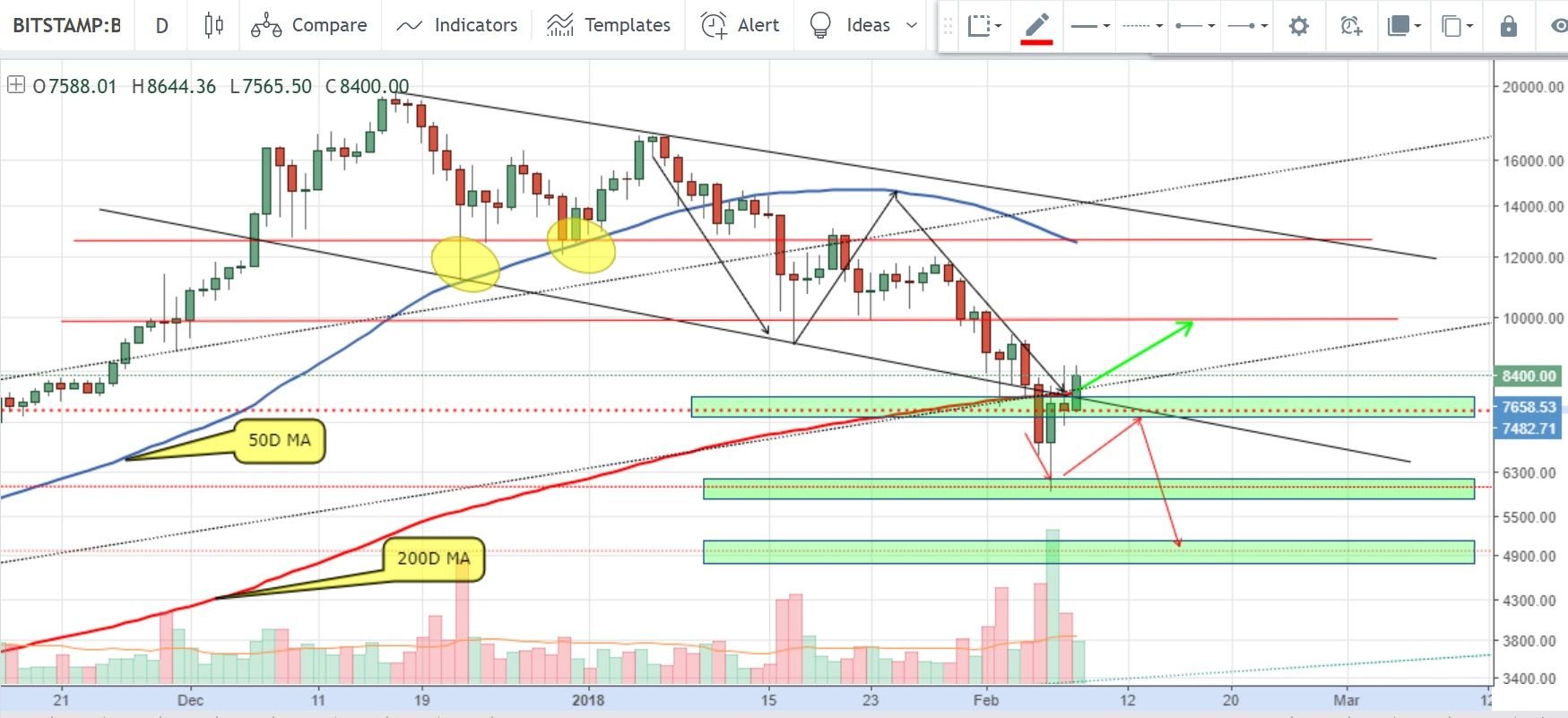 BTC is holding just above 200 day MA and 7500$ support. 7500$ support was tested once yesterday, if it hits 7500$ support one more time I expect it to go lower and test 6000$ support once more.
If BTC will stay above 200 day MA an next day's candle will be higher than today's candle I expect that BTC will test 10k.
Be calm and don't over-trade.