About Lane Axis
LaneAxis is transforming the global logistics industry by building a Shipper-to-Carrier direct optimization blockchain network powered by smart contracts. This will drive massive, cost-saving efficiencies into the industry, and fuel the growth of a new business paradigm in freight logistics.

LaneAxis Real-Time Tracking and Documentation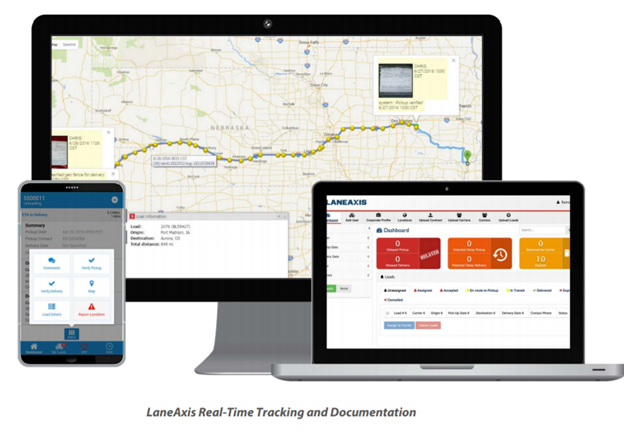 Cloud-based and highly-secure, the LaneAxis Virtual Freight Management desktop and mobile app delivers real-time shipment visibility and data via GPS, predictive analytics and true shipment control for shipping companies. The platform allows users to monitor all shipments in real-time, adjust geo-fence sizes, receive alerts when hitting milestones or problems and transmit documents instantly (such as Proof of Delivery). The direct result for everyone: money saved, time saved, processes streamlined, products moved faster and more efficiently – all at a low cost-of-entry.
LaneAxis Driver Mobile App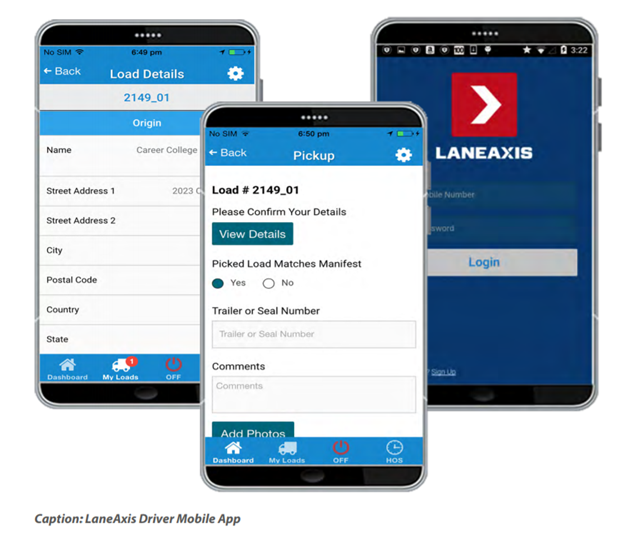 The LaneAxis mobile app provides Carriers full visibility into the status of its Drivers – preventing distracting calls and the need to have the Carrier fax or mail key documents such as the Bill of Lading or Proof of Delivery. The load manifest is transmitted directly to the driver's mobile phone. Carriers also benefit from verifiable real-time Pickup and Delivery confirmation, avoiding unjustifiable fees from Brokers/Shippers. The intuitive, easy-to-use app also allows for instant accident reporting (take a picture and send), immediate document uploads via the app, and fast payment turnaround. This allows drivers to avoid freight factoring services, which pay drivers immediately, but charge a percentage of the load transaction to do so.
About Lane Axis
Please visit these website for more information about LaneAxis
Website: https://laneaxis.io/
Whitepaper https://laneaxis.io/assets/whitepaper/laneaxis-whitepaper-eng.pdf
Twitter https://twitter.com/LaneAxisVFM