Bitcoin Mainstream Malaysia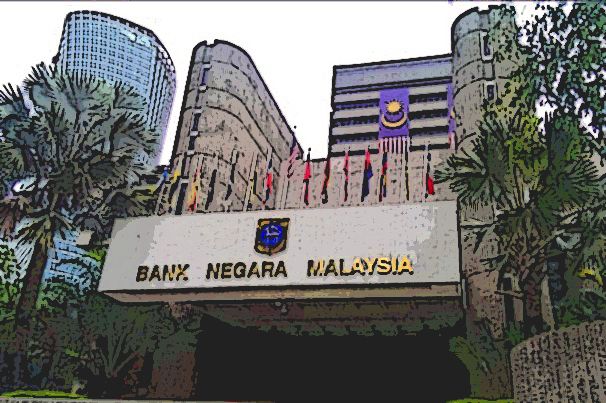 Jika kita lihat Malaysia berada pada top 10 pada carian google berkenaan dengan Bitcoin. Ini menunjukkan Rakyat Malaysia sudah mula mengenal erti Bitcoin.

Memang tidak dapat dinafikan masih lagi terdapat rakan – rakan kita yang tidak pernah tahu apa itu bitcoin. sudah menjadi tanggungjawab kita serba sedikit untuk share apa yang kita tahu.

Pada tahun 2 Januari tahun 2014, kita sedia maklum, BNM menyatakan bahawasanya BItcoin adalah tidah sah di Malaysia. Ini kita lihat kerana masih lagi Kehadiran Bitcoin dan juga wang digital ini masih lagi awal untuk memasuki mainstream. Tidak pula kurangnya dengan kehadiran bitcoin, pelbagai skim yang boleh dikatakan mengarut – ngarut telah muncul denga menggunakan tiket bitcoin sebagai alat untuk meraih keuntungan. Munculnya skim-skim dan scammers ini lah yang merosakkan nama bitcoin di Malaysia. Antara 2 yang down adalah bitkingdom dan juga ethrade.
Tahukan tuan-tuan dan puan – puan pecarian bitkingdom dan juga ethrade dalam google kita berada pada no 1? dalam tempoh setahun.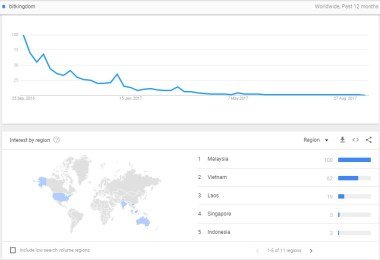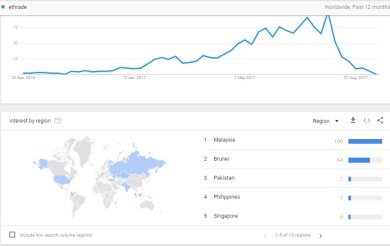 Jadi, Ini menunjukkan suatu yang tidak baik dalam kalangan masyarakat kita. Sehinggakan ada yang menggunakan loan pribadi untuk menyertai skim2 seperti ini. untung entah ke mana, beban pulak kena tanggung.
jadi sudah menjadi tanggungjawab oleh Bank Negara Untuk membendung perkara seperti ini.
Bank Negara tidak akan mengharamkan Bitcoin, sebaliknya mencari jalan untuk memperketatkan pendekatan
Bank Negara Malaysia (BNM) telah mengambil langkah untuk mendekati lagi dalam bidang crypto currency ini. Gabenor Bank Negara, Tan Sri Muhammad Ibrahim bercakap pada hari selasa lepas akan mengeluarkan panduan untuk umum sebelum penutupan tahun 2017.
"We hope that by year end, BNM will be able to come out with some guidelines on cryptocurrency, particularly those related to anti-money laundering and terrorist financing," he told reporters at the sidelines of the Global Symposium on Development Financial Institutions, The Malaysian Reserve reports.
sumber : malaysiandigest
Berita berkenaan kenyataan Gabenor Bank Negera Malaysia dalam Berita tv3.
Tidak menampakkan Bank Negara akan mengharamkan perkara perkara yang melibatkan bitcoin. Kemungkinan besar garis panduan yang dikeluarkan agak strict. Apapun persoalan yang perlu bermain dalam fikiran kita adalah. samada garis panduan ini betul – betul muncul ataupun tidak. Sama- sama kita nantikan sehingga December ini.