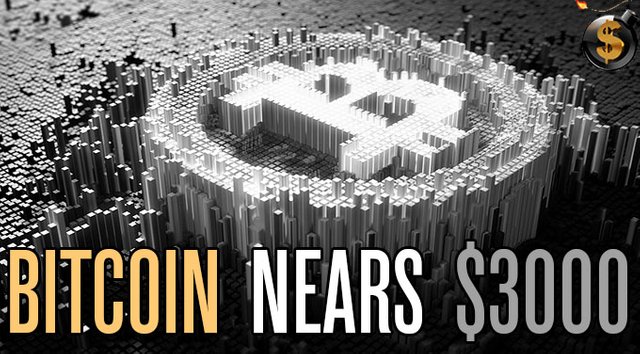 Are we witnessing the biggest wealth transfer in human history? A case can certainly be made for it.
One year ago, cryptocurrencies as a sector had a market capitalization of only $11 billion. Looking back even further, four years ago, the entire sector including bitcoin had a market capitalization of less than $1 billion.
As of today, it has surpassed $100 billion.

Bitcoin itself sits on the cusp of $3,000 as we speak.

$100 billion is still just a drop in the bucket of all financial assets. Business Insider has estimated the total value of all financial assets to be $294 trillion.
But, note, that most of our data and charts on cryptocurrencies doesn't come from Bloomberg or Reuters. The majority comes from places like Coindesk and CoinMarketCap.com - small organizations mostly operated by anarcho-capitalists who have been in these markets for years while Wall Street is just starting to wake up to the fact that they better get into this market now.
This is a big shift. The world of money and banking may just be beginning to fall out of the control of Central Banks and Wall Street and into what has been mostly anarcho-capitalists, like myself, who have been investing in bitcoin since it was $3 in 2011.
Now, with it at near $3,000, that is a nice 100,000% gain for those of us who want to end central banking, communism, fascism and big government.
With cryptocurrencies skyrocketing, the number of anarcho-capitalist millionaires in the world has likely risen from about 10 to around 10,000. This will have massive repercussions in the coming years.
Even The Guardian has taken notice, trying to write a hit piece about it.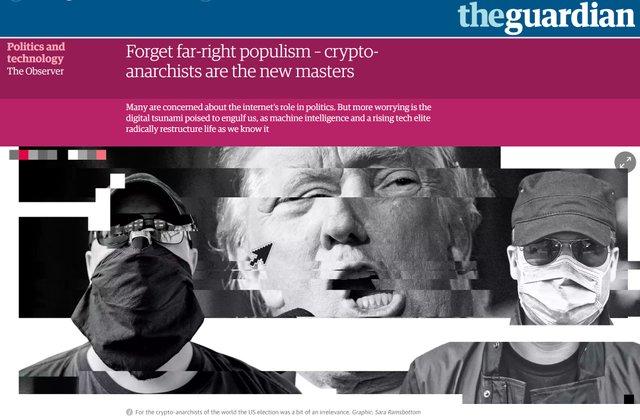 Of course, instead of calling us anarcho-capitalists and having a picture of someone like myself in a business suit, they found the only two people involved in cryptocurrencies who regularly wear masks!
As an aside, I interviewed masked Smuggler, back in 2012, when I did interviews while smoking and drinking a glass of wine while bitcoin was at $10.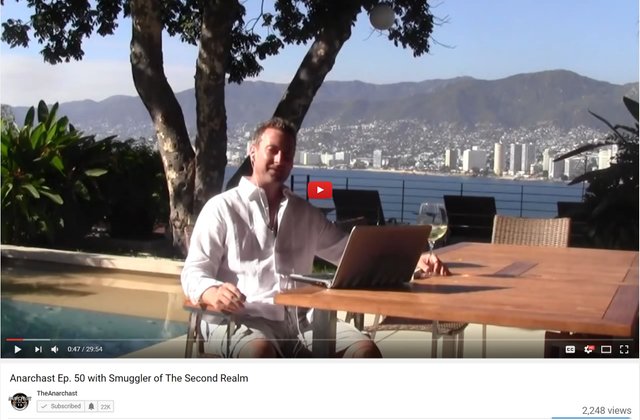 But, The Guardian headline is somewhat correct. Cryptocurrencies and the anarcho-capitalists/crypto-anarchists that have fostered them can potentially take down the entire central banking system and along with it warfaring and welfaring governments.
If that were to happen, we'd have peace and prosperity on Earth like we've never known it.
Although, we still have a very long way to go before we get there. And they will do everything they can to stop it.
One of the most recent attempts being the Prime Murderer, Theresa May, calling for full government control of the internet after recently pulling off several more false flag attacks in the UK as a run-up to the (s)election.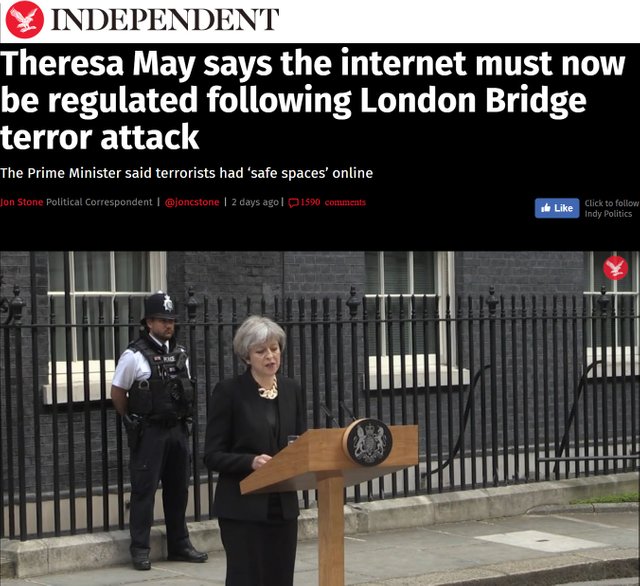 At Bilderberg this year, which I just returned from, one of the main topics on the agenda was "The War On Information" and to be sure, this is a key part in how they will attempt to stop the cryptocurrency revolution.
Some people are still of the belief that bitcoin and cryptocurrencies are government controlled "psyops" - I can assure you that as a movement, they are not.
I've been involved since nearly day one and all any of us talk about is how we can take down the governments and the central banks. Cryptocurrencies are being created with 100% anonymity (Monero/Dash) and even alternative internets are being designed (Maidsafe) so that they can't even take down the internet unless they manage to turn off the power for the entire world.
And alternative social media based off the blockchain is already flourishing, like Steem and Steemit.com where we have been posting our material first since its inception (and made $100,000+ doing so - (please follow us there) - you can actually make money just by upvoting and commenting on our content).
And that's beside making a fortune on the rise of the currency itself! You may recall our article, "It's Time Everyone Looks at Steemit Again" just a few weeks ago when Steem was near $0.25.
It's currently near $2.00.

Will cryptocurrencies keep going straight up forever and never have pullbacks? Of course not, that's impossible.
But, is this an evolution in money and banking that could change the world forever? Yes.
If you still haven't listened to my pounding the table on cryptocurrencies, which I have been doing since 2011 when bitcoin was $3, please check out this free 4-video tutorial here. In it, I even offer to send you your first $50 in bitcoin directly from myself.
The Guardian likes to act like we are a group of shadowy figures who wear masks and want to destroy the wonderful banking system of today. In fact, there are now millions of us in almost every walk of life. We look fairly normal, we act fairly normal, and yes, we do want to destroy this heinous central banking cartel that has funded all wars and impoverished billions - by making it obsolete.
And maybe, we just might succeed.