BTC Bitcoin - Correction NOT over. Don't get burnt... See why in this TA.
Hey everyone,
It's been a very long time! I got sick, had to work harder than expected lately, family, and so on... But hey, I never stopped trading and here I am, with my stack doubled up (so far) thanks to this correction!
And boy I think this is not over, despite many short-term bullish TAs that we can read, which is understandable after such a heavy correction. People want it to end so bad, that sometimes they tend to mistake "I think this is over!" for "I wish this is over!"
Now on for some charts, would you?
The charts speak for themselves actually: we're done with a complex correction that had many thinking we were on an uptrend...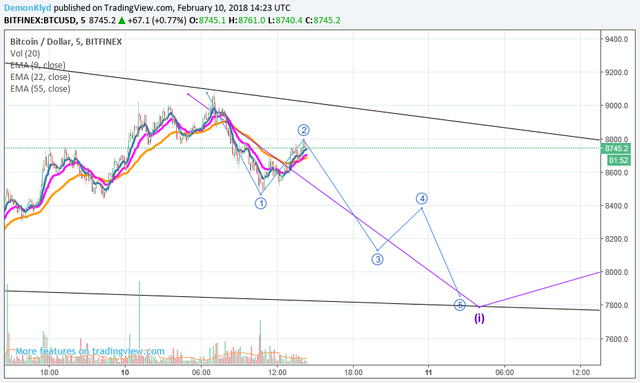 ...only to realize this was only circled wave iv playing out: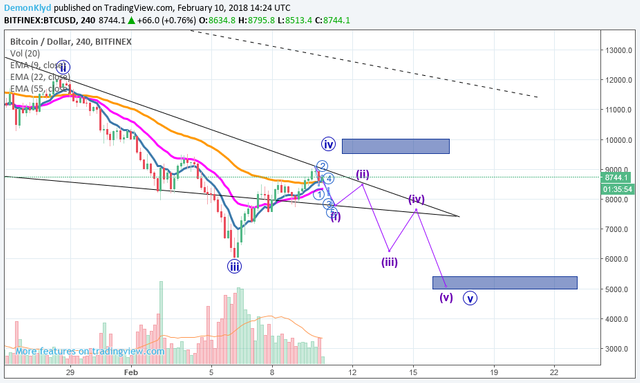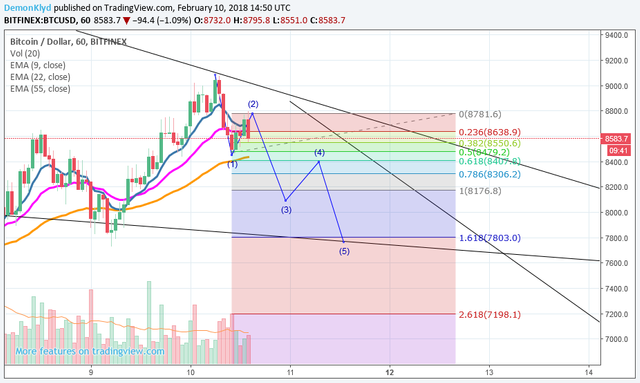 I'm relying a lot on the EMA 55 (4h chart) indicator, and it never lied to me so far (yellow line): this is still bearish, even if sometimes attempting to crisscross. As long as this one stays above the two others (blue / purple), let me tell you we've not reached the bottom yet. So what? More bargains to come.
Before I continue, remember that I do not own a crystal ball, this is merely an Elliot Waves analysis / chart patterns recognition I'm proposing to you. Now let me propose you what I'm expecting for the days to come.
(On the chart above) When purple wave (i) hits the support line of the wedge, wave (ii) should happen, rejected by the resistance line of the wedge, this time breaking the wedge's support and reaching a lower support line close to $6000 for wave (iii).
Because wave (ii) would be small in this scenario, that would allow wave (iv) for a deeper retracement upward, hitting the wedge again (now a resistance), being once again rejected, and allowing it to reach its final destination at a very strong support line between $5000 > $4250, which would mean that BTC had landed at Fib 0.786 or close signing the (probable) END of this almost 2 month long correction.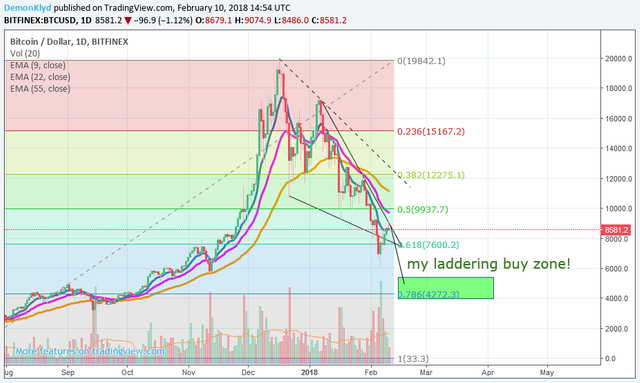 One may consider laddering in at this point.... But hey, that's all up to you now, right? :)
Enjoy the ride :)



Thanks for reading me, I'd appreciate an upvote if you enjoyed this technical analysis. Also Don't forget to FOLLOW me & Resteem !!!
Remember this article is not intended to guarantee any gain nor encourage you to invest in any way! This is just for your information.
You could even consider offering me a beer! ;)
ETH 0x7f6A03620BCaDaFCb76E0B0E253F4bF50b6f8A24
BTC 1JPARFZfvrdj9VgNxcvq8D9G3dc5X113Wd
BCH 13R98Ggzuq5NZx5AnguMkNXs3qmBMhPqvg
Have a good one!