BCH Update - The land is silent... before the storm! Ascending Right triangle spotted?! BULLISH!
Hey there, following my previous post, here's a brief update for BCH: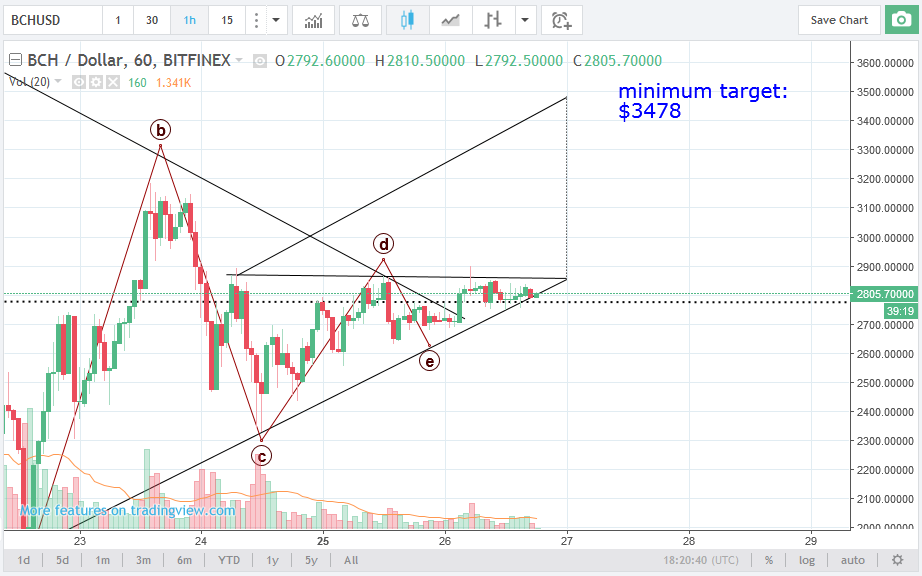 An ascending right triangle! Yes sir! Minimum target would be $3478. Remember we are at the end of an already bullish ABCDE triangle. Bitcoin Cash has been very very calm for quite a few hours now... What's that? Calm before the storm? If so, I'm in. If not, it's just a matter of time...
Hence, do not panic and beware the bullish wick in case price came to drop dramatically before the real surging up.
Enjoy the ride!
-------------

-------------
Thanks for reading me, I'd appreciate an upvote if you enjoyed this technical analysis. Also Don't forget to FOLLOW me & Resteem !!!
Remember this article is not intended to guarantee any gain nor encourage you to invest in any way! This is just for your information.
You could even consider offering me a beer! ;)
ETH 0x7f6A03620BCaDaFCb76E0B0E253F4bF50b6f8A24
BTC 1JPARFZfvrdj9VgNxcvq8D9G3dc5X113Wd
BCH 13R98Ggzuq5NZx5AnguMkNXs3qmBMhPqvg
Have a good one!