BCH Bitcoin Cash - (Very) Long Term Tentative Analysis - Leading Diagonal Triangle? $15285 ?
Good morning everyone,
Today, as I was toying with charts on this sunny sunday morning here in south France, I came up with something that I judged worthy of interest to share with you. And this concerns Bitcoin Cash, a too often underestimated limb of Bitcoin Core.
First, let me introduce this blog with a big picture in order to set the landscape, so to speak: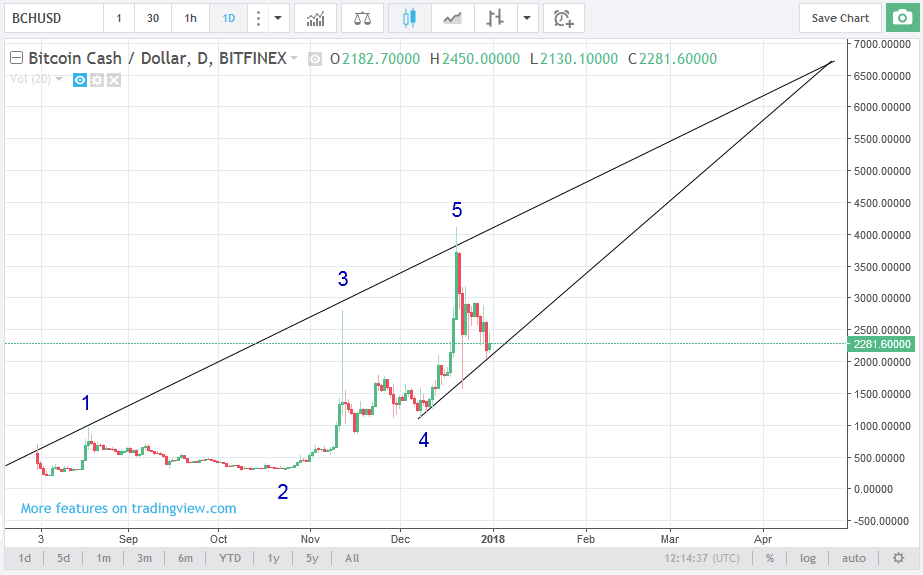 What is this? It looks like a leading diagonal triangle. What's the structure of a leading diagonal triangle? The answer in this case would be 5-3-5-3-5. We already have 5-3- - - . Now let's get into the theoritical part of what may happen in the mid term. In my opinion, this situation is neither bullish nor bearish, as long as you make efficient calls at the right time.
Let's shed some light on this then, shall we: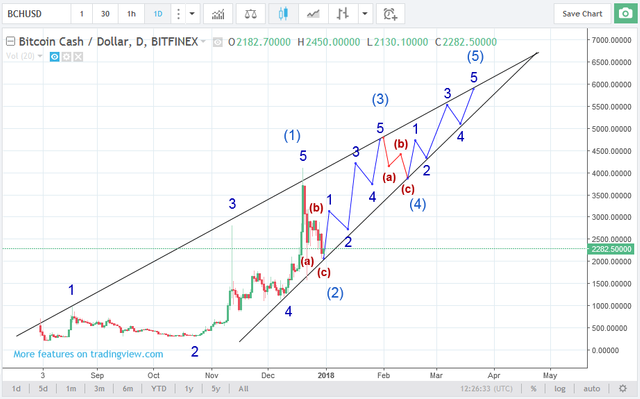 Here is the typical structure of a 5-3-5-3-5 leading diagonal triangle. I perfectly know that the correction that has just ended (or has it?) is more of a triangle, still this reflects a downward trend that shall end to allow for a new set of impulse waves. That would be for a mid-term perspective now. It totally respects the Elliott waves principals as wave (3) of a higher degree is not the shortest.
OK but, what's the matter? Well, here's a longer term forecast: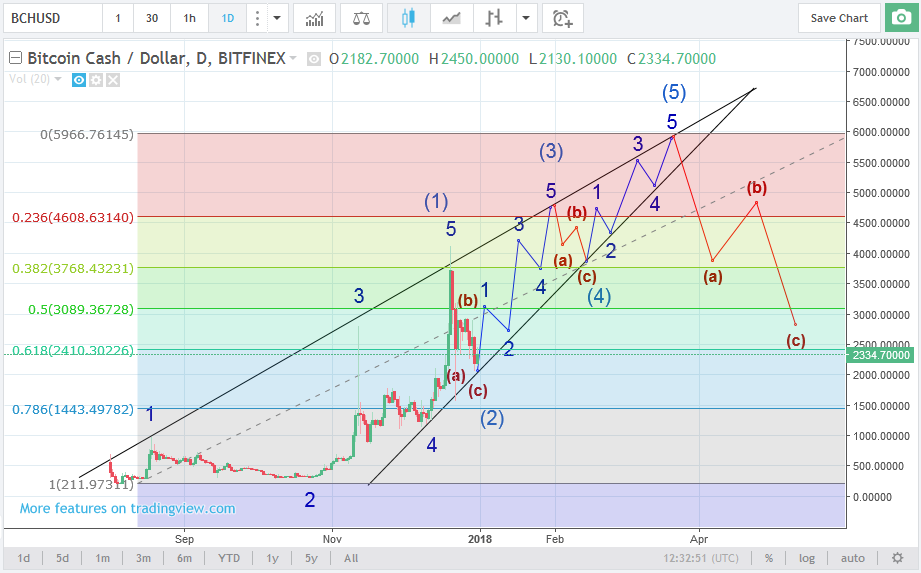 These same Elliott Waves principals stipulate that after five impulse waves, a correction is due. Hence a retracement down to between Fib 0.5 / Fib 0.618 may occur. So yes, we may have a bit of a diving from around $6000 to $2500-$3000.
But if you read me correctly, I said this situation, in my humble opinion, was neither bullish nor bearish.
Indeed, after the rain comes the sun, and this very long term perspective shows a bright future for Bitcoin Cash: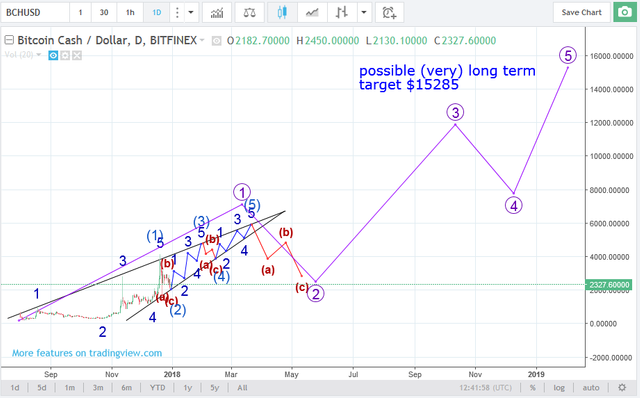 This is a POSSIBILITY. The more a forecast deals with long term perspectives, the more events and news can come into play and crush the card castle. However, the price of $15285 for BCH stands a strong PROBABILITY in the very long run; just how this will happen or what news or event will justify this forecast is yet unclear.
Enjoy the ride!
-------------

------------
Thanks for reading me, I'd appreciate an upvote if you enjoyed this technical analysis. Also Don't forget to FOLLOW me & Resteem !!!
Remember this article is not intended to guarantee any gain nor encourage you to invest in any way! This is just for your information.
You could even consider offering me a beer! ;)
ETH 0x7f6A03620BCaDaFCb76E0B0E253F4bF50b6f8A24
BTC 1JPARFZfvrdj9VgNxcvq8D9G3dc5X113Wd
BCH 13R98Ggzuq5NZx5AnguMkNXs3qmBMhPqvg
Have a good one!