BCH Bitcoin Cash - Fractal identified? $3600 target? Find out in this blog.
Hey everyone, it's been quite a while, hasn't it. Being busy at work doesn't mean I could not keep up with all the amazing stuff that went on for the past 2 weeks.
Most of the altcoins literaly surged out of their sleep, and BTC reached all time new highs.
But what about our dear Bitcoin Cash? Well here is what I came up with this morning: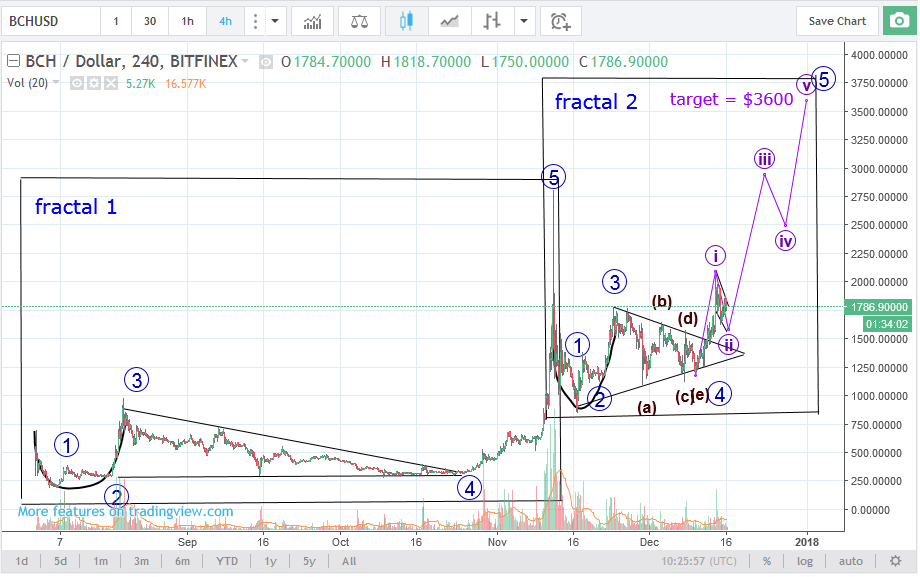 I have tried and discerned a fractal probably repeating. Notice how a cup was formed in fractal 1, to then turn into a looooong and never ending handy handle. So handy it was propulsed into the stratosphere.
Now look at fractal 2: isn't the whole thing repeating again? I can see a uncannily similar cup, an ABCDE triangle consolidation in the form of a handle, and... a breakout.
So, what's next? Never forget that in spite of sounding the same, "probable" is not the same as "possible". In this case, it is probable that BCH have one last impulse up to $3600 (approximate target) before a big correction.
Keep an eye on it!!! And as always, enjoy the ride!
---
Thanks for reading me, I'd appreciate an upvote if you enjoyed this technical analysis. Also Don't forget to FOLLOW me & Resteem !!!
Remember this article is not intended to guarantee any gain nor encourage you to invest in any way! This is just for your information.
You could even consider offering me a beer! ;)
ETH 0x7f6A03620BCaDaFCb76E0B0E253F4bF50b6f8A24
BTC 1JPARFZfvrdj9VgNxcvq8D9G3dc5X113Wd
BCH 13R98Ggzuq5NZx5AnguMkNXs3qmBMhPqvg
Have a good one!