Is The Bitcoin Civil War Over?
Authored by Mike Krieger via Liberty Blitzkrieg blog,
Before I get going, let me start out with the usual disclaimer. I'm not a Bitcoin expert, nor do I claim to be. I love people who live and breathe Bitcoin every day, and I have the utmost respect for all of you, but that's not me. As you can tell from a quick glance at my website, my current focus revolves around the current political environment as well as the geopolitical implications of a declining U.S. empire. That said, I've been involved in Bitcoin since 2012, and I care deeply about it. In my opinion, globally interconnected humans functioning within decentralized systems of economics and political governance provide the best framework for the human species going forward. We have the tools, we just need the desire.
Today's post is about an alt-coin that is about to fork from Bitcoin, led by a contingency in the civil war known as the big blockers. This piece is not meant for newbies, but is written for people who own Bitcoin and already have a good understanding of all the drama that's been going on and may continue to periodically resurface after August 1. If you aren't already up to speed on these things you should probably stop reading. The post will just sound confusing and won't have much impact on your decision making anyway.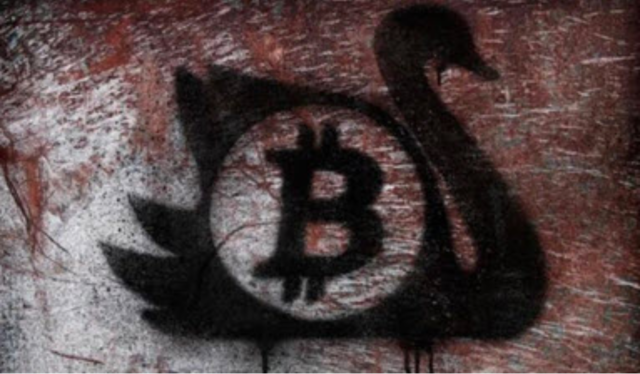 First of all, I don't think there will be any debate around what the "real Bitcoin" is following the fork and creation of an alt-coin called Bitcoin Cash (BCC). This coin will be a pet project of big blockers wanting to both save face, and also potentially hurt the original Bitcoin (BTC). Only time will tell if some of those considered "bad actors" will try to target the original Bitcoin out of pettiness, but you should never underestimate what people with a lot of money/power and huge egos will do. History is replete with the ruins of the crazed actions of these types of individuals.
If you control your private keys, you should be able to access BCC sometime after August 1st. Some people are describing this as a dividend, although it seems more like an asset spinoff to me. Either way, BCC will have some sort of value on or around August 1st, and a market will start being made. So how should people concerned about potential bad actors on the side of BCC think about all of this? Let's start with a few tweets from Whale Panda that I think are important to ponder.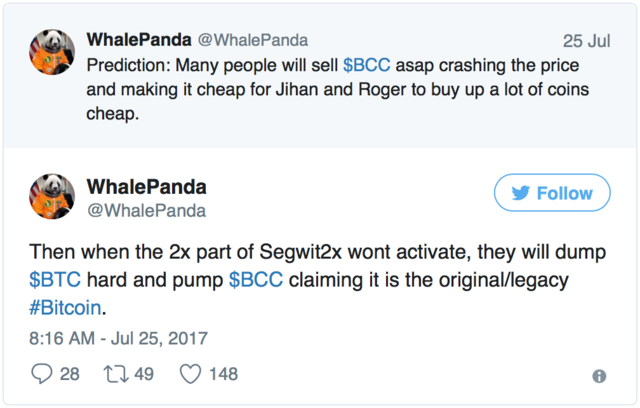 With that in mind, take a watch of this recent interview of Roger Ver. Roger is considered to be one of the largest holders of Bitcoin out there, and owns bitcoin.com.
That video definitely made me feel that Roger could act in a hostile way following the launch of BCC. I really hope he swallows his pride and doesn't go down that route, but we can't make that assumption. I think we absolutely need to prepare for the possibility that some bad actors will try to harm Bitcoin using BCC. Here are a few more tweets from Whale Panda.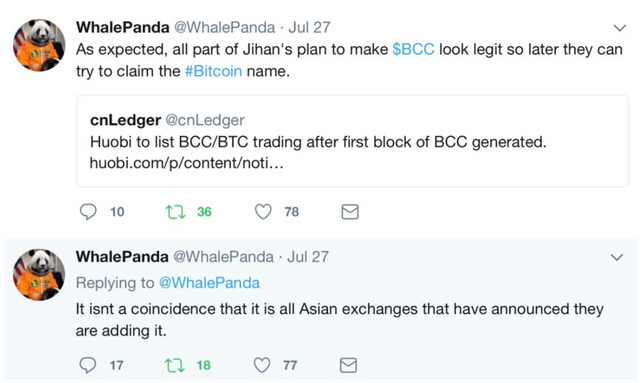 Since I think Whale Panda is onto something, the most logical way to defend against the threat from a market psychology perspective is to hold onto your BCC even if you think it's garbage. You have to understand that if bad actors want to make Bitcoin look bad and their alt-coin look good, price will be a huge part of their strategy.
It might make sense to not dump your BCC right away, which could let bad actors control the entire float. If you do that, they can then dump their BTC on the market while controlling all the BCC and ensure it goes up while Bitcoin drops. I'm not saying this is my assumption, I'm saying its possible. As such, hold on to your BCC to prevent them from executing this strategy. Then if BTC does drop as BCC rises, you have dry powder to take the other side of the trade. The risk in this strategy is that BCC crashes right away and never recovers and you lose that free money, but if that happens you'll still probably benefit from a rising BTC price.
At the end of the day, everyone should do what they feel is right. I could be completely nuts here. I'm just putting all of this out there in the event some of you haven't thought through this potential outcome yet. I at least want people to be aware of what might happen. I have no idea of the likelihood of such a scenario.
Personally, I hope Roger, Jihan and whoever else don't go down that route. If they do, they will be rightly demonized and remembered as the egomaniacs who tried to kill Bitcoin. Sure float your alt-coin and let people choose, but don't start playing nefarious games. If you do, the Bitcoin community will rally together like never before and it won't be good for you. I ask that you stand down.
Source : http://www.zerohedge.com/news/2017-07-28/bitcoin-civil-war-over
Disclaimer : I read ZeroHedge and all the top Crypto News sites every day to find the one or two best articles and reformat them for Steemit. I appreciate the upvotes but consider following the account and resteeming the articles that you think deserve attention instead. Thank you! Head over to ZeroHedge.com for more news about cryptocurrency, politics and the economy.