Is 2017 a predictor of 2018 in cryptocurrency gains?
@Taumantis on Twitter, Shared this image as a reminder of what things looked like on January 1, 2017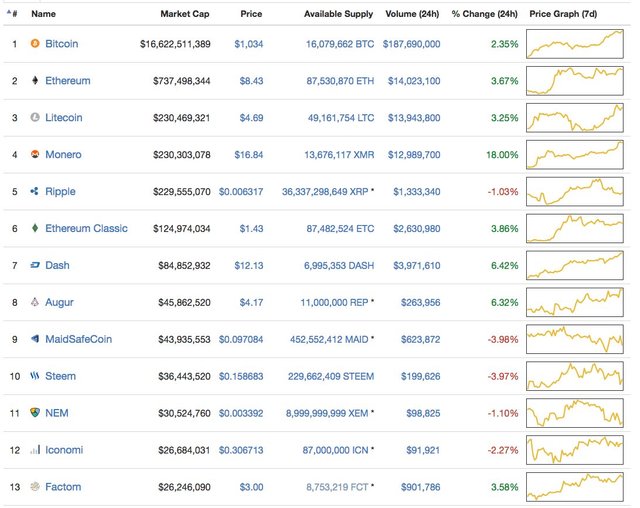 BitCoin at $1,034. Currently at $16,523.20, but has touched $20,000. +1,497.969%
Ethereum at $8.43. Currently at $801.98, but has been higher. +9,401.779%
LiteCoin at $4.69. Currently at $315.83. +6,634.115%
Ripple at $0.006317. Currently at $0.745490. +11,701.330%
Dash at $12.13. Currently at $1,530.66. +12,518.796%
Steem at $0.158683. Currently at $3.00. +1790.562%
There are a lot of coins in the Top 100 that didn't even exist on January 2017. There are coins that have done 2,000% increases in the past 30 days.
There is no way of knowing if the gains from last year will reflect the gains to be had from 2018.
However, there is a good chance, if it isn't a shit coin that disappears, that what ever you are holding on January 1st of 2018, will be much much much higher come December 31st of 2018.
---
Let the positive energy sing!

More Power to the Minnows!!