Vault12 - my next 10x ICO
Most people think you can't buy this ICO but it's not true!
Some investor decided to sell his allocation through this website:
You need to open an account and KYC and then you will see Vault12 contribution page like this: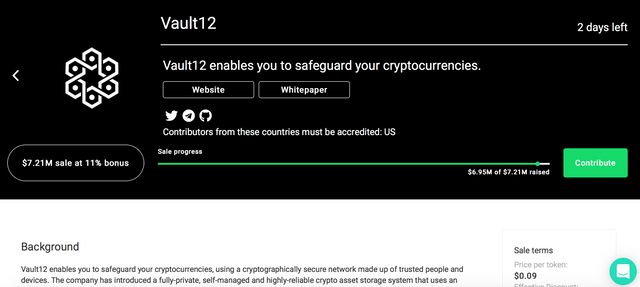 You really gotta hurry cuz it's almost sold out.
Overall Raise Info:
Total: $40M cap

0.1$ per token

40% is being sold, 50% will be locked for 1 year. They wont sell more than 10% in one calendar year. 10% community rewards

1st Presale Round: Closed $1.2M @ 30% discount + 1 year lockup

Syndicate Round: Max 10%

ICO: High chance of being canceled. Will be on coinlist = ACCREDITED INVESTORS ONLY
Our deal: 5% bonus, no lock
Roadmap/plan: 1) (From telegram:) Wrapping up ICO activity and token issue next couple of months. 2) Public beta Oct this year - everyone will be able to play with demo you seen on your own phone, add guardians. all free, no tokens. 3) Q2 next year - public lunch with token economy. All Vaults and relays go commercial
What I like:
Crazy investors + hype
Great team
Good project idea
Token usage isn't bad but the app will have to be used
What I don't like:
Hardcap
ICO date if any is TBA.
Also one of the biggest minds in SV and AngelList owner invested: