Sind wir in einen Bären oder Bullenmarkt ? | Are we in an bear or bull market ?
Nach einen Tag Pause kümmern wir uns Heute um ein sehr aktuelles Thema bei dem sich die Top Trader zurzeit überhaupt nicht einig sind. Viele Leute stellen sich bei dem aktuell verlaufenden Chart die Frage ob wir nun in einen Bären oder Bullenmarkt sind.
Kurze Erläuterung:
Bärenmarkt: Der Sell übersteigt den Buy --> fallende Kurse
Bullenmarkt: Der Buy übersteigt den Sell --> steigende Kurse
Was folgt nun ?
Zuvor hatten wir einen Bärenmarkt der nun in das Muster (in blau) eines weiteren verlaufenden Bärenmarktes verlaufen könnte. Jedoch kann das Muster (in blau) auch auf einen möglichen Bullenmarkt hinweisen, welcher zu neuen Hochs führen kann.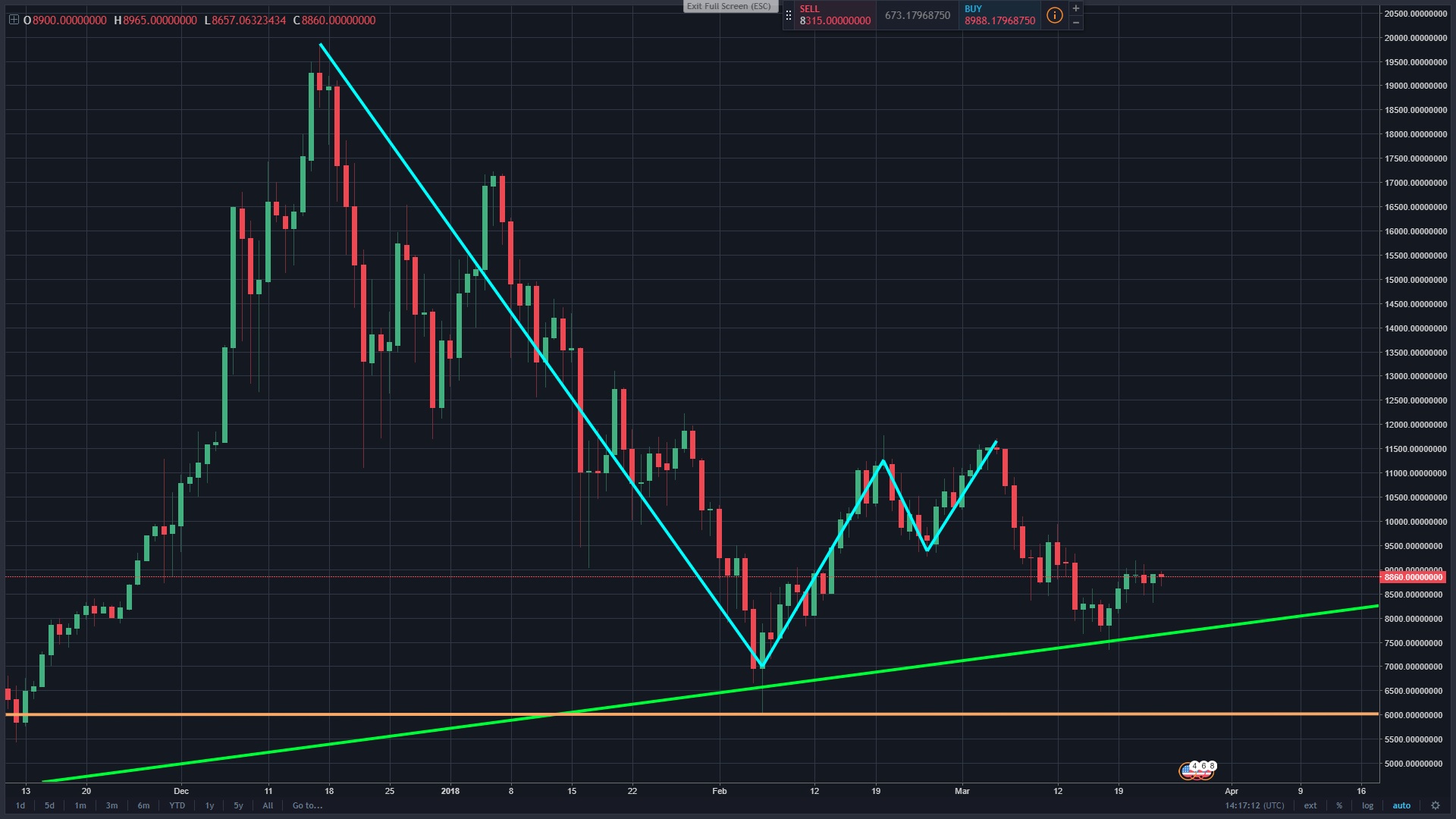 Die wahrscheinliche Lösung:
Am Ende dieses Musters in blau, haben wir einen weiteren Abwärtstrend gesehen der auf die Fortführung des Bärenmarktes und einen weiteren Tiefs in Zukunft führen wird. Hätten wir nach der Linie in blau einen Aufwärtstrend bekommen, könnten wir neue Hochs anvisieren. Was nun im Endeffekt passieren wird liegt aber noch nicht 100% fest.
Ein guter Punkt jedoch ist, dass wir uns weiterhin über der Langzeittrendlinie in grün halten!
---
English:
After a one-day break, we take care of a very topical topic today in which the top traders are currently not in agreement. Many people ask themselves in the current chart whether we are in a bear or a bull market.
Short explanation:
Bear market: The sell exceeds the buy -> falling prices
Bull Market: The buy exceeds the sell -> rising prices
What follows?
Previously, we had a bear market that could now go into the pattern (in blue) of another bear market. However, the pattern (in blue) may also point to a possible bull market, which may lead to new highs.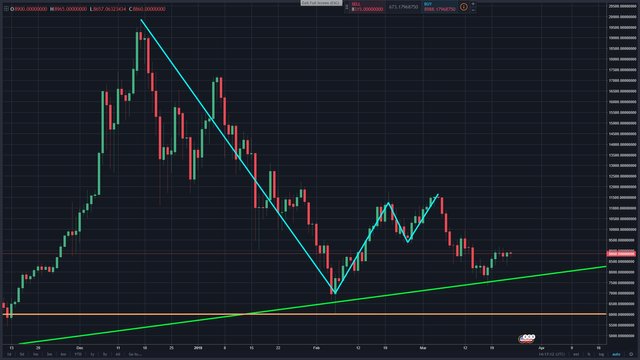 The probable solution:
At the end of this pattern in blue, we saw another downtrend that will lead to the continuation of the bear market and another lows in the future. If we had an upward trend after the line in blue, we could target new highs. What will happen in the end is not 100% fixed yet.
A good point, however, is that we continue to keep above the long-term trend line in green!