"I'm Just Going To Use The Bitcoin ATM"
"I'm Just Going To Use The Bitcoin ATM!"
How-to Guide and Buying ATMs For Profit
By Dave @ Dave's Crypto
November 27, 2017
Tonight I said something I've never said before to another person: "I'm just going to use the Bitcoin ATM!"
Wow, are the Bitcoin ATMs making inroads, or what? This was in a corner store.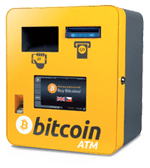 General Bytes BATMTwo Bitcoin ATM
This was not the first time I've used an ATM such as this. I think it's technically called a BTM (Bitcoin Teller Machine), where you can buy BTC for fiat and also sell BTC for fiat. This machine was BTC only, but I've used ones where they offered Litecoin also.
This time I sent the funds right to an exchange, bypassing going to a wallet first (either paper or online, I've done both). I did this in order to not pay another fee to transfer from my wallet to the exchange – why pay twice? I'll get hit with a fee to transfer back out of the exchange to my wallet, so I'd better make it worth my while, first!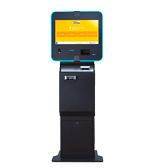 General Bytes BATMThree Bitcoin ATM
The process on the machines to buy BTC (haven't tried to sell it, yet):
Press a button on the screen to begin. (If the machine has multiple coins, then select the coin.)
Scan your QR wallet code from your phone (or a paper wallet) at the reader on the machine.
Insert your fiat bills.
Press to confirm the transaction and see amount you are buying, and the fee.
Get a confirmation on screen for what you bought and the price. You can write down the confirmation number and/or take a picture of it and the QR code. Some machines will email or SMS you the details, if you want.
Press the button to reset the machine (probably times out as well if you don't press).
It was similar to this:

That's it! By the time I got home, about 15 minutes later, the coins had arrived where I sent them, confirmed. They were probably there sooner, as there is a moderate fee involved, usually about 5% to 7%, but I didn't check right away. The Coin ATM Radar site is a good resource to find ATM locations and fees (which do vary).
Buying crypto this way is very easy to do and pretty foolproof. There's a slightly higher fee than from some exchanges, but you get the convenience of getting your coins right away, and selling them too, at certain machines. I've used these ATMs 4 times now and haven't had a problem, with two different types of machines, at two different locations.
It can get really interesting in the future, as these machines can be used with many different types of crypto! But for now, from what I've seen, they are sticking to BTC and LTC, but they are sure to add support for more coins as demand grows.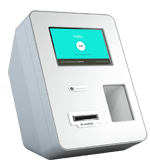 Lamassu Douro Bitcoin ATM
I've paid a lot less to transfer BTC myself, from wallet to wallet, or from wallet to exchange with a low fee, which is fine if you are not in a hurry. Sometimes it takes days; I've waited up to 3 days in the case of a very low fee I put a transfer through with, just to see what would happen. I recommend the Electrum wallet or another wallet that allows you to control the fees yourself, and the timing, like Coinomi. It can make a big difference in the amount you pay!
A Growth Industry - To The Moon!
According to Coin ATM Radar there are now 1864 Bitcoin ATMs in the world. We are still in the early days, but their numbers are growing fast. They say about 4 new machines are going in each day. That number is only set to increase. We've seen the number of machines installed worldwide this year more than double, from 900 to1864. It's quite the growth industry!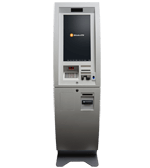 Satoshi1 Bitcoin ATM from Genesis Coin
Some of you may be thinking you'd like to buy such a machine of your own and start a business. Pretty good idea, but be prepared to have quite a bit of operating capital available. The cost of the machine is not the major expense.
They range in price to purchase from $2999 USD for the General Bytes BATMTwo (buy only model), up to $8900 USD for the Genesis Coin Satoshi2 (buy and sell supported and a lot more features). It's recommend to have from $10K to $20K of a "float" in a live wallet of crypto to supply the machine with at any given time. Then there are some fees for network access and most machines have their own networks you must use.
Of course, if the prices go down, the operator will have to carry the loss until the prices go back up. Still, it's estimated that you can make back your investment in one year - if all goes well. Also, there are legal and regulatory issues to be aware of, which are different in each country. So, it's not such a straight-forward venture to buy and operate these ATMs, but it could work out very well.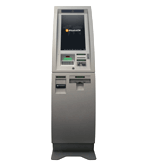 Satoshi2 Bitcoin ATM from Genesis Coin
I'm not sponsored by Coin ATM Radar or any of the ATM suppliers (nor any of the wallets), these are just my ramblings on my experiences with these ATMs so far. I hope it's useful.
-Dave
Dave's Crypto
http://davescrypto.com
"To the moon!"