Are you one of those people who like to post (or comment):
HODL until the moon.
HODL forever.
Or some other HODL nonsense.
I'm sorry to hear that. You haven't done enough research into reasonable investing strategies. You are probably a millenial and are just beginning to make some of your first investments. And you assume HODL is a great strategy that is guaranteed to win.
Step back and think about your actions. You are treating crytpo EXACTLY like a lottery ticket. HODL until the value of what you are holding is zero, and then toss the scraps away.   
Isn't that what you do with the lottery tickets you buy? Why are you confused about the difference between cryptos and lottery tickets?
Sorry dude. Or dudette. If BTC was your first rodeo, you are getting a trial by fire.
Let's look at data and facts.
The last upleg for BTC was 566%. The corresponding down leg could easily be 90%. Based on 40% downlegs being common for uplegs of 200%.
BTC at its peak was approx. $20K.   It is possible BTC won't find support until $2,000 per BTC range.  
A 90% drop.  Am I guaranteeing a 90% drop?  Nope.  Just saying it is definitely in play as a possible outcome.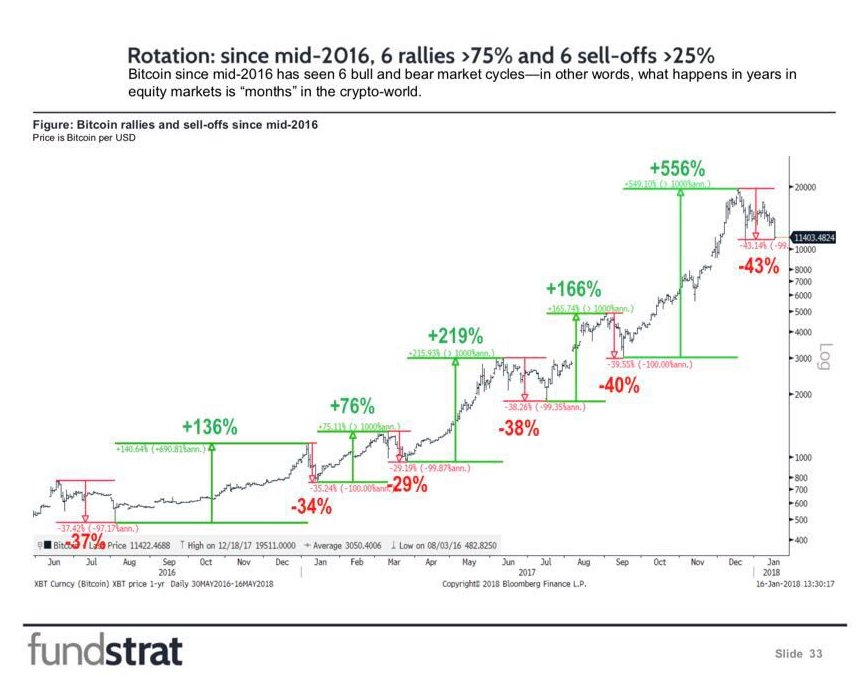 And now you are asking - what should I have been watching to determine when to TEMPORARILY back out of the market and let the extreme volatility settle down?
You should have been watching 50, 100 and 200 day SMA lines. Simple Moving Average.

You probably should have sold when BTC dropped below the 100 day SMA. You would have sold at $12,000.
And when BTC dropped below the 200 day SMA at around $9,000; you should have been running for the exits at high speed if you tried to hold through the plunge below 100 day SMA.
A steep price drop that plunges below the 200 day SMA is as bearish a signal as you can get.
When do you get back in?
Watch for upwards piercing crosses, above 50, 100 or 200 day SMA, depending on how confident you want to be for about the bullish trend, before you put money at risk again.
A few thoughts for your trading mind to consider.
I am hoping for an upvote from an everyone who can see that the haejin TA and triangles are a bunch of BS compared to trading signals for volatile markets using SMAs.
When all you see if a rising market, then you can draw triangles and post 10 articles a day predicting upwards price movement. In a rapidly rising market, continuously predicting a continuing price rise can look like genius.  To the uninformed. But that doesn't change the old saying.
With a strong enough tailwind, even the fattest turkey is able to fly (to the moon).
STEEM ON !!
DaveB