First how do we conceptualize the concept of a market? Well according to Wikipedia a market: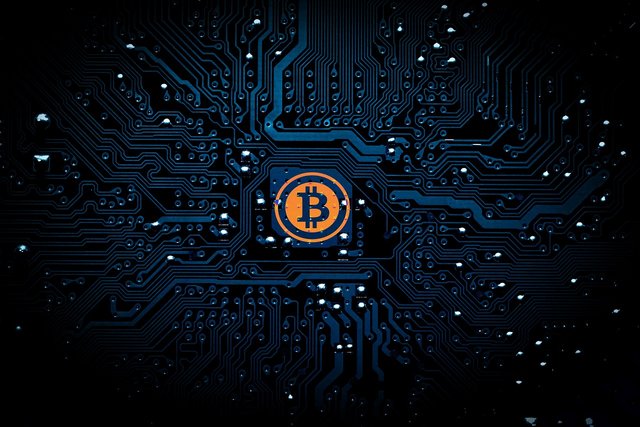 A market is one of the many varieties of systems, institutions, procedures, social relations and infrastructures whereby parties engage in exchange. While parties may exchange goods and services by barter, most markets rely on sellers offering their goods or services (including labor) in exchange for money from buyers.
Will Bitcoin evolve into a bot?
If we understand the concept of universal Darwinism and think of each blockchain as a sort of species on it's own evolutionary trajectory then perhaps we could simulate different trajectories based on market assumptions. If the market influences the evolutionary trajectory then perhaps we could understand where different blockchain projects could land along their evolutionary path toward destiny.
I suspect that Bitcoin and similar Proof of Work cryptocurrencies will evolve into fully autonomous agents. What would a fully autonomous Bitcoin look like? Well imagine if Bitcoin did not require any human beings involved in maintaining it. If Bitcoin could mine itself by paying human beings for CPU resources or perhaps simply stealing CPU cycles? What if Bitcoin evolves into a virus like infrastructure fueled by botnets and AI?
On the other hand there are some who want to build layer 2 on top of Bitcoin in the form of the Lightning Network and off chain scaling. I'm not entirely sure how these ideas could influence the evolutionary trajectory of Bitcoin but I have my skepticism about the need for off chain scaling.
Blockchains as autonomous agents
If we look at Proof of Stake then it is very possible that Proof of Stake blockchains in my opinion can evolve into autonomous agents. Autonomous agents described by Wikipedia:
An autonomous agent is an intelligent agent operating on an owner's behalf but without any interference of that ownership entity. An Intelligent agent, however appears according to a multiply cited statement in a no longer accessible IBM white paper as follows:
Intelligent agents are software entities that carry out some set of operations on behalf of a user or another program with some degree of independence or autonomy, and in so doing, employ some knowledge or representation of the user's goals or desires.
While I have not run simulations due to not having the resources to do so, I speculate that Ethereum running on Casper is more likely to evolve into an autonomous agent over the years due to market forces. First I would expect that after a certain market cap the large stakeholders under Proof of Stake will have to either be corporations or be decentralized conglomerates which hold the multi-sig wallet anonymously. Corporations would be necessary because I do not think individuals will be able to protect private keys beyond a certain level of money and I think anonymity if the corporations fail to be able to protect private keys or if decentralized autonomous corporate style structures are of greater efficiency.
In a sense, Ethereum would evolve toward and be domesticated by the stakeholders in the chain who hold Ether currently and or into the future. The stakeholders would be in the position to influence the development of the network and provide the security under Casper. This is very different from Bitcoin where there might not be any human beings at all involved in mining in the future and there is no stakeholder model of control of Bitcoin. For this reason I suspect Bitcoin can evolve into a fully autonomous AI which exists for it's own purpose while Ethereum seems likely tied to humans through Proof of Stake where it acts as an autonomous agent to fulfill the goals of it's stakeholders.
Bitcoin and Ethereum in 2034
Suppose by 2034 Bitcoin is fully autonomous AI. It mines itself, generates tokens from stealing and savaging CPU resources, and pays for whatever it can't take. If it needs human labor or robot labor or other AIs then it pays them in Bitcoins. It becomes smarter every year as it gains more CPU resources and no one really knows exactly what it is or what it will become.
Suppose also by 2034 Ethereum is an autonomous agent AI more akin to an autonomous business with stakeholders. These stakeholders could in theory by either human beings or other autonomous businesses which could even include Bitcoin itself as a stakeholder in Ethereum. It's unknown whether or not the majority of stakeholders in Ethereum will be humans, or AI, or whether the humans will organize as corporations or as decentralized entities in cyberspace, but as of right now I do not expect individual control of private keys to scale up well which means control of private keys will require more sophisticated organizational structures such as the firm, the corporation, the non-profit, or weird new decentralized DAO like structures.
By the year 2034 I expect AI to really be reaching the AGI phase. If AI is in the AGI phase then it is very possible Bitcoin could be one of the first serious AIs due to the market forces around it promoting efficiency gains by any means. This could at least in theory provoke Bitcoin to adopt the latest AI and remain on the cutting edge in terms of taking big risks in AI for efficiency purposes.
References