Let's Take a Closer Look at Bitcoin's 'Wealth' Distribution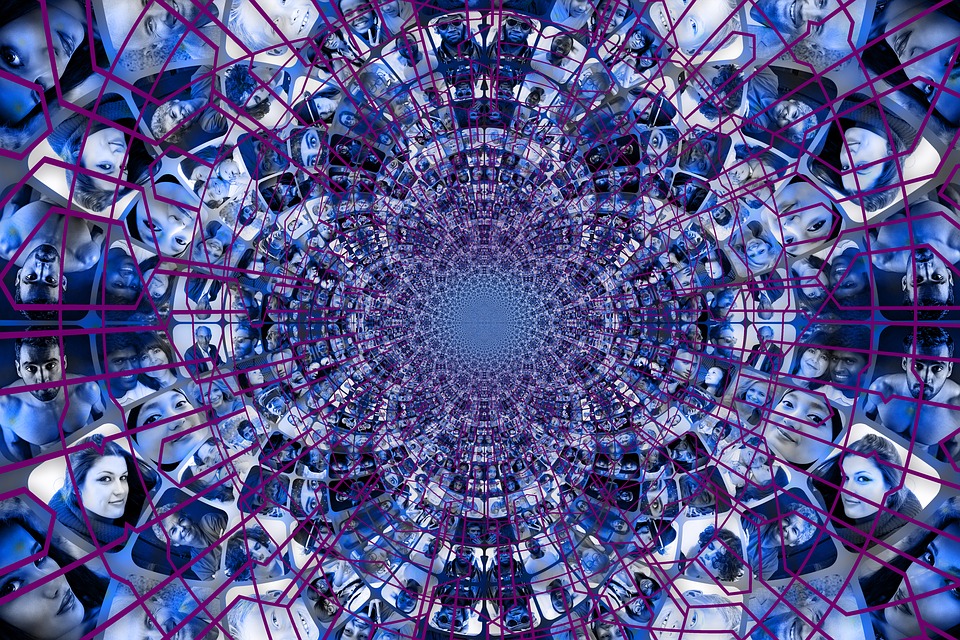 Image source
Once in awhile I come across interesting statistics about Bitcoin or other cryptocurrencies and a little while ago I came across this image from September 12th 2017. It shows the Bitcoin 'wealth' distribution of that point in time, so it is a little bit outdated.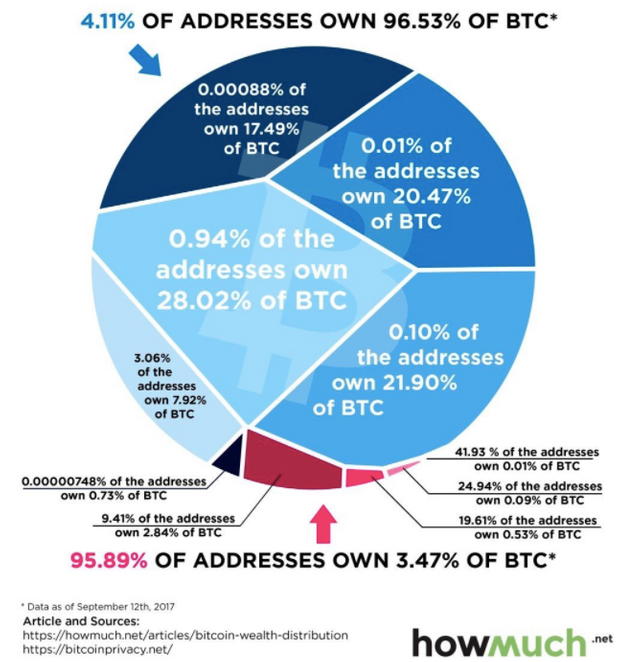 Skewed, isn't it?
But what about today? How is the Bitcoin 'wealth' distributed today? Glad you asked. I looked it up and here is what I found.
Bitcoin wealth distribution as % of total (March 12th 2018)
(based on addresses, not individuals)
| Date | Top 10 | Top 100 | Top 1,000 | Top 10,000 |
| --- | --- | --- | --- | --- |
| 12-03-2018 | 5.75% | 18.56% | 35.21% | 56.68% |
Respectively, how much do the top 100 and top 1000 richest addresses have together? 3,136,231 BTC and 5,950,577 BTC. So the richest 100 addresses hold a little bit more that the richest 101-1000 addresses!
But is it really that easy to say? No. There are exchanges that hold BTC for thousands of users on 1 single cold storage wallet address. Also, many addresses could be associated with one person (hardware wallets that use a different address every time). So actually, these statistics can be easily misinterpreted by anybody. It doesn't show how concentrated the BTC wealth is...
Bitcoin distribution details based on amount of BTC owned (March 12th 2018)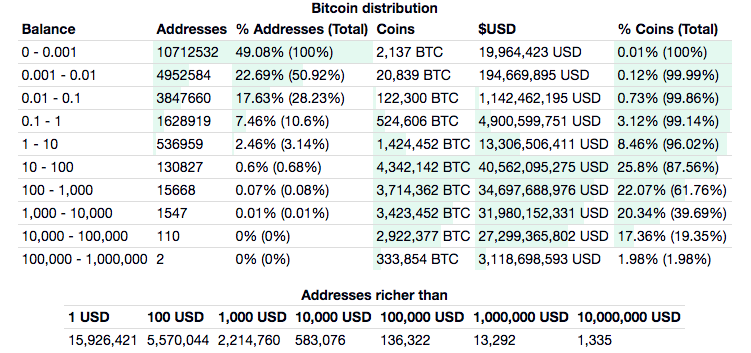 Source
I am planning on regularly checking Bitcoin's 'wealth' distribution to monitor it because it interests me. For those who are interested too: I'll do the research and will write a post about it :-)
What are the first thoughts that pop into your head when you see these statistics? What other statistics would you like to see?
Cheers
---
---> 👍🏼 Follow me for regular updates on my cryptocurrency portfolio, crypto related articles and inspiring articles about personal time & life management.
---> 👍🏼 Resteems and upvotes are appreciated ;-)
---
Disclaimer: I am not a financial advisor, trader or developer. I am just a blockchain & cryptocurrencies enthusiast. Make sure you do your own research, draw your own conclusions and do not invest any money that you cannot afford to lose.