Telegram Based Crypto Technical Analysis Alerts With 100Eyes Scanner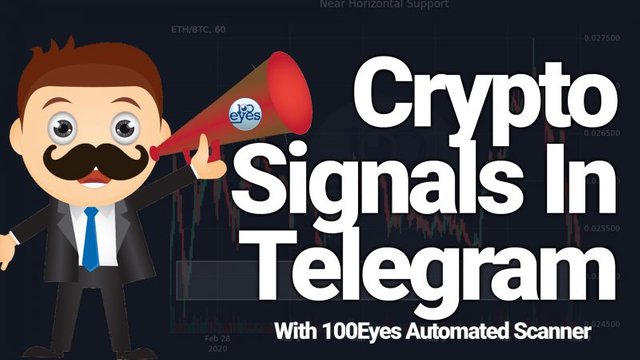 When you live a busy life and have literally no time to yourself it's pretty hard to keep up with things going on in the Bitcoin and cryptocurrency space. Like most of you, I don't work in crypto full time and consider it one of my hobbies. I try and make good trades when I can based on fundamentals and some technical analysis.
While the fundamentals part is easy for me, sometimes the technical analysis is hard to keep track of when I get so busy! So, I decided to give a new Telegram based crypto alerts service a try since I am in my community Telegram group often (wait, you are NOT in the 'Stache Club telegram chat yet?!?). 
Follow along with the 'Stache as I show you how 100Eyes crypto scanner and alerts is making it easy for me to keep up with my favorite coins. 
[adrotate group="6"]
How 100Eyes Scanner Works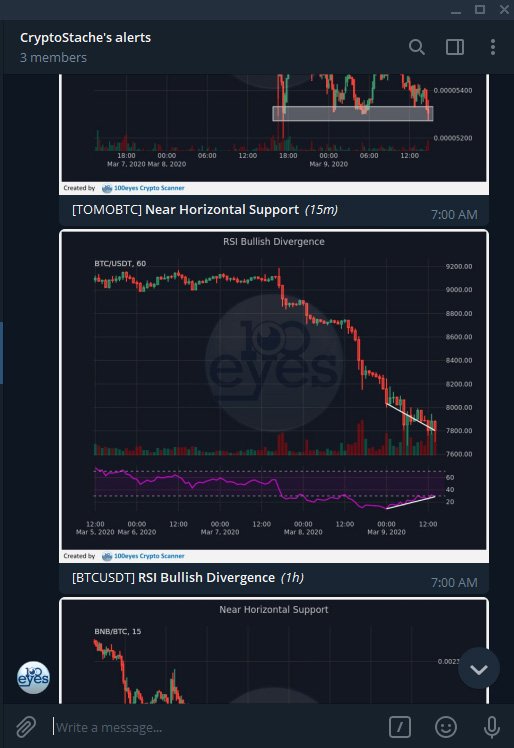 If you have ever used a crypto signals alert service before then you might be familiar with how this works in the basic form, but for those that have not, I will break it down simply real quick. 
Crypto alerts are used when you want to track certain events that happen like Bitcoin being "oversold".
These types of alerts would trigger when the RSI hits a certain point and would then send you a message like "Hey Bitcoin is oversold because the RSI hit X number". This helps you to make a decision on if it is time to buy in or sell your position. 
100Eyes does all this in a very automated way versus some of the services I have tested personally in the past.
Paid group leaders may send you these calls late because they don't want you stomping all over their positions, but with an automated bot like 100Eyes you get the charts with analysis immediately.
I have also tested out email and text message based alerts and I just dont' seem to be able to act on them quick enough!
Charts like the one below help me to see simple things like Support & Resistance being hit.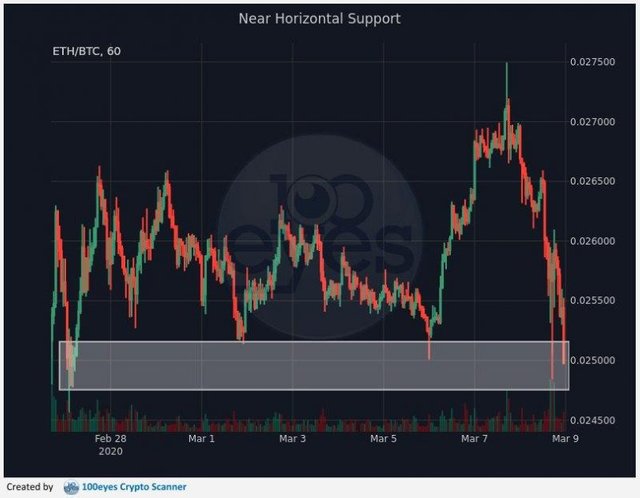 The unique thing about 100Eyes is really that it all runs in Telegram! I am a big user of Telegram and happen to have it open all day while I am at work so it only makes sense that is the place I receive my TA alerts.
As you see in the image, you interface with the Telegram bot for getting signed up as well as login, and receiving your chart alerts. 
I really like the Telegram interface for something like this as it is a tool that I already use. If you are new to Telegram, then it might be a little daunting at first, but once you are signed up it just works in the background.
Customizing 100Eyes Alerts

There are tons of ways to customize the alerts  you can receive as well as for what coins you want to get alerts for. While there are many options to choose from and customize things, I actually left everything on the default settings that you get when you first sign up.
The default settings will show you chart information based on Binance markets, but they don't include any fiat pairs like Bitcoin/USD. I am ok with it just showing BTC/USDT so that is one of the reasons I did not change any settings. 
While you can do most things through the Telegram bot interface, customizing which alerts you get for which coins and what indicators you want to receive is all done on their website, www.100-eyes.com.
This would be my only gripe with the platform as I would love to see the entire alert customization being done through  the Telegram bot interface. 
Going to their website you will see a "Custom" tab where you can get down to fine tuning if you don't care about some of the default coins they have turned on. 
As you can see there are a TON of options. If you are more of a beginner with technical analysis I would recommend not changing any settings and just see how it works for you. For advanced traders you can see there are lots of indicator options and a massive list of 160+ coins. 
How To Sign Up For 100Eyes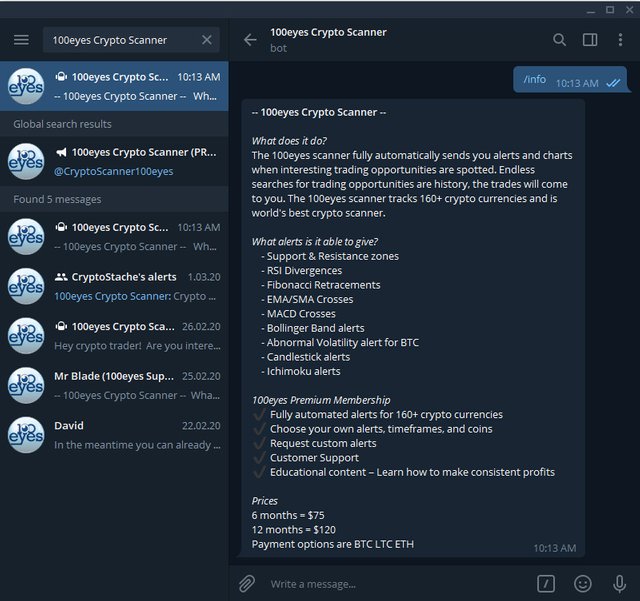 The first step to sign up is to have a Telegram account! They are free and you can download it for your desktop or phone. Then all you gotta do is talk to the bot to get started. The easiest way to do this is in the search bar on the top left type in "100eyes Crypto Scanner" and you will see the bot account to get started. 
Follow the onscreen prompts after you type in "/start" to sign up. It's only $10 a month if you go with the yearly plan AND they accept BTC, LTC, and ETH as payment!
If you are looking for a preview of the action there is also a preview channel you can access here.
Conclusion
Overall I love how easy this service is to setup and get started with. The fact that it is Telegram based, which I use a lot already anyways, means that I can act on these alerts almost immediately.
Even though I do wish all the customization could be done through Telegram, their website interface is so easy to use that it's not a big deal at all. This level of automation for such a small price tag is not bad and certainly worth checking out if you find yourself short on time, but still want to stay up on technical indicators for your favorite coins. 
I hope you liked this review of 100Eyes and how to kind of "set it and forget it" when it comes to technical analysis insights, a big thanks to the 100Eyes team for sponsoring this review!
Until next time...
'Stache That Crypto Friends!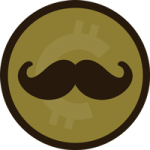 ---
Posted from my blog: https://www.cryptostache.com/2020/03/09/telegram-based-crypto-technical-analysis-alerts-with-100eyes-scanner/
---