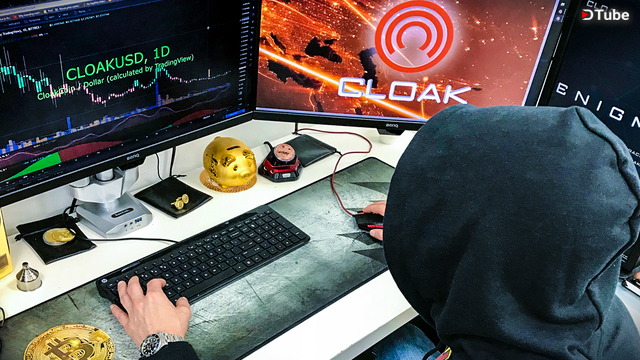 ---
CloakCoin and ivyKoin are two examples of very different blockchain projects in the crypto space that are actually working. This is a breath of fresh air given that 81% of ICOs are scams, according to some research.
As of the date of this video review, ivyKoin just wrapped up its pre-sale offering, while the CloakCoin ICO took place all the way back in June 2014, a long, long time in crypto years (the CLOAK token trades on Bittrex and other crypto exchanges).
Cloak is considered a privacy coin tailored for the consumer market. With many new ICOs disappearing in less than a year, it's impressive that CloakCoin is still moving forward with their roadmap more than three years years later. The CloakCoin project is a very interesting one for me as someone with a tech background.
Cloak has recently been working on their "cloaked" or anonymous transaction process through their Enigma network. They took a whole different approach when it comes to anonymity, which is based on anonymity by duplication. Instead of going the traditional route of just processing a single transaction with multiple layers of security, CloakCoin passes those security layers onto multiple broadcasting points on the Enigma network, which increases the level of security exponentially.
Even though cryptocurrencies as a whole went through an indiscriminate boom in 2017 and a subsequent crash after the beginning of 2018, pushing CLOAK tokens through this same roller coaster ride, as a trader I've noticed that the trading volume and price trends on CLOAK coins have seen a more "natural" growth progression (unlike pump-and-dump coins). This is something that makes me feel a lot more secure as a cryptocurrency investor.
ivyKoin is kind of the new breed of cryptocurrency. It has been heralded by many as the "Ripple killer." Ripple is backed by the banks, based on a network that's not available to regular consumers, and untrusted by the general crypto community as a result. Even though ivyKoin is also trying to appeal to the institutional market by providing a solution of fast transactions on amounts greater than $10,000 with a 74-point KYC process, they're focused on a distributed node system that is still reputable in the crypto space. Ripple can also print more XRP at the push of a button, inflating the market and hurting crypto investors. This is not the case with ivyKoin.
What are your thoughts on CloakCoin and ivyKoin? Leave them below. If there's any other blockchain project that you believe has merit, please mention it in your comments. We're always looking for solid ideas to review on our channel.
Use the links below to access to some useful tools in the crypto space. Follow us on Steemit [preferred] and Dtube [preferred], as well as other social media networks [if you insist, LOL]:
Open an Account and Start Trading Cryptos on Binance:
https://goo.gl/8GYe82
Protect Your Cryptos with a Trezor Wallet:
https://goo.gl/XtrCJv
Access the Pro Version of the Tradingview Platform:
https://goo.gl/5E3j6h
Our Trading Analysis on Tradingview:
https://www.tradingview.com/u/cryptoplayhouse/
Follow us on Steemit (new page):
https://steemit.com/@cryptoplayhouse
Follow us on Dtube (new page):
https://d.tube/#!/c/cryptoplayhouse
Follow us on Instagram:
https://www.instagram.com/cryptoplayhouse/
Follow us on Facebook:
https://www.facebook.com/cryptoplayhouse/
---
▶️ DTube
▶️ IPFS