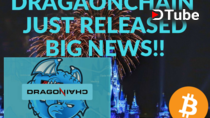 ---
I have been very bullish on Dragonchain for a very long time. Now they just released some news that I feel is going to help bring this coin to $25 this year. Take a look at the video and tell me your thoughts.
Thanks for watching.
Tip jar below.
BTC 13qF5ovjByDtFyGX1hYLA7uvhXj1BDH2KX
LTC LcdKQ9JSAZRuypVtevhbna7hVo8hHf5UoD
ICO'S THAT I INVEST IN (REMEMBER ICOS ARE HIGH RISK):
icoheadstart.com/bounty/2...
GET FREE BTC AND OTHER COINS HERE JUST FOR SIGNING UP:
qoinpro.com/04d145cbdcb626408...
THE BEST WAY TO BITCOIN IS THROUGH MINING!!! GO HERE!! (MEDIUM RISK PAYS EVERYDAY)
hashflare.io/r/20DD392B
RECOMMENDED CRYPTO EXCHANGES:
If you looking to start buying alt coins Binance IS THE BEST altcoin exchange out there.
Please join Binance using this link: binance.com/?ref=10263251
Kucoin exchange is the fastest up and comer and has coins exclusive to it you cant find anywhere else!
kucoin.com/#/?r=28ucr
NEW KID ON THE BLOCK THAT UTILIZES ATOMIC SWAPS
altcoin.io?kid=KPHCS
BUY A NANO LEDGER S HARDWARE WALLET
ledgerwallet.com/r/49c8
CONNECT WITH ME:
Find me on YouTube: youtube.com/user/kristoffer1223
Add me on Telegram: @mr_kristof
Add me on Snapchat: mr_kristof
Find me on Instagram: mr_kristof
Add me on Twitter: mr_kristof007
Add me on Xbox Live: VoxiKnight
Find me on DTube: d.tube/#!/c/cryptokristof
Read my blog on Steemit: steemit.com/@cryptokristof
DISCLAIMER: THIS IS NOT FINANCIAL ADVICE AND I AM NOT A FINANCIAL ADVISER. AND THESE ARE SIMPLY MY OPINION
---
▶️ DTube
▶️ IPFS