Bearish Crypto Market Movement Until When? / Jusqu'à quand la tendance baissière du marché des crypto va-t-elle durer ?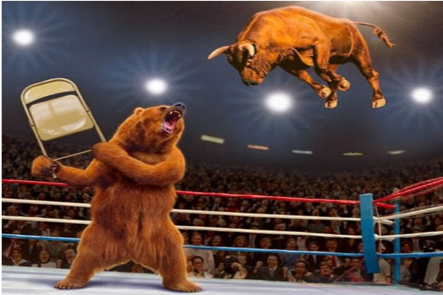 This week was one of the worst periods for Bitcoin and the entire cryptocurrency market in 2018. Bitcoin repeatedly fall after breaking down from the previous weekend, while other major cryptocurrencies recorded larger losses and consequently pull down the global cryptocurrency market probably due to Bitcoin representing around 38% of the market.
Bitcoin fell below the USD $7,200, $6,800 and $6,500, a level until $6100 and at the time of writing, the value bounce back to US $6,500, a nearly 70 percent decrease in value over that time span. The next major support level is at $6,000, and if it's falling below it could result in bitcoin huge drop to$5,000.
According to CCN news, the latest recover can be mainly attributed to the extremely low Relative Strength Index (RSI)of BTC. The collapse of Bitcoin led to the collective dive of other digital currencies, Ethereum reached a new low of 465 US dollars, Litecoin price under $100, hit a new low of 2018, EOS directly back to 10 US dollar mark. The overall market value of digital currency sharply reduced, down to $265 billion from about $380 billion.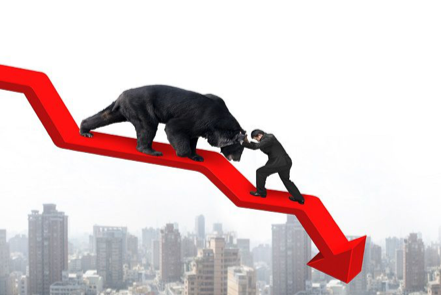 New traders who are probably discovering the high volatility of this speculative market might need a quick review of the market. Looking at the history of Bitcoin's price, it has experienced more than 200 major price fluctuations in 9 years, but generally speaking, the price has been an upward trend in a long-term perspective:
on June 15, 2011, Bitcoin price was USD$ 13
on December 5, 2013, Bitcoin price was USD$ 1,042
on June 15, 2016, Bitcoin price was USD 696
on December 16, 2017, Bitcoin price was US$ 19,343
on June 15, 2018, Bitcoin price was US$ 6,597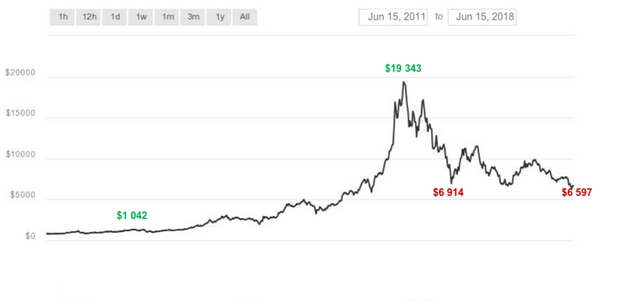 What Triggered the Drop of Bitcoin?
According to unnamed sources told the Wall Street Journal, Bitcoin's price may have been inflated. The US Commodity Futures Trading Commission (CFTC)demanding trading data from Bitcoin Exchanges to determine whether or not manipulation has distorted cryptocurrency markets. This move may cause the market panic for non-technological believers.

Some cryptocurrency analysts have suggested that the price drop has something to do with market manipulation of the Tether's USDT token, as reported by explosive new research from University of Texas finance processors John Griffin and Amin Shams. They examined the flow of Tether and determined that roughly half of Bitcoin's price in 2017 could be traced to the hours immediately following its movement into other exchanges — typically during periods where cryptocurrencies were in decline.
The crypto markets are tumbling and hitting the skids. In the coming weeks, ICO tokens will suffer deeper lacking global confidence if their waiting products are not delivered in time. The biggest losers in the market will be ICO tokens and small cryptocurrencies that follow the rise and fall price changes of Bitcoin and Ethereum. The time will show us which projects have a strong community and a real go to market product.
This is a time when both opportunities and challenges coexist. After such a large decline, the recovery is also likely to be very strong but not soon.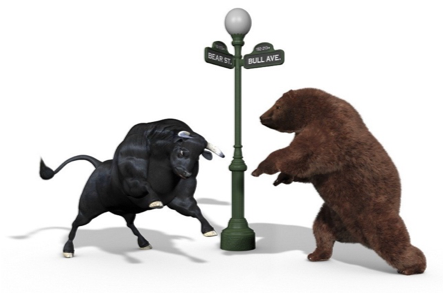 Crypto4all's View:
The bitcoin price is likely to fall below the previous low of US$6,400 if not good announcement is done by big players.
Perhaps in July will be the bottom of the cryptocurrency market this year
The next rally would take longer and at uncertain time


The information contained in this article should not be considered as a general investment recommendation within the meaning of the regulations. It has not been prepared in accordance with the regulatory provisions relating to the independence of financial analyzes. The content of the document is solely the responsibility of the author.
Investing involves a risk of capital loss. Non-contractual promotional information that does not constitute investment advice, a recommendation or a solicitation to buy or sell.
The accuracy, completeness or suitability of the information, forecasts and analyzes provided are not guaranteed.
They are based on sources considered reliable and can be modified without notice. The information and forecasts are inevitably partial, provided on the basis of market data recorded at a specific moment and are subject to change.
All trademarks and logos are included for illustration purposes in this document and belong to their respective owners.
<- - ->
Jusqu'à quand la tendance baissière du marché des crypto va-t-elle durer ?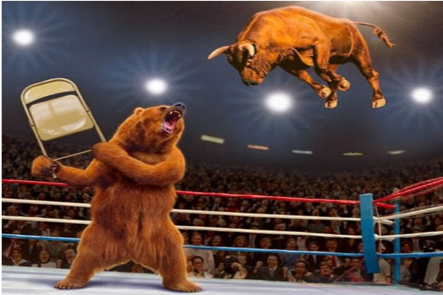 Cette semaine fut la période funeste pour Bitcoin et l'ensemble du marché des cryptodevises en 2018. Bitcoin a chuté brusquement à plusieurs reprises après la rupture du week-end précédent,tandis que d'autres cryptomonnaies majeures enregistrent des pertes plus importantes. La capitalisation mondiale des cryptodevises a chuté fortement, probablement du fait de la prédominance du Bitcoin qui représente 38% du marché.
En une semaine, il est tombé sous les niveaux de 7,200 USD, 6,800 USD, 6,500USD jusque 6,100 USD. Au moment de l'écriture de l'article, la valeur de Bitcoin rebondit pour atteindre de nouveau 6,500 USD, soit une diminution de près de 70% en valeur pendant cette période. Le prochain support majeur est estimé à 6 000 USD, en dessous de ce niveau, le Bitcoin pourrait sombrer jusque 5,000 USD.


D'après le journal CCN, la dernière reprise de valeur peut être principalement attribuée à l'extrême faiblesse de l'indice de force relative (RSI) du BTC. L'effondrement du cours de Bitcoin a entrainé la plongée collective d'autres cryptodevises : Ether (ETH) a touché son plancher record de cette année à 465 USD, Litecoin (LTC)est a chuté en dessous de la barre symbolique de 100 USD, et EOS à 10USD. La capitalisation totale du marché des crypto devises a fortement diminué, passant de 380 milliards de dollars à 265 milliards de dollars.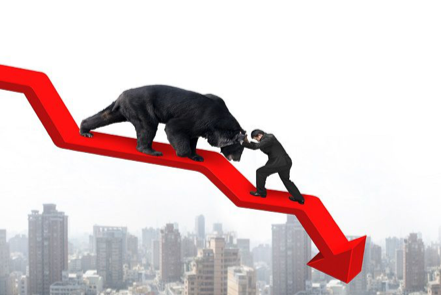 Nous souhaitons la bienvenue aux nouveaux traders qui découvrent sans doute la forte spéculation régnant sur ce marché. En regardant l'historique de l'évolution du prix du Bitcoin, qui a connu plus de 200 fluctuations majeures en 9 ans, nous constatons que le prix reste sur une tendance haussière sur le long terme :
le 15 juin 2011, le prix Bitcoin était 13 USD
le 5 décembre 2013, le prix Bitcoin était 1 042 USD
le 15 juin 2015, le prix Bitcoin était 696 USD
le 16 décembre 2017, le prix Bitcoin était 19 343 USD
le 15 juin 2018, le prix Bitcoin était 6 597 USD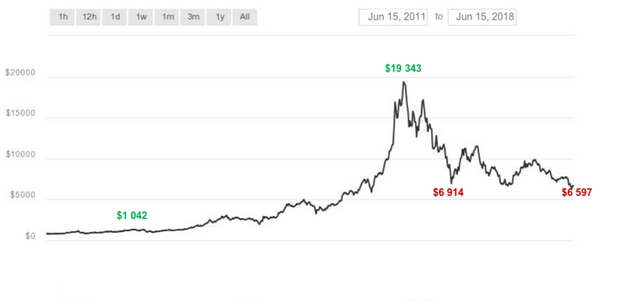 Qu'est-ce qui a déclenché la chute du Bitcoin ?
Selon des sources anonymes du Wall Street Journal, le prix du Bitcoin pourrait avoir été gonflé. La CFTC (Commodity Futures Trading Commission américaine) a exigé des plateformes d'échanges la transmission des données de trading pour enquêter sur une éventuelle manipulation du cours qui aurait faussé les marchés des cryptodevises. Cette action de la CFTCa pu provoquer un mouvement de panique pour les non-technophile.


Certains analystes ont suggéré que la baisse des prix est dû à la manipulation de la cryptodevise Tether (USDT) (John Griffin et Amin Shams de l'Université du Texas). L'analyse du volume de Tether a révélé qu'environ la moitié de la valeur du prix du Bitcoin en 2017 se propageait via le Tether lors des heures suivantes aux autres plateformes d'échange - généralement pendant les périodes où les cryptodevises étaient en déclin.
Le marché des cryptodevises dégringolent. Dans les prochaines semaines, les tokens issus d'ICOs vont probablement souffrir encore plus fortement de cette tendance baissière en perdant au passage pour certains la confiance du marché si leurs produits ne sont pas livrés dans les temps. Les plus grands perdants de ce marché baissier seront donc bien les tokens issus d'ICOs ainsi que certaines cryptodevises qui suivent les mouvements du cours de Bitcoin et d'Ether.
C'est un moment où les opportunités et les défis coexistent. Après une baisse aussi importante, la reprise haussière devrait également être très forte mais elle ne semble pas être pour bientôt.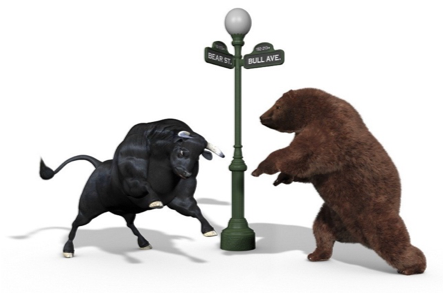 L'analyse de Crypto4all :
Le prix du bitcoin devrait tomber sous le niveau précédent de 6400 USD en l'absence d'annonce des gros joueurs
Le mois de Juillet se présente comme pouvant être la plus basse de cette année pour le marché des cryptodevises.
Le prochain rallye prendra plus de temps et surviendra à un moment qui reste incertain.
Les informations contenues dans ce document ne doivent pas être considérées comme une recommandation d'investissement à caractère général au sens de la réglementation. Il n'a pas été élaboré conformément aux dispositions réglementaires relatives à l'indépendance des analyses financières. Le contenu du document n'engage que son auteur.
Investir implique un risque de perte en capital. Information promotionnelle non contractuelle ne constituant ni un conseil en investissement, ni une recommandation, ni une sollicitation d'achat ou de vente.
L'exactitude, l'exhaustivité ou la pertinence des informations, prévisions et analyses fournies ne sont pas garanties. Elles sont établies sur des sources considérées comme fiables et peuvent être modifiées sans préavis. Les informations et prévisions sont inévitablement partielles, fournies sur la base de données de marché constatées à un moment précis et sont susceptibles d'évolution.
Toutes les marques et logos sont indiqués à titre illustratif dans ce document et appartiennent à leurs propriétaires respectifs.