How to Guide on buying Bitcoin & Ethereum from Remitano's P2P Exchange
This is an in-depth Tutorial on how to buy Ethereum from Remitano, learn how to buy Ether using the desired local currency. Keep in mind that the writer lives in Malaysia, a small South East Asia country so the information in this Post will be based on the currency Malaysian Ringgit and Local Banks account from this Region of the World however, this Remitano Tutorial will work exactly the same for each independent Countries supported by Remitano
Learn how to Buy/Sell Bitcoin & Ethereum on Remitano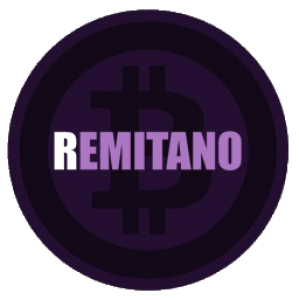 Step 1 – Sign up & Verify yourself with Remitano
Register an account and consider supporting CryptoHype by using one of our affiliate links based on the region you live in, since Remitano has independent Marketplaces for each of the country it supports, so make sure to trade on the right one in order trade the local currency via Banking.
Here is a list of
South East Asia
Remitano Marketplaces:
Thailand
,
Indonesia
,
Laos
,
Vietnam
,
Cambodia
,
Philippines
,
Malaysia
and
Singapore
.
After Signing up make sure to edit your profile to help you find a trading partner on this P2P so don't pick a username that is offensive and consider avoiding using your real name due to privacy concerns. To begin trading on Remitano, you'll first need to
verify a Phone number and Email address.
Afterwards, a User will be requested to prove their identity by writing out and documenting a message on an A4 Paper and you're
requested to submit two sets of identification
such as a National ID and Passport.
The overall process is rather time-consuming however, this is a one-time procedure that requires you to verify yourself before being allowed to use Remitano's Marketplace this is due to the high number of trade disputes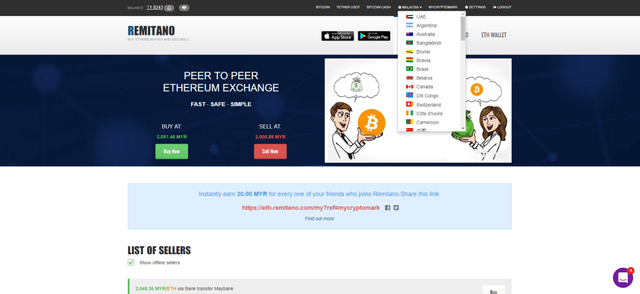 Step 2 – Browse through Market Listings for a potential Seller
Let's find a reputable Seller, proceed to the marketplace by clicking on the Remitano
''Buy/Sell ETH''
Tab found in the top right Corner, here you can find the
various offers proposed by Sellers and compare the rates to find the cheapest price to buy Ethereum
. Since we're using Remitano MY, a buyer will be trading the ETH/MYR pair and transact in Ringgit using a local Malaysian Banks (Cimb, Maybank and Heong Leong Bank) that is supported, this may depend on the seller. Example, if you have a Maybank Account then find a seller that accepts Maybank Bank Transfer as a
''Payment Method''
You can send Ethereum to the built-in Ethereum Wallet integrated into the Remitano account itself or directly send ETH to a Wallet Address. Decide where you want to debit your Ethereum under the ''Receive ETH to'' option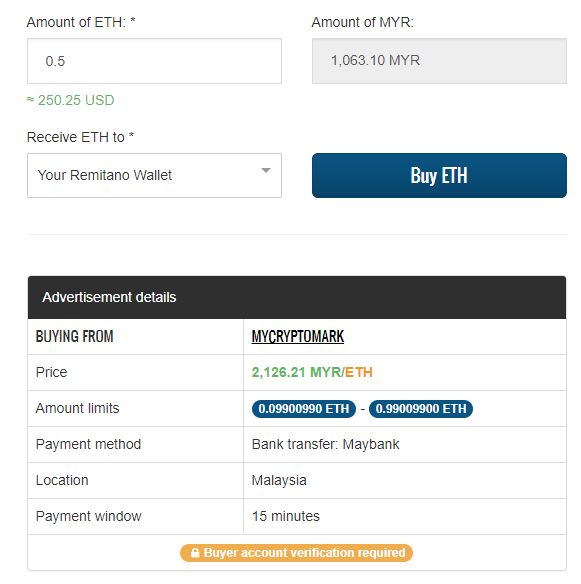 Step 3 – Confirm Deal and make a direct Bank Deposit
Initiate the trade with the Seller and use the Bank Details provided to make a direct Bank Transfer. It's recommended to use the same Bank as to ensure an Instant & Free Bank Transfer since there is a
Payment Window of 15 or 30minutes only
, meaning the seller expects to see an incoming Bank deposit before confirming the trade and overnight trades are not preferred on this P2P Marketplace
Once Deposit, confirm this by clicking on the ''I have paid Seller'' Button and this will prompt the seller to check his/her Bank Account. Once confirmed by the Seller, Remitano srevice will issue out the Ethereum that is locked up via Escrow and the ETH will be debited to your desired Wallet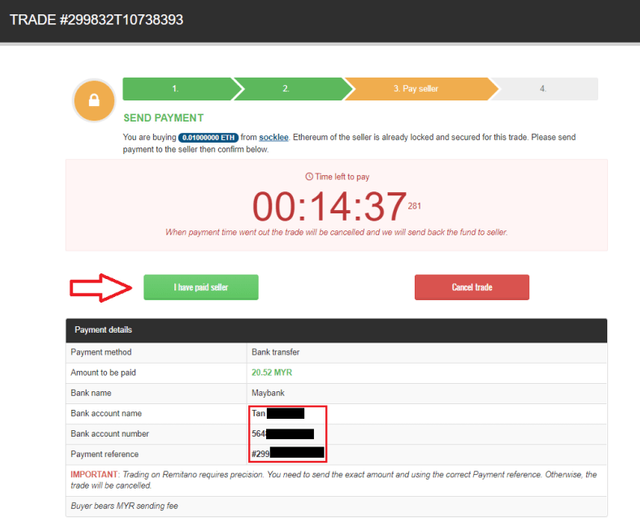 Step 4 – Transfer Ethereum & Rate the Seller
Make sure to review this trade as this platform uses a Reputation-based System whereby you rate buyers/sellers in order to create a more safe Marketplace. Go to ''ETH Wallet'' Tab to send the purchased Ethereum to a Wallet, this includes a standard Network Fee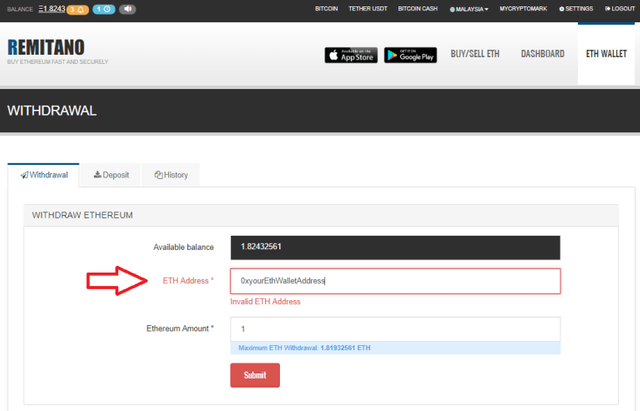 Remitano Tutorial
We hope this Tutorial helps you in the quest of buying Ethereum, remember that you can use this guide to also purchase Bitcoin, BitcoinCash and Tether from Remitano. CryptoHype Team recommends using this P2P Exchange, especially if you reside in the South East Asia region because Remitano offers alternative Marketplace to trade Cryptocurrencies when centralized Exchanges are not reliable
---
If you're still struggling with buying Bitcoin or Ethereum from Remitano, consider of watching this Video we made for you (Skip to 4:12min)