I've been away for awhile. Hope everyone is good. This post was from the 11th of May to my private members.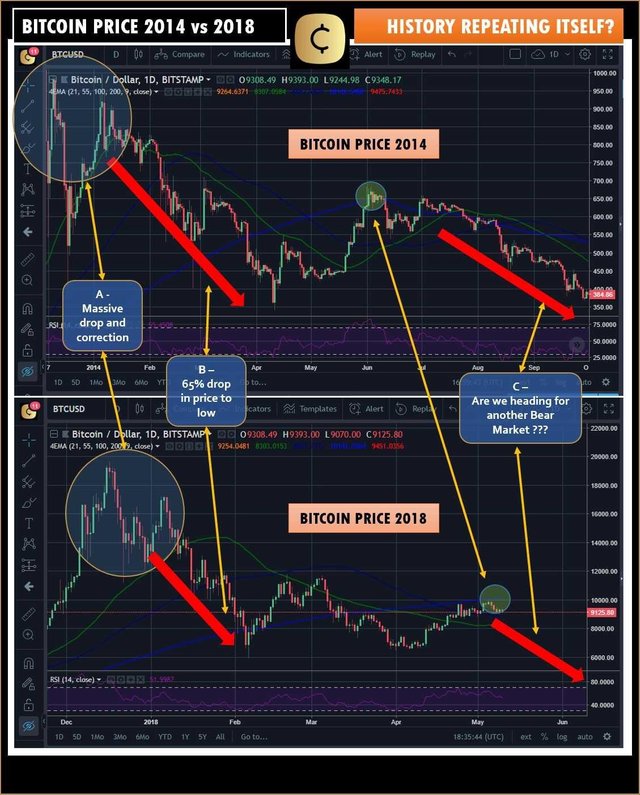 HERE'S THE WRITE-UP FROM THE POST. HOPEFULLY IT WILL HELP YOU UNDERSTAND WHAT KIND OF MANIPULATION AND CONTROL IS BEING EXERTED OVER THE CRYPTO MARKETS, AND IN PARTICULAR BITCOIN.
---
A lot of similarities to say the least between the trends in 2014 and now in 2018 for the bitcoin price.
Yes things have changed a great deal, including volume and participants etc etc.
BUT technical analysis stays very true especially over longer periods of time.
End of the day, these markets are "MAN MADE".
They've been manipulated before (many times over) and will continue to do so using the same "patterns".
Remember, all the technical analysis tools, techniques, indicators etc are again - all "MAN MADE".
I may be going off the point here, but as "they say" the "charts never lie".
:sunglasses::wink::thinking_face:
On the other hand, I may just be clutching at straws .. . .
. :joy::rolling_on_the_floor_laughing::laughing:
All jokes aside, this is a pivotal point in time for bitcoin and cryptocurrencies in general. With the Consensys gathering happening next week and the likes of Teeka et al banging on about how this conference will be the catalyst for the next boom, I'm really not convinced anymore. Time is definitely of the essence so this week will be crucial to see if we actually soar past.
$10K to $12K
Or collapse like a limp bridge ... to $6K (and lower)