Different Shades of Vanilla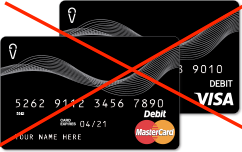 Caveat emptor: My Vanilla is not the same as One Vanilla.
Please gentle people of Steem, do not confuse the dreaded MyVanilla (reloadable) card with the One Vanilla (prepaid non-reloadable) card. There is no refunds allowed on prepaid cards at any major retailers and the MyVanilla card involves much move legwork to turn into liquid assets. For example, you would need to enter your name!!