Bitcoin heading for another record weekly close and why I'm staying the hell away from the CFD market for a while
What a run eh? Bitcoin's heading for another record weekly close and also the biggest up-week in history: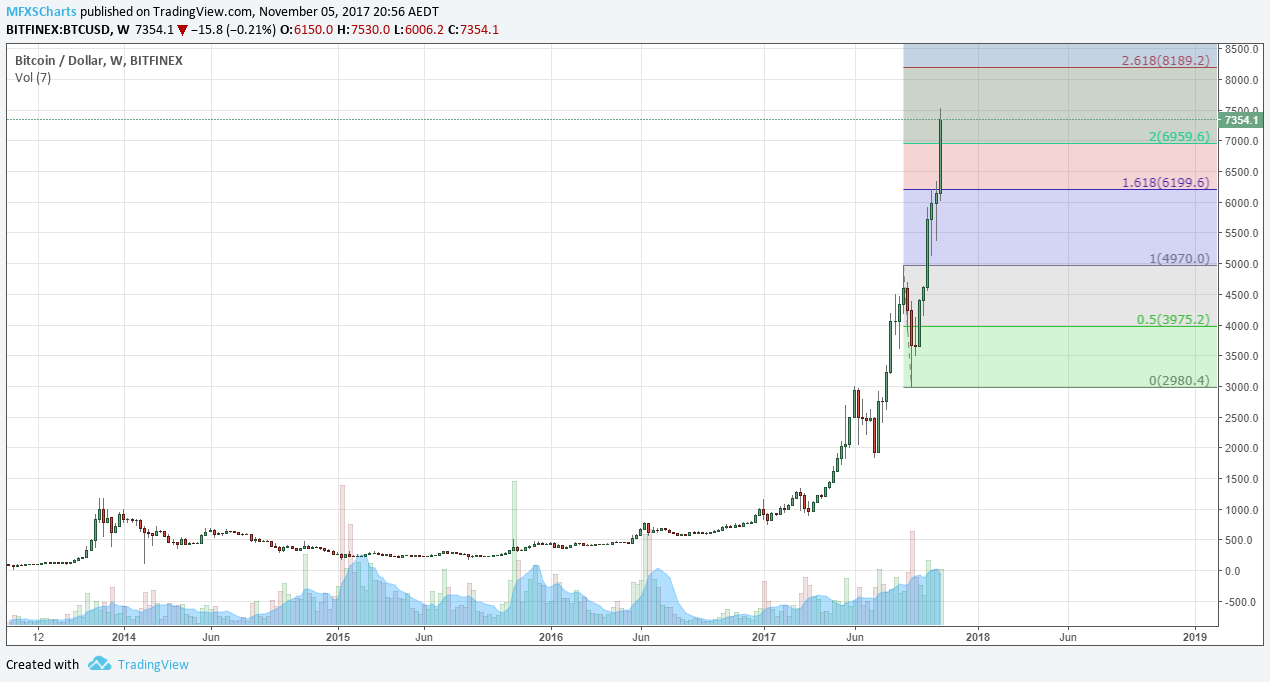 The thing just won't stop. Since it bottomed in late August, it's been doing an average of 625 points a week. If that momentum continues, that would take us to 10 000 before Christmas. In percentage terms, the run is even more impressive: 17% per week and 10K before the end of November.
Great right? Well personally, I'm starting to get a little worried and I've adjusted my risk profile accordingly. When pair first breached 7000 earlier in the week, we got a little preview of what happens when greed and mania take hold: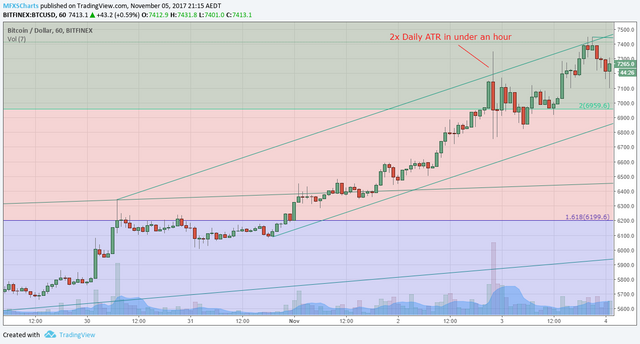 2 x Daily ATR in under an hour ... for those of you who aren't familiar with the lingo, that means we had two days worth of volatility in a single hour: 200 points up, 600 points down and another 200 back up to close lower ...
Now call me a pussy, but when I start seeing stuff like that, I stay the fuck away from 20:1 leveraged contracts. I'd already exited my 20:1 longs the night before and probably good I did, because that sort of PA would have straight up given me a heart attack. Would of made another couple K, but not much use to me dead.
Don't get me wrong - I'm still playing this rally intraday - buying dips at Bitfinex with a little leverage, but no way am I getting agro again 20:1 til this fork is out of the way and/or we get a healthy correction. I'd really like to see some corrective PA next week, but with people on the hunt for double coins, it could well just keep roaring. Bloody madness.


---
20% of the liquid rewards from this post will be split with @centerlink for the communal benefit of TeamAustralia



Team Aus footer by the amazing @bearone
---
This post was brought to you by @msp-creativebot
Looking for a forex broker? Compare forex brokers at Top Forex Brokers Australia.