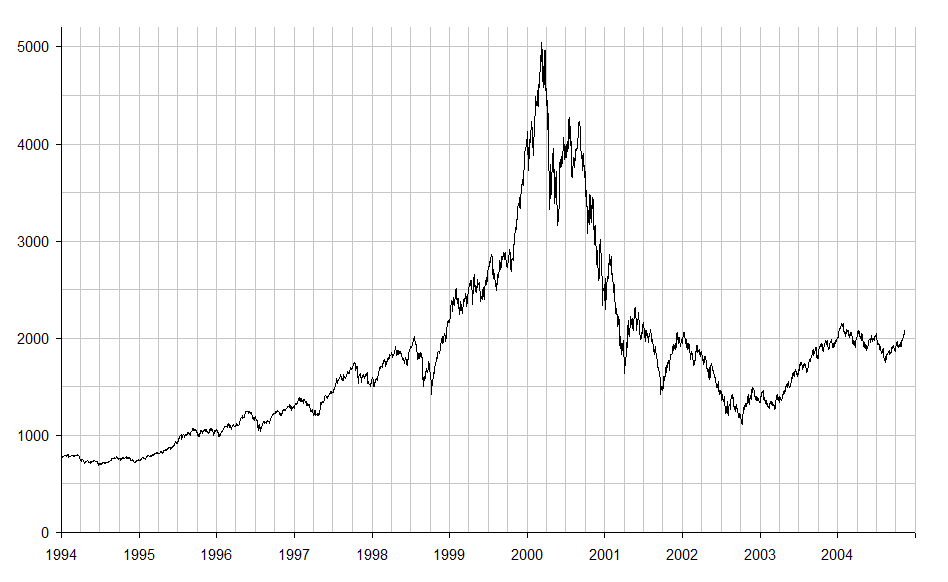 On first glance this chart looks almost identical to bitcoin.
However, look closer.
It's a chart of the Nasdaq stock market during the late 90's and early 2000's.
Bitcoin's recent price action can be seen here:

As you can see both had an exponential price rises followed by a pretty severe crash.
What is interesting is the percentages of the crashes.
As you can see the Nasdaq dropped by about 75% from peak to trough on that line chart listed above.
If you take the bitcoin peak to it's trough, you get about a 70% drop.
The Nasdaq prices ultimately bounced off those lows and showed some support around the 2000 mark, which is roughly 60% off the highs.
Bitcoin is currently showing support around the $8,000 level, which is about 60% off the highs as well.
Are you seeing some similarities?
Interestingly enough, it took the Nasdaq about 8 years to do what Bitcoin did in about 8 months.
Which means Bitcoin is moving much faster than markets did about two decades ago.
Given all that, what did the Nasdaq do next?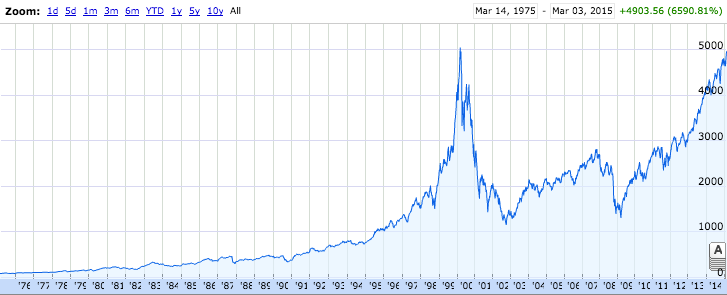 As you can see the Nasdaq did eventually recover and go on to make new highs.
However, it took about 15 years.
Given that bitcoin seems to be moving significantly faster, can we expect prices to recover a lot quicker?
I would think so.
Given the speed of both of those moves, it looks like bitcoin is moving roughly 10x the speed of the nasdaq.
If that were to hold true, it would take roughly 18 months for bitcoin to reach those old highs.
Which would mean, bitcoin would hit $20k again some time in June of 2019.
I happen to think it will happen about 6 months before that, about December of this year, but we will see.
Either way, buying now seems to be like the right play, if there is any pattern to be gleaned from the last major market bubble.
This post for meant for entertainment purposes only. Do not take any of it as investment advice.