PRIVCY COIN MYSTERY WHAT? WHERE? WHEN? WHO?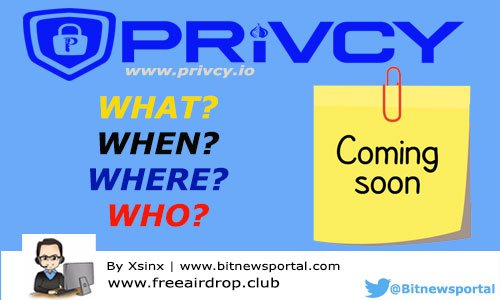 JOIN PRiVCY AIRDROP
https://freeairdrop.club/privcy-coin-airdrop
ORIGINAL ARTICLE
http://bitnewsportal.com/privcy-coin-mystery-what-where-when-who
Hello Everyone! Happy Monday to all of you and today i will skipped the newsletter publication for some important thing that i really need to publish. 6th Weekly Community Newsletter will be publish tomorrow.
Last night i overheard some converstion about a special "THING" about PRiVCY and based on what i see and heard it will be a gamechanger and unique thing in the cryptocurrency world. Even the Moderator Team and Support Team are clueless on this "THING" but i am not sure if this really a "THING" or it could be "ANYTHING"
The main question now that running on my mind is WHAT, WHERE, WHEN and WHO. I am still clueless on WHAT it is, WHERE it is, WHEN it is and WHO it is.
All i know that this new THING is COMING SOON and Official Announcement will be made once available.
This is a teaser announcement and i could be assisinated for leaking this information.
This is not a news article to pump the price, but this is a good news to buy more while PRiV is still cheap.
UPVOTE & COMMENT NOW on REDDIT
https://www.reddit.com/r/CMC/comments/92bb7f/why_privcy_coin_should_be_listed_on_cmc
Keep Voting for PRiVCY on both Sonox and SHARDAX show the community power of PRiVCY Coin. You can vote once every 24 hours
Vote now on SONOX https://sonox.io
Vote now on SHARDAX https://shardax.com/votes/coin?coin=PRiVCY
Don't Forget to Re-Tweet, Like and share the article in different Social Media Channel a simple task but will have a great impact on PRiVCY Crypto Awareness Campaign.
FOLLOW ME ON TWITTER!
https://twitter.com/BitNewsPortal
CLAP THIS ARTICLE ON MEDIUM
https://medium.com/@xsinx2018/privcy-coin-mystery-what-where-when-who-e11018bcced5
Disclaimer
This News Entry is a personal opinion and not directly from $PRIV developer team this is a community initiative news entry, for official news and updates check out #announcement channel via $PRIV Discord.