Bitcoin Halving Countdown2020
Many of us are waiting for Bitcoin Halving 2020. Google trends seem to show a big growth of interest in his subject. However, there are many still trying to find the best place for follow the 2020 Bitcoin countdown.
We would like to present the community a great service created and managed by Bit4Sale, which is following the 2020 Bitcoin halving countdown https://bit4.sale/en/halving/btc/. The service tells you exactly how many days, hours, minutes, and even up to seconds left till Bitcoin blocks are halved!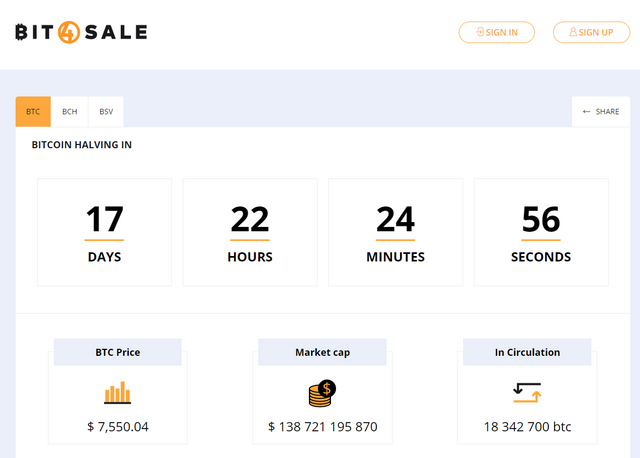 What`s also interesting about this service, is that it shows Bitcoin Cash BCH and Bitcoin SV BSV halving countdown as well!
FAQ is included for each cryptocurrency, which answers all the most frequent questions about the halving event.
If you find this service helpful, you`re more than welcome to share it with your friends, by clicking the "Share" button on this halving page.