Playing online poker, casino games, or betting on sports using Bitcoin and other cryptocurrencies like Litecoin, Ethereum, and many others, is no longer a rare occurrence. There are many players these days, especially from the United States, who choose to do their banking for online gambling in cryptocurrencies.
Many of these players use Coinbase, the largest and the most-established cryptocurrency exchange, completely unaware of risks and dangers connected to this practice. The fact of the matter is, Coinbase doesn't look kindly on any form of online gambling and you are at a constant risk of having your account shut down. Furthermore, your personal information may be shared with the US government.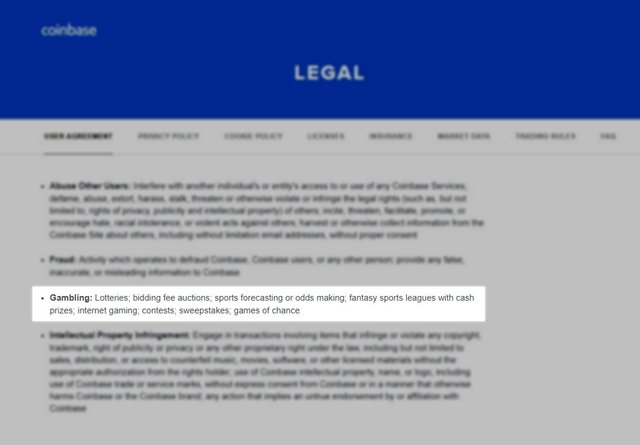 Taking Regulations to an Extreme with Online Gambling
Coinbase terms and conditions are very cryptic and unclear, which is why many people find themselves befuddled by the email from the site notifying them about their account being permanently closed. There are no warnings or signals; Coinbase is quick to shut down any accounts that they detect are in breach of their policies, which I wrote about in more detail at Beat The Fish, where I examined how the major Bitcoin exchanges and wallets handle online poker transfers.
And, these policies are very strict. Namely, Coinbase operates under rules of the Financial Crimes Enforcement Network (FinCEN) and these rules, among other things, prohibit transactions involving any gambling activities. This doesn't apply just to poker players from the US, either, as everyone using the site for online poker transactions could lose their privileges.
Since Coinbase adheres to these strict rules, they're also obligated to share the information about their users' spending habit with FinCEN and other government agencies, including the IRS. This pretty much defeats the whole purpose of using cryptocurrencies to protect your privacy.
How to Avoid Being Blacklisted by Coinbase?
If you insist on continuing with Coinbase regardless of all these facts then you'll need to be very careful not to get your account blacklisted. Once it happens, there is no an appeal process and it is virtually impossible to get reinstated. You'll still get your funds, of course, but no more transactions will be allowed.
So, the first thing to pay attention to is never to link your Coinbase account directly to any gambling or poker site. There are many good cryptocurrency e-wallets out there, which you can open in a matter of minutes. You can use these wallets as middlemen of sorts, sending money to them first and only moving it to the poker site of choice from there. The same applies to making withdrawals – cash out to your wallet and, from there, you can transfer your coins to Coinbase.
By doing this, you'll avoid many unnecessary questions (at best) or losing your account privileges (at worst). And, while you may think this won't happen to you, there are quite a few stories out there about Coinbase accounts being shut down without any prior warning, so it is certainly not a long shot if you regularly play online poker.
Steer Clear of Coinbase Altogether
Although they may be the biggest exchange out there, Coinbase most definitely isn't the only game in town. There are many other solid and reputable exchanges such as Gemini or Kraken, which offer similar services and high standards – but without all the hassle and privacy breaches. Unlike Coinbase, these exchanges have shown no interest in closing down accounts connected to online poker or casino sites.
So, the gist of it is that Coinbase doesn't want business from online gamblers, so there is really no reason to force the issue and make your life more complicated. Since there are solid alternatives out there, simply move your funds elsewhere and avoid the hassle of having your account suddenly shut down overnight.
Cashing Your Coins Out
When the time comes, every poker player wants to have access to some of their funds and use them in "real world." For this, you don't need Coinbase. There are actually quite a few ways you can turn your coins into cash or spendable vouchers in a matter of minutes:
• Sell Bitcoins straight in your wallet with services such as Glidera
• Sell your cryptocurrency at another exchange like Gemini
• Buy Amazon gift cards at a site like eGifter
• Get yourself a Bitcoin ATM card
All these options represent a fast and convenient way to get access to your funds and start spending them. Of course, something like a BTC card is by far the most convenient and you can get them through sites such as Bitpay.
For US citizens, the process of obtaining the ATM card can be a bit lengthy because you'll need to mail in your SSN, but once you have it, you'll have instant access to the funds in your Bitpay wallet.