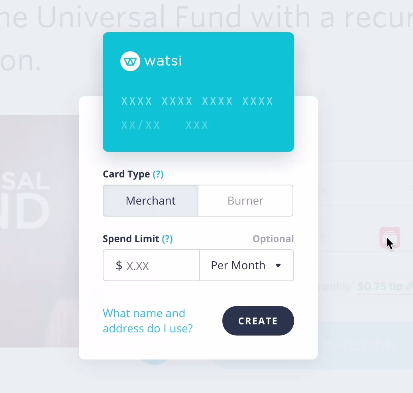 I love this app. I sleep better at night knowing there will be NO unexpected charges appearing overnight to my accounts when I log into any banking account that I have a debit card for.
I especially love the PAUSE feature. This allows you to stop any charges for any merchant and UNPAUSE when charges are expected or new charges are made. Until then, this holds all the horses.
There is also limits to be customized if you want recurring charges to post. You can set limits based on amounts or time periods.
AND there is the awesome BURNER feature for when you KNOW for the meantime, you will never have a charge from that merchant again and you make sure it can never happen by BURNING that card right after that charge automatically, after the first charge has posted.
I can't tell you how many times, bills, old merchants or old trials have posted to my accounts unexpectedly and sent me into a TIZZY trying to make sure it didn't mess up my whole financial plan for the month. No more. Those days are over.
As an EXTRA feature, if you are someone that has to disclosure your bank statements for any reason or just don't want your PRIVATE purchases appearing on your bank statements -- you can select that the Privacy app NOT display the merchant name at all and only display "PRIVACY" as the merchant. I really like this. People are notoriously nosey when you produce banking statements and act like it's a problem when you redact merchant names. THIS ends that problem with class and style.
Thank you, PRIVACY app.
Join Privacy and we'll each get $5.00 to spend anywhere online! Make sure you use my link to get more information and to sign up! It's FREE: https://privacy.com/join/VUAXA
---
What is Privacy and how does it work?
Privacy generates virtual card numbers that protect your security and privacy when you shop online. Privacy Visa Cards may be used everywhere Visa debit cards are accepted. Virtual cards work just like gift cards. They are locked down to a single merchant and you can make them single-use (burner cards) and set transaction or monthly spending limits on them.
Do I need to have a Visa card to use Privacy?
No. Privacy connects directly to your bank account, so you only need to have a bank account at one of our supported financial institutions to use Privacy.
Which banks or financial institutions do you currently support?
We support hundreds of financial institutions, including Bank of America, Capital One 360, Charles Schwab, Chase, Citibank, Fidelity, Navy Federal Credit Union, PNC Bank, SunTrust, TD Bank, US Bank, USAA, Wells Fargo, and many more. You can see the full list when adding a funding source to your Privacy account, and the list is growing quickly!
At this time, you are able to link more than one bank to the app! In the early days, it was only one bank. This just keeps getting better!
Join Privacy and we'll each get $5.00 to spend anywhere online! Make sure you use my link to get more information and to sign up! It's FREE: https://privacy.com/join/VUAXA