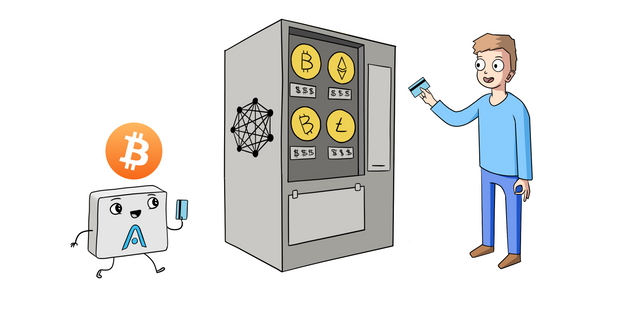 Easy way to exchange your USD to BTC with credit card, buddy. Install Atomic.
Preface
Do you remember your very first cryptocurrency experience? We bet, it was Bitcoin
How did you buy your first BTC?
Surprisingly, a lot of people still not have BTC because they don't know how buy it easy, where to store BTC, and when is the best time to do it.
Where to store Bitcoin?
Before buying Bitcoin, first off, you need to choose where to store and manage the crypto. You can create an account on an exchange and manage your BTC in Atomic Wallet. This is a reasonable option if you trade it and constantly buy and sell it. However, if you just want to keep and HODL Bitcoin to the Moon, it's better to stick with the other option.
So you can create the Bitcoin wallet or even the multi-asset one and manage your BTC, LTC, ETH, XRP and other cryptos in one interface. The is a great abundance of different wallets, and choosing of the best cryptocurrency wallets is vital.
Where to buy Bitcoin?
There are many services to buy BTC. The market is full with different solutions. Finding out which one deserves your trust becomes very difficult...
One of the options is to use third-party intermediate services. These services ask you to send your USD or EUR to some address, in order to buy Bitcoin, Ethereum, etc.
The another way to buy Bitcoin is open the wallet or create an account on some exchange service and ask someone you know to send BTC to you. It's okay if you know the person who can sell it to you, but please, don't buy something like this 😅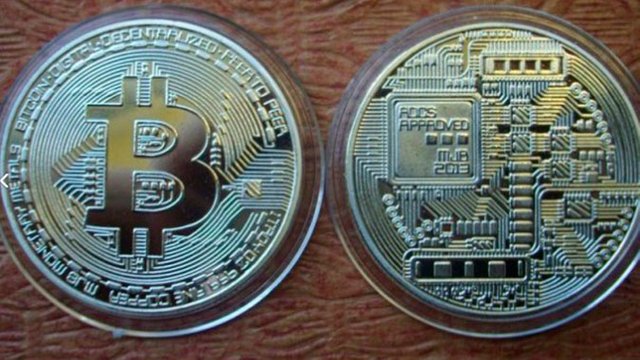 The third and most robust way to buy Bitcoin is a credit card. It's like KYC authentication (Know Your Customer) on the exchange service. It's the most legal way to buy BTC, so you can be sure that you'll not lose your money.
Buy Bitcoin with Credit Card
You can buy Bitcoin with VISA or MasterCard right in the interface of Atomic Wallet and convert your USD to BTC. It's the non-custodial multi-asset wallet with built-in exchange service, so you can manage all of your cryptocurrencies in one secure place with intuitive design:
To buy Bitcoin with USD or EUR, follow simple steps:
Download the App at AtomicWallet.io and install it. Check the video tutorial:
Click on the "Buy crypto" tab in the left menu and choose BTC, ETH, LTC or BCH: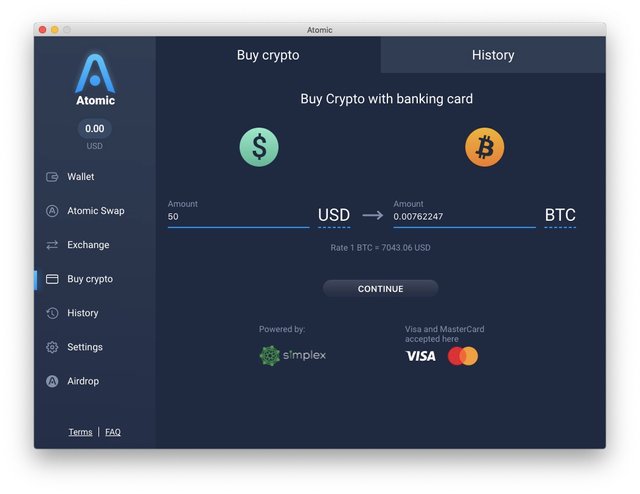 Fill out the Billing Info: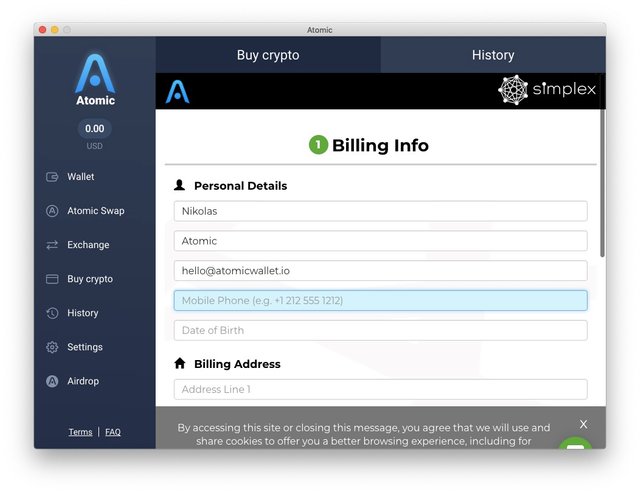 Enter the payment details: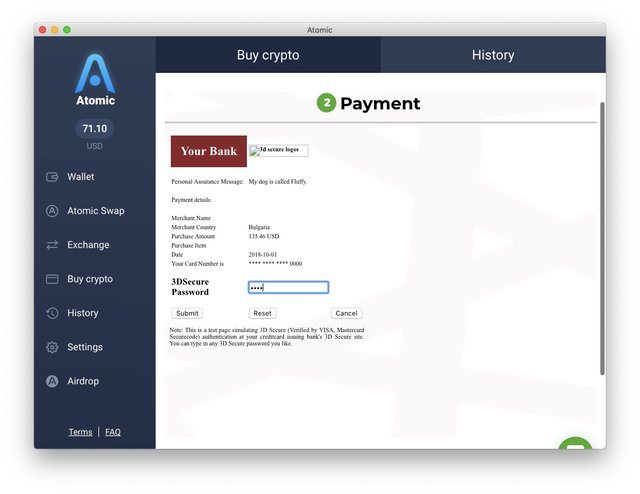 Verify your phone and email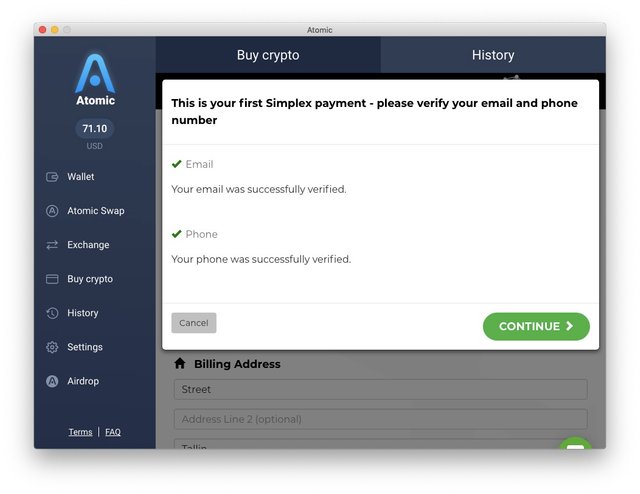 Attach the scan of your ID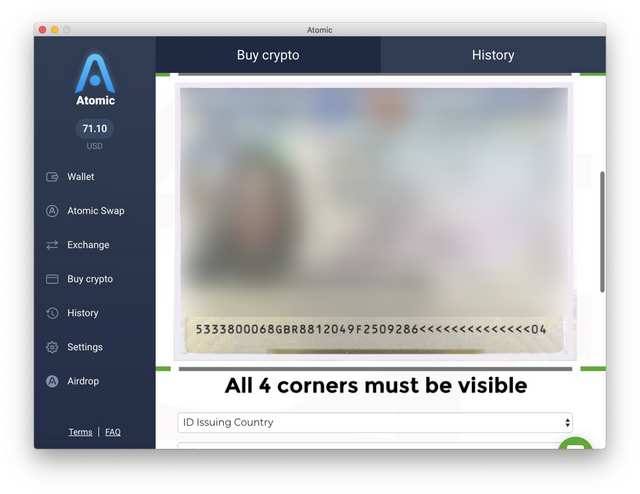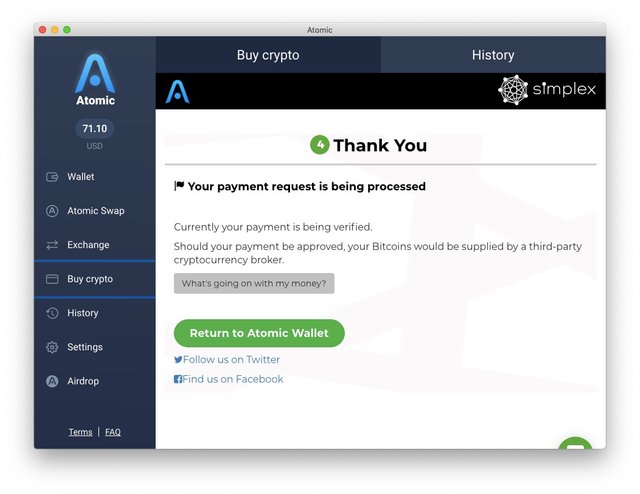 Check your transaction ID and status in the Transaction History tab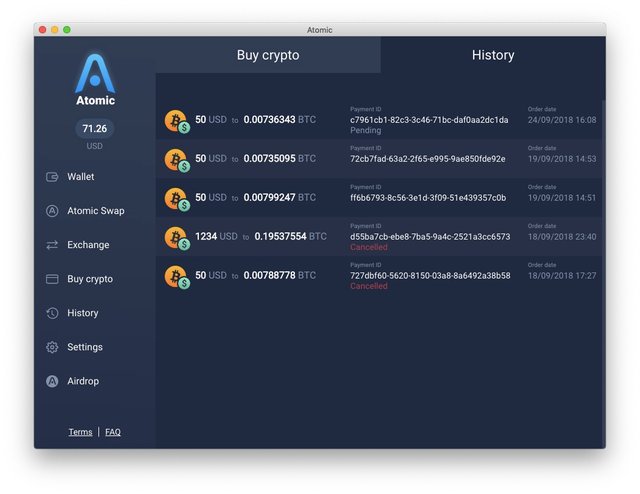 We are happy to provide you with the most convenient way to buy, store and manage all of your cryptocurrency assets in one interface!
With Atomic Wallet, you can also withdraw BTC from exchanges and convert it to a wide range of other cryptos.
If you have any interesting story about your first BTC feel free to contact us: [email protected]
Download Atomic Wallet here: https://atomicwallet.io/
Stay tuned and follow us on:
Medium: https://medium.com/atomic-wallet
Twitter — https://twitter.com/atomicwallet
Reddit: https://reddit.com/r/atomicwallet
Facebook — https://facebook.com/atomicwallet
Join our Telegram chat: https://t.me/atomicwalletchat