SatoshiDisk Review – Online Marketplace with Bitcoin forwarding
SatoshiDisk.com is an online market place. The site enables sellers to sell what they have to customers who are interested in purchasing what they are selling. Sellers are able to upload files to the SatoshiDisk.com server where the interested buyers can then view them and what the seller is offering. SatoshiDisk.com is largely directed to the cryptocurrency enthusiasts. For this reason, most of the files available on the SatoshiDisk.com server are related to bitcoin.
SatoshiDisk.com was first registered back in 2017. This means that it has been operational for 2 years already. This is impressive.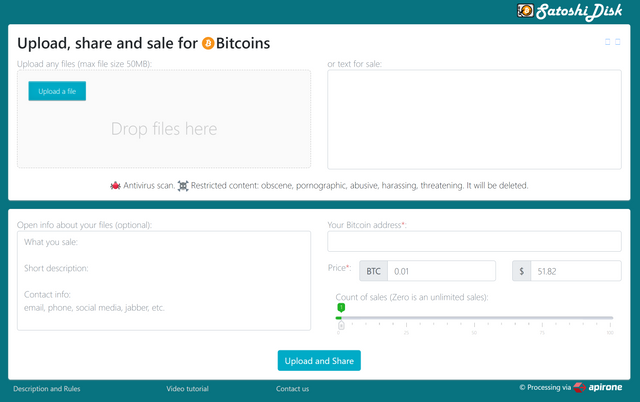 There is no mention of the software that SatoshiDisk.com utilizes. Since the site involves the upload and download of files, I tried to determine whether the site takes necessary precautions to make sure that no viruses or malware is uploaded. Unfortunately, I learned that SatoshiDisk.com has not implemented any security measure to make sure that people do not upload any malware. Also, the seller can upload virus in archive with strong password.
All transactions taking place on SatoshiDisk.com are via the bitcoin only. Because of this simple fact, buyers should be careful when making purchases. This is based on the fact that bitcoin transactions are irreversible. There is no information on SatoshiDisk.com about the countries where SatoshiDisk.com is accepted. I assumed that the website services are accepted in the countries where bitcoin transactions are legal.
SatoshiDisk.com supports English language as an International.
There are no specific devices where SatoshiDisk.com is supposed to be used. It is an online service. This means that its users are able to use it as long as they have a device that can access the internet. On SatoshiDisk.com, there is no mention of the cryptocurrency exchanges the website partners with.
SatoshiDisk.com have a instant customer support via contact form to send an email. There is no mention of how long the customer is supposed to wait before he or she gets a reply. Buyers are supposed to pay for what they are buying using the bitcoin. After a successful sale, Satoshi Disk sends the payment to the customer's bitcoin address.
I am impressed in fact of fee. It's fixed fee 0.0002 bitcoins for each payment with no limit of amounts. Apirone.com (bitcoin processing provider) takes this fee. Blockchain network fee is included into this amount. Yes, you can earn million dollars and spent $1 only (@ $5000 usd rate). Also, the service does not charge any fees for hosting files. But if the file has not been claimed for more than six months, most likely it will be deleted.
How Does SatoshiDisk.com Work?
The functioning of SatoshiDisk.com is straightforward. The sellers are supposed to upload files or text to the server, specify their bitcoin address and the price before sharing the link with potential buyers. Also, the seller can choose quantity of sales from 1 to 100 times or choose 0 for unlimited sales. After upload, you will get short link. Use it in your site, forums, direct mail or share via social media.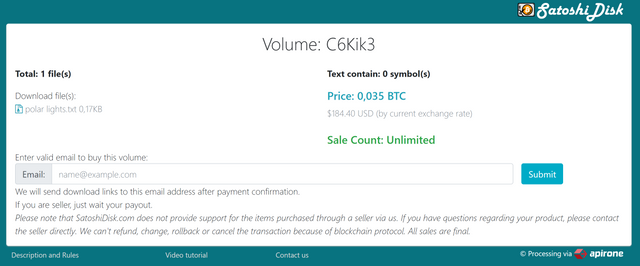 If the buyer feels that whatever the seller is offering is genuine and legitimate, all he or she will enter email and click the submit button. Then, the customer will get a special Bitcoin address and QR code for paying.
After payment confirmation on the blockchain, SatoshiDisk.com send email with download link. The buyer can then go ahead to use the files he/she downloaded or read sold text. The fact that SatoshiDisk.com uses the bitcoin for payments means that refunds are impossible. Bitcoin protocol does not provide refund, chargeback or cancel of transactions. The buyer should trust to the seller and be sure that deal is real. Service can't check, verify or sure that the buyer want to buy exact files. SatoshiDisk is just file-sharing site with ability to sale uploaded volumes for cryptocurrency.

SatoshiDisk.com Features and Services
The only service I was able to discover on SatoshiDisk.com is helping customers meet prospective buyers. Apart from connecting customers to prospective buyers, there is no any other service that the company offers.
SatoshiDisk.com Cost
There are no costs involved when joining SatoshiDisk.com and selling or buying. The sellers can join free of charge. This is also possible for the buyers. SatoshiDisk.com currently have no fee and gain customers. There are no plans like there are on the majority of other bitcoin trading sites. It is worth noting that SatoshiDisk.com differs significantly from bitcoin sites. It is an online marketplace where customers can sell anything.
Conclusion

SatoshiDisk.com does appear to be quite active. It has reviews on various websites, mentions on YouTube and popular forums. Despite its active status, I warn you to using the website for buying. The buyers do not know what they are buying and should to fully trust to the seller. This increases the chances of getting ripped off by shady sellers. But it's like buy on an unfamiliar website. Search the seller on the internet, read feedbacks and check background before buy. Bitcoin does not offer any refunds. SatoshiDisk.com is easy to get started with. There are no investments needed. The seller will only get charged a commission after making a sale. For cryptocurrency enthusiasts looking forward to deriving benefits from cryptocurrency trades, SatoshiDisk.com should be their priority option.
Author: Bach Millens