John McAfee predicted bitcoin at $ 5,000 by the end of 2017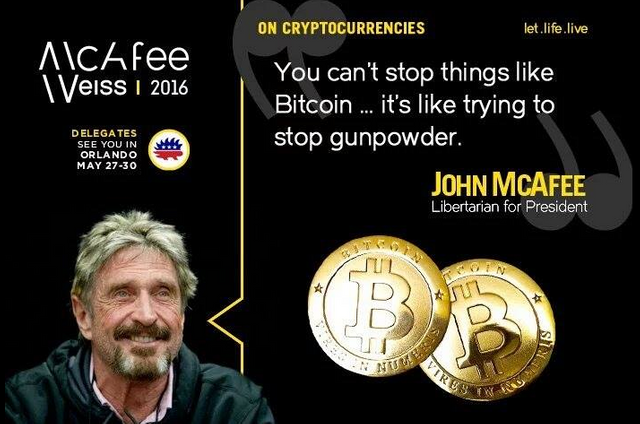 The bitcoin will cost $ 5,000 by the end of the year, McAfee Security's creator John McAfee suggests, but he did not put his penis on this course.
This forecast he made in response to a question from one of the commentators, who recalled that Makafi had earlier promised to eat his penis if the price of bitcoin does not reach $ 500,000 in three years.
"What are your thoughts on what the price will be at the end of 2017? Is it more or less than $ 5000? (This time I do not ask to put my penis). "
Makafi replied: "So ... if the penis does not speak, then $ 5000 - it's easy."
Thoughts on where we finish 2017 with respect to price? </> $ 5000? (Do not ask you to bet your dick on this one). - Zark (@ZarkMuckerbarn) August 5, 2017
Well .... if no dick involved .... $ 5,000 easy. - John McAfee (@officialmcafee) August 5, 2017
Also, according to John McAfee, MGT Capital Investments executive director, MGT is the largest mining company in North America.
"Bitcoin is now at $ 3215. Position MGT as the largest bitcoin-miner in North America ... a stupid choice? Maybe I know what I'm doing? "- wrote Makafi in his tweeter.
In comments to this post, he also said that MGT uses "extremely cheap" electricity, which at a price can be compared with prices in the Chinese province of Sichuan, where electricity for mining companies is extracted from hydroelectric power plants.
He specified that the price of electricity at his enterprise is significantly lower than 0.45 yuan per kW ($ 0.07).
"I would never pay so much," McAfee added.
Not cheaper than RMB 0.45 / kWh!- ~ jgm (@JamesGMorgan) August 5, 2017
Much less. I would bever pay that much. - John McAfee (@officialmcafee) August 5, 2017