My KoinFox Review
 So I normally don't do product reviews, but I recently found a new trading platform named KoinFox. I love the concept, being able to trade on multiple exchanges from your wallet without the hassle of withdrawing and depositing. It's almost like a DEX for centralized exchanges!

But that's not even the cool part.. so bear with me for a few minutes as I explain the most impressive feature.. BRACKET TRADING. Granted, I've only demo'd the platform so far, which is free to do. They give you $30k in dummy tokens to trade against Binance's live charts and you even get $150 in KoinFox Points/Credits if you sign up via someone's referral link! If you want to use mine to thank me for sharing this with you, I'd really appreciate it. Now let's get into the good stuff :)

OH! And before I forget:

Disclaimer: This is not financial advice. All information contained here is for illustration purposes only and I claim no responsibility for how it is used or it's accuracy.

Bracket Trading

First of all, this platform is connected to Binance. Soon it will be connected to over a dozen other popular exchanges but for now, Binance works. In your dashboard, you will have the option to place Bracket Trades, here is a screenshot of what it looks like: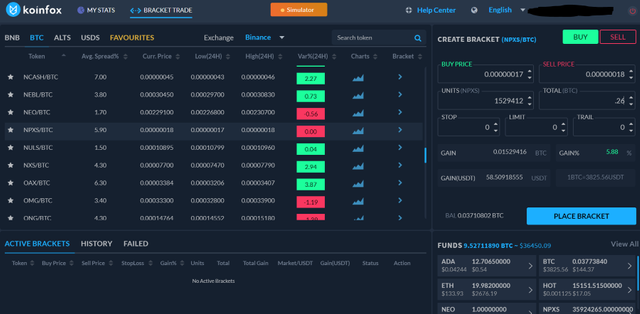 Basically you select the pair you want to trade ( I chose NPXS for reasons you'll understand soon ), then you input where you want to buy and sell, the quantity, and it automatically calculates your gain %.

The platform will execute the trades for you, when your order fills on the buy it automatically places the sell. As you can see on the lower sat BTC pairs like BTC/NPXS one buy/sell can result in a nearly 6% gain. Let's look at NPXS's chart and see how often this move occours.





As you can see, on either a 5-minute candle view like the one above, or 15m or 1hr, NPXS does this literally ALL DAY. With the exception of the times it rises by two sats, or finally falls by 1. Worst case scenario if it falls out of this range, you lose 6%. If it rises by two, you gain over 10%. But if it stays within the range, and you're able to execute buys at 17 sats and sell at 18, you will gain almost 6% every time this happens.

Now for the really fun part, MATH! And more specifically, the Compound Interest Formula. If we start with $1,000 (.26 btc) and make a gain of 5.8% our balance becomes $1,058. If we take that balance and do the same trade again, it becomes about $1,122. Each time it grows a little more.

Now looking at that chart above, this move happens a LOT. Even on 15m candles it occours over 50 times in the span of 24 hrs.

So how long would it take to double your balance using only this method? I've found a handle Compound Interest Calculator to do all the hard work for me :)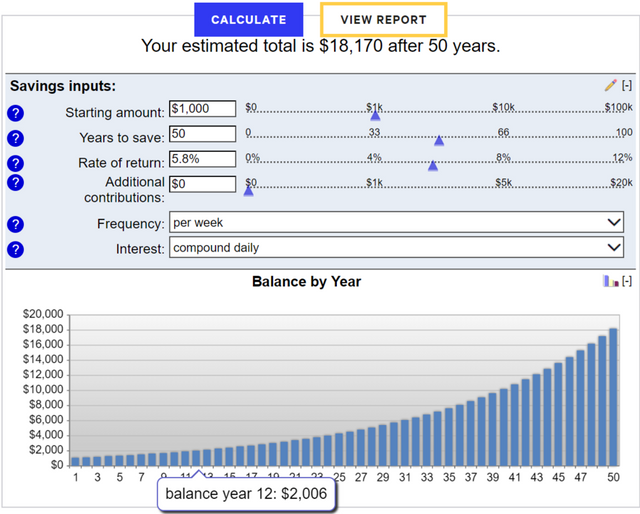 The answer is 12.

12 trades with 5.8% gains, compounding the entire sum will result in $2,006 from an originnal balance of $1,000. Simply replace the word "Years" with "Trades" in the chart above. In the traditional financial world, a 5.8% yearly gain is amazing. In Blockchain.. as we all know.. it often happens in minutes..
24 trades later, you end up 4x from the original balance.



 And as you can see, this begins to accelerate, each gain becomes a larger net increase.

At 50 trades it becomes over $18,000+

And just for fun, I input 100 trades: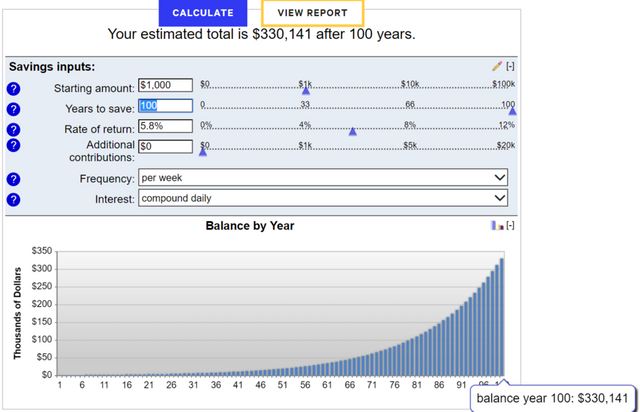 We could have started with $100 (and just taken one zero off each of those sums). But the % gained would be roughly the same. A beginning balance of $100 could swell into over $33,000 with 100 successful trades of this 5.8% gain.

 Now I've only demo'd this, but I've had these orders filled in a span of minutes. We all know it depends on who's first in line on each side of the orderbook. But having this type of tool place those trades for you immediately definitely gives you a bit of an edge on the competition.

Could it happen 10 or 20 times a day? It's absolutely possible, and I'll be following up in a week or so to show you how I did.

So what if it takes you a week or two to land 100 trades? Maybe you miss one or two when it creeps down two sats. Lose a whopping 6% one time. Then continue to land 6% gains for the rest of the day.
Now let's move on to another cool use of Bracket Trading:

Catching those wild red wicks.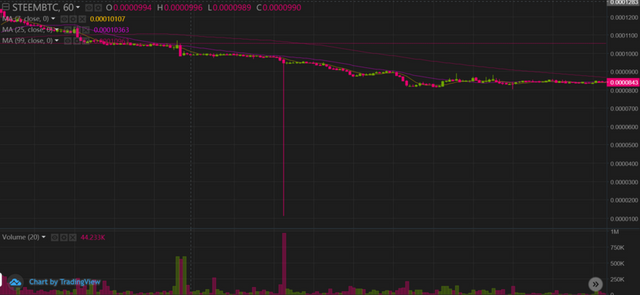 Have you ever seen one of these on the Binance charts and thought to yourself "MAN! If only I could have caught that wick I could have made 80% in minutes!"
 Well, now you can. I mean, of course you could before if you set up a really low buy and laid the trap. But now you can have it set up for the buy AND sell and immediately cash in on these type of events.

Above is the 1hr candle chart for Steem/BTC. As you can see, it dipped from 950 sats down to about 115 and returned in the span of 1 hour or less. This nearly 88% dip could have resulted in a gain of 726% if played perfectly.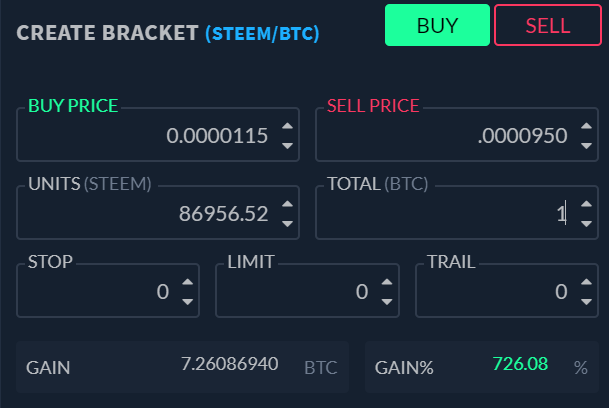 Of course, it is impossible to predict exactly how far these wicks will go, but you could always play with multiple buys of 50%, 60%, 70%, etc. below the current price/trend and catch them all. And let's face it, unless a project gets totally rekt somehow by a complete catastrophe, these extreme dips are always short lived as the bots or whomever is paying attention siezes the opportunity for some quick cash.

One last cool feature: Trailing Stop-Loss


 Are you a pro at staying ahead of the news/rumors? Or are you one of those crazy folk who chase the wild pumps?
 Everyone familiar with trading in traditional markets, such as stocks are forex knows what "Trailing Stop-Loss" trades are. But many of us in crypto have been denied such a luxury by many of the exchanges in operation today. This takes all the guess-work out of "when to sell" as you ride these crazy green beanstalk candles all the way up, only selling when the price retreats a certain % you set. For example, 5% or 10%.

This is ideal for capturing those HUGE gains from the runners when you have no idea when it will stop. How many times have you sold to secure your 40% gain and it went on for another 100%? It's crazy, but we all know it happens. Sometimes it goes even further. Here's another recent chart example from STORJ/BTC: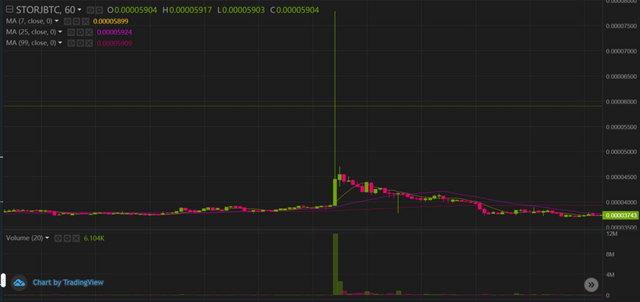 Storj made a 200% leap on the 60-minute candle before retreating all the way back down to a paltry 20%. Now there are a few different ways skilled traders could set up a buy and sell on this. Without getting all technical, we will simply explain the Trailing-Stop opportunity here.

If you set a Trailing-Stop Loss at even a whopping 10% and caught this as it broke resistance with a buy, you stood to gain 190% with almost no guess-work or babysitting involved, and no deep feelings of regret for selling at a reasonable 30% gain.. like I've personally done so many times before..
 Conclusion
 So far I've only covered TWO of the awesome features KoinFox has already live and available for use. They have MANY more on the way if you look at their website or their 1:30 YouTube video. Algo Trading, Trade Mirroring, Token Pools, Arbitrage, Futures/Options/Derivatives and more. The platform just launched recently but their team is actively working to bring all this to life as quickly as possible.

So if you'd like to thank me and get some extra platform credits by signing up to Demo KoinFox with my Referral Link, I'd really appreciate it! I'll be connecting my live Binance account soon to put these tools to use and likely following up in the next week or two, so if you follow me, you can see how I did :)

If you made it this far, please hit that up-vote and if you want to be a true hero, re-steem!

Thanks everyone and good luck!


Disclaimer: This is not financial advice. All information contained here is for illustration purposes only and I claim no responsibility for how it is used or it's accuracy.