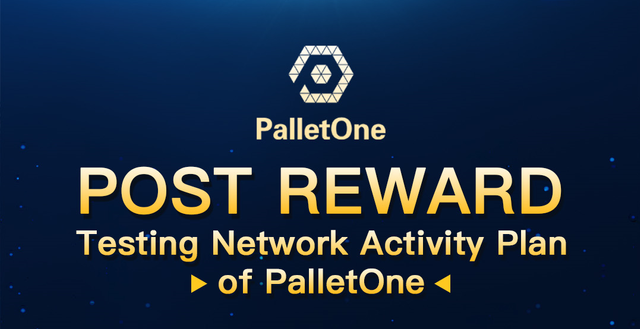 Test time of the testing network
• 01, 03, 2019 00:00:00(GMT+8) — — Main network will be launched
Token reward for testing network
From January 3, 2019, the PalletOne testing network began testing. During the testing, in order to encourage community developers to actively try and submit bugs, PalletOne will officially award rewards to developers who submit bugs. The PalletOne technical team will provide PTN rewards of varying amounts based on bug submissions from community developers.
BUG's ratings and rewards are as follows:
PalletOne reserves the right of final interpretation.



Steps to participate
( 1 )To download PalletOne Testing network APP: https://github.com/palletone/go-palletone/releases
(2)Submit BUG: If you find a bug, please go to Github of PalletOne: https://github.com/palletone/go-palletone/issues to submit it.
(3)After the developer users submits the bug, click PalletOne's official BBS link(http://palletone.club/) to register and bind the GitHub account on PalletOne's Github platform to provide personal Ethereum address and other information in order to receive the reward.
(4)After the developer submits the bug, the PalletOne technical team will confirm and evaluate the submitted bug based on the severity of the problem and the difficulty of the correction.
(5)Award publicity: The official BBS, the community, and each media platform will publicize and award rewards to the winners every month until the main network is published.
(6)Distribution of the reward: Distribution of the reward is based on information submitted by users within 3 working days after the official reward publication.
Notes:
The reward will be distributed according to the information submitted by the users in the official BBS. Make sure your personal account and address are correct.;

If many people submit the same or similar bugs, the final result depends on the order of bugs submitted by developers;