Bitchute 👏 Account Active 👊 The First Upload
Eating a 2.5ft. Burrito.
His name is Gustavo. He has to eat 70 Centimeters in 7 Minutes. This reminds me of LA Beast on that other video site.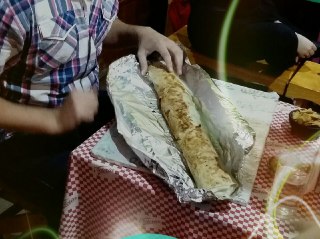 I made a post yesterday on how Che Taco runs this contest. Click to see it.
But, the biggest news is that I am on @bitchute!
I have steered clear of younoob for years and the censorship just keeps getting worse. They have millions but they are pissing away users by the thousands in order to please certain political entities. Bye!!!!
Yes, I took a video of this poor guy Gustavo.
And not he knows about @bitchute because he asked me for a copy. Here's the link to see it.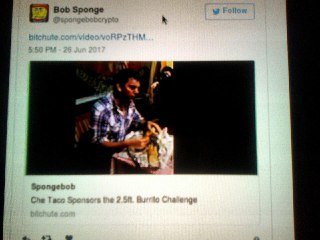 not sure how to make it look like it does on twitter
It took two tries, @bitchute is not out of beta yet, not many options, but it does work! I tried all kinds of embed codes, iframe, and I have not found a way to embed bitchute videos.
Why is this important? Bitchute is the bitcoin of internet video!
We need something like this. I have been a member, having joined in January and putting in several attempts to get an active account. Now, I need to start making videos. I am not sure that I want a 'show' per se, but I do want a place that is not grabbing and selling my every login to the highest bidder.
My boys are in this video, to my left. My oldest will be eating this monstrous roll of beans and cheese this coming Saturday.
I want free Mexican food!