BitBay mobile app is now available! Download and trade from every place on the earth!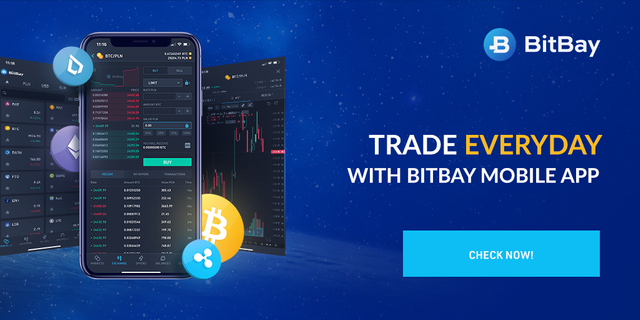 Months of hard work of the whole team, tests, introducing amendments and this is how it was created - the official BitBay exchange app. We want trading on our platform to be comfortable and fast, and our users can quickly respond to fluctuations in Bitcoin and other digital currencies. The cryptocurrencies market is characterized by high volatility, therefore creating an intuitive mobile version of our exchange was a priority for us. Our clients are well aware that the key to effective investment is an immediate response to changes in the charts, which is why a few days after the release of the application we received a lot of positive feedback in private message and on our social media channels. Thank you!
---
AppStore >>> https://bitbay.net/ios
Google Play >>> https://bitbay.net/android
---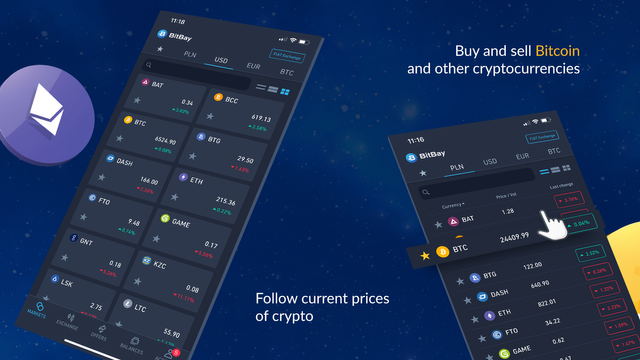 What are features waiting for you after downloading the application?
The ability to place buy and sell orders,
Transaction history insight, filtered by trading pair or currency,
Access to dozens of analytics - MACD, RSI and a lot more,
The ability to set a default FIAT currency, e.g., USD, EUR, etc.,
The ability to add specific trading pairs to "favorites" for easy access,
A real-time summary of all wallets' value,
An intuitive user interface with customizable themes and layout,
An in-app web browser for easy access to news, support and useful tips.
Our application is adapted for both novice investors and advanced players. The interface is transparent, and its service will not cause any problems even for new users. However, for professionals, we have prepared some innovative facilities not yet available on the market. For example, the application includes the option "Change 24h" expressed in%, the information in the history of the current profit on each transaction, as well as the trading keyboard.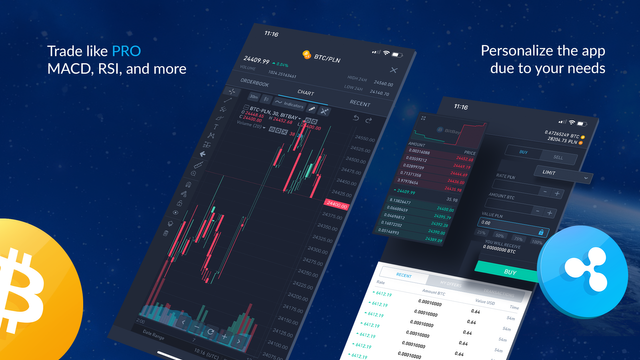 Trading Keybord
BitBay Trading App has a dedicated keyboard. This is the only such solution on the market. The keyboard is inspired by an ordinary calculator, which is well known to everyone in the finance industry. While everyone else uses regular system keyboards that are not adapted to enter numbers (and in some cases, they do it wrong by entering a comma instead of a dot), our solution is created for traders.
The keyboard has the physical ability to move the pointer, delete the last number or delete the whole field, which significantly improves the quality of trading. The keyboard is automatically hidden when you click the zone for entering the value, but if you want to have it open all the time, you can also block it.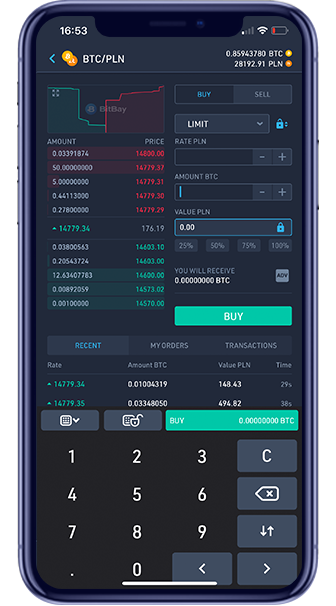 Mobile device trading solutions are a crucial element of BitBay's international expansion strategy. Our mission is to make cryptocurrency a secure, easily accessible resource for all the people who wish to participate in trading. In order to meet the needs of our clients, the iOS application will be available in 9 different languages, that being: Spanish, Portuguese, Brazilian Portuguese, French, German, Polish, English, Korean and Chinese with more to come. On Android devices, there are currently two language versions available: English and Polish. But soon the application will be expanded to 9 languages similar to IOS.
We have already prepared an application development plan for the coming year, but we are also open to suggestions of our users. We are waiting for your comments and messages. Let us know if the application has met your expectations and whether it has facilitated you everyday cryptocurrency trading.
App development roadmap:
Notifications about a price change
Username and password authentication
Ledger filtering and detailed transaction history (AVAILABLE IN THE WEB VERSION)
Deposits / Withdrawals
CRYPTO / FIAT payments using wallet address / QR / NFC
BitBay Mastercard payment integration
FIAT Exchange integration (USD, EUR, and more) (AVAILABLE IN THE WEB VERSION)
Cold Wallets
More information: https://bitbay.net/en/mobile
If you want to react to what is happening on the market, download our mobile app and trade wherever you want and when you want!
---
AppStore >>> https://bitbay.net/ios
Google Play >>> https://bitbay.net/android
---