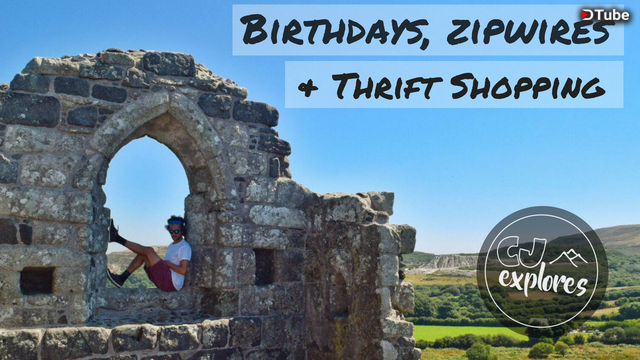 ---

For my birthday week we celebrated the only way we know how, EATING! Fortunately for you we didn't food vlog to much. We did have a bloody fun week though. I started learning piano on my new keyboard. I also got to grips with a new stabiliser I got from my Grandmother-in-law. It's a full week of fun basically and based on my previous experience at Boomtown Fair it's only going to get better! The only challenge about going to Boomtown is finding a costume good enough for the calibre we are going to see there. So join us as we go thrift shopping trying to find a bargain! I was quite impressed with the outfit I came out with and it only cost about 15 pounds!


Boomtown Fair is an amazing city that is built on a great piece of farmland in Winchester. It's a city constructed of marquees and plywood facades but after the decorators and designers have been through you really can't tell. I remember when I went in 2015, walking into a little house on the main street and we emerged into a granny's living room. There was a DJ in the corner spinning remixed classics and the vibe was FUN. Check out some of their promo videos on Youtube. They are made by this mob in the UK called Clockwise Media and they do an incredible job of it! I hope to be able to capture some content even half as impressive as they do for you lot at home. But Boomtown is made up of different districts, each with their own atmosphere and community. You could be in Old Town where the pirates and beggers live or a short walk later you will be with the high rollers of Mayfair. If you go down the hill you will pass through Barrio Loco, an eclectic mix of Latin and Bass and keep going to find District 5, the dystopian future. This city is incredible, even if it only lasts for 4 days. I can't wait.


My final birthday gift came from the sister-in-law. And she knows me too well because it was a high flying zip wire over the immpresive Eden Project here in Cornwall. After doing the zipwire I couldn't resist keeping the adrenaline pumping so we opted for the BIG AIR jump. A multi level tower with an inflatable pillow to land on. I wanted to do backflips off it, but I wasn't allowed. I did manage to get the camera on their though, so I hope you appreciate the footage!


Lastly, our day today was spent relaxing at the beach with Reg and Ed. Still I'm trying to break down Reggie's "fear of fun". I was so impressed at how relaxed he was out in the kayak. Soon he will be jumping off cliffs with me, you just wait!


We will see you all in a week or so. Boomtown is going to be mental. Jump on our Instagram and Facebook stories for a sneak peak!

---
PEACE, LIGHT AND LOVE
---
gear used;
Nikon D5300
Rode VideoMicro
Sony Vegas
Toshiba Satellite P70
Logitech Performance MX
GoPro Hero 3+


other socials;
YOUTUBE
INSTAGRAM
STEEMIT
BUSY
FACEBOOK
---
▶️ DTube
▶️ IPFS