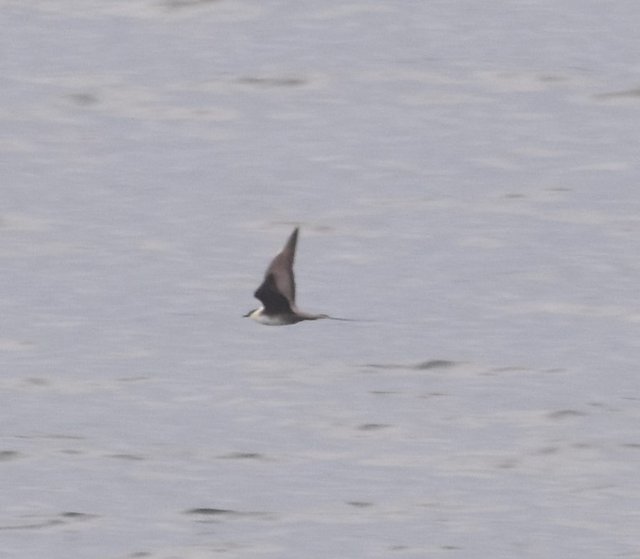 Poorly focused photo of a Long-tailed Jaeger Stercorarius longicaudus today from Point Defiance, Tacoma, WA. These birds harass terns and gulls in a tail-chase fashion and are really difficult to photograph. I felt very lucky to get a photo this good. To see much better photographs see Will's eBird checklist. https://ebird.org/view/checklist/S48535342
Today as I was settling down to watch the WSU football game about 5 PM our group Pierce County text announced that Will Brooks had located a Long-tailed Jaeger at the Point Defiance Gig Harbor Overlook. I dashed over, only about a 10 minute drive, and got there just as Bruce Labar was also arriving. The bird had flown around the corner but shortly we relocated it and it gave pretty nice views.
Jaeger are kleptoparasites, meaning that they chase other birds, usually gulls or terns, after they capture prey and get them to release the food which the jaeger then picks up and eats. Today there was a nice flock of Caspian Terns not too far off the shore that was actively feeding, and there were 6 Parasitic Jaegers and one adult and probably one juvenile Long-tailed jaeger harassing them.
Jaegers breed in the arctic and spend the rest of their lives at sea, usually far from shore, but sometimes especially in the fall come closer to shore following flocks of gulls and terns. We see Parasitic Jaegers fairly often at this time of year, but I have never seen a Long-tailed Jaeger in the state of Washington. This may be the first time a Long-tailed Jaeger has been seen in Pierce County. It was certainly a county first for all three of us today.
This was a special sighting for me, and many thanks to our superb young birder Will Brooks for locating this one and texting us to chase it.